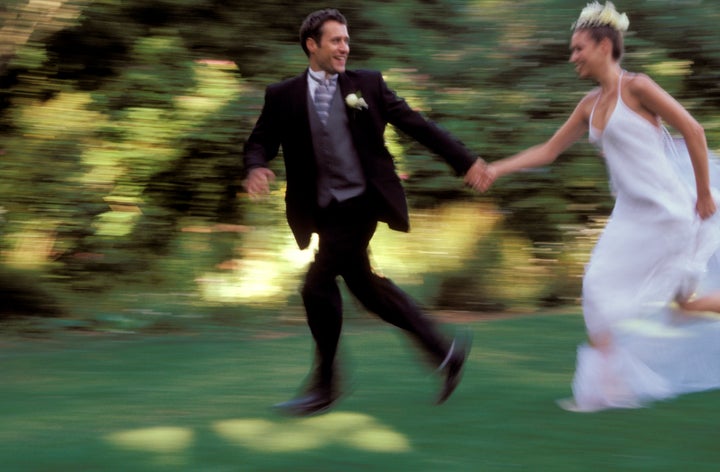 For some, the question was, what is he doing with someone 30 years his junior? New girlfriend Michelle Sucillon, a former Borders event-marketing exec, is 51 and Aldrin is 81. As a society we tend to be skeptical whenever a couple's ages are so far apart but I'm not sure why; there are certainly enough relationships in which the couples are about the same age that don't last, either. If you're wondering what they could possibly have in common, you might also want to question if that's the only "proper" reason for a couple to be together.
The bigger question, however, is why do people rush into a relationship so soon after leaving one? And while both men and women are guilty of that, more men say "I do" again after divorce. and they're quicker to say it, too, according to the recent Census report "Marital Events of Americans: 2009." Perhaps not as quickly as actor Mark-Paul Gosselaar -- he proposed to ad executive Catriona McGinn in August, just three months after his divorce from Lisa Ann Russell was finalized -- but certainly fast enough for people to wonder, why in the world do you want to get into something you just got out of?
"In my experience as a therapist and as a friend, it seems that the majority of the breakup resources available are for women and not men. Women, who tend to be more vocal about their emotional struggles, are the squeaky wheel that gets the grease from friends, from online communities, from books, and from therapeutic approaches. Women are encouraged to go on an emotional journey of self-care after a divorce, while men are expected to need help learning how to cook and parent on their own. When you Google "how men handle divorce," many of the links advise women on what to do if their husbands become violent during the divorce process. Why is there so little focus on how men can heal after a divorce?"
Hugo Schwyzer, a professor of history and gender studies at Pasadena City College, has a different take on it. A working woman doesn't necessarily want to "walk right back into the same sort of situation from which she just extricated herself," he said, and the unequal distribution of household chores may have something to do with it. He also wonders about the marriageability of men:
"I'm convinced that one reason that so many divorced women are so reluctant to remarry (and so many women unwilling to marry in the first place) is that frankly, marriage doesn't seem to be a very appealing deal for most women. And one of the reasons why marriage seems unappealing is that the sacrifices of marriage are many, and the benefits increasingly few -- especially considering that an extraordinary number of men may not be worth marrying!"
Lucy Cavendish, an author and columnist for the U.K.'s Telegraph wonders if men aren't incurable romantics. Otherwise, she says, how can you explain why a man who has been badly burned in a divorce -- think Paul McCartney, who is about to marry wife No. 3, Nancy Shevell, any day -- would want to risk it all again?
Or maybe some men just don't want to be alone while many midlife divorced women want to have an "Eat, Pray, Love" experience and rediscover and reinvent themselves, without having to take care of anyone other than themselves. And let's face it; men typically find it a lot easier to attract a wider age range of women -- just like Buzz Aldrin did.
But maybe, as Cavendish notes, men just like to be married.
Related