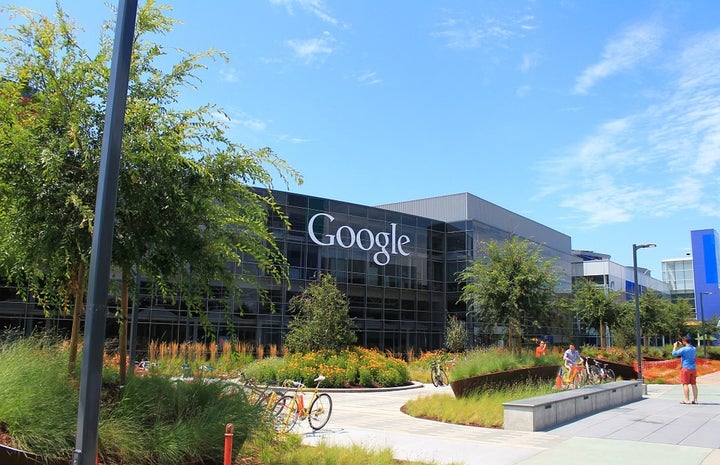 In the last month, leading technology companies have opposed President Trump's ban on refugees and the citizens of seven predominantly Muslim countries from entering the United States. Not only have numerous tech companies spoken out against Trump's xenophobic and anti-Muslim rewriting of immigration policy, but Facebook, Google, and Amazon joined federal lawsuits challenging the restrictions.
Yet despite opposing Trump's Muslim ban, Facebook, Google, and Amazon continue to buy advertising from Breitbart, a sexist, racist, homophobic, and anti-Muslim website that enthusiastically promotes fake news and the white nationalist, so-called "alt right." The far-right provocateur and pedophilia condoner Milo Yiannopoulos serves as a Senior Editor at Breitbart. And perhaps no other media outlet is more closely tied to the Trump administration than Breitbart. Last August, Trump tapped Breitbart editor and white nationalist Steven Bannon to become his campaign chief. Now Trump's Chief Strategist, Bannon played a leading role in implementing the Muslim ban, according to officials at the Department of Homeland Security. In late January, Trump added two more Breitbart staffers to his administration.
In addition to its own advertisements, Google places ads for more than a thousand companies on Breitbart through its AdSense service. This is in spite of the fact that AdSense's policies prohibit ads from being "placed on pages that contain harassing or bullying content, or on content that incites hatred or promotes violence against individuals or groups."
Curious as to how Facebook, Google, and Amazon justify their continued collaboration with Breitbart, I reached out to each of the three companies for a statement. This is what I did (and didn't) learn.
Google's response was even more evasive than Facebook's statement. According to representative Suzanne Blackburn, although Google "review[s] sites on a regular basis for policy compliance...we are not going to comment on specific sites." Blackburn mentioned that Google encourages "users to let us know when they come across ads or sites that they believe are in violation of our policies." But Blackburn refused to acknowledge that Google's ads appear alongside hate speech prohibited by its own policies. If Google would recognize this violation of its policies and stop collaborating with Breitbart, it could instantly eliminate the bulk of the site's advertising revenue.
Facebook and Google's responses are objectionable on multiple levels. First, Google refuses to acknowledge its central role in placing ads for more than a thousand companies on Breitbart. Worse than that, both Google and Facebook seem to consider Breitbart's hate speech like any other "political affiliation or beliefs" ― not unrepentant hate speech that degrades entire religions and genders. Both companies, in effect, are normalizing and condoning hate speech as acceptable political expression.
At least Facebook and Google responded to my inquiries. Amazon simply refused to reply to my email to their press office. Amazon also failed to contact me after one of their managers promised a representative would follow up on a separate customer service complaint I made about the company's ads on Breitbart.
"The online work of Sleeping Giants has convinced more than a thousand companies to reject Breitbart."
What are these tech giants ― some of the richest companies in the United States ― so scared of? Is it the conservative backlash that Kellogg's suffered for pulling its ads from Breitbart, or the xenophobic outrage Anheuser-Busch faced for daring to portray an immigrant positively in a Super Bowl advertisement? Is it the loss of a single advertising venue for Facebook and Amazon, or, in the case of Google, the loss of one website as an AdSense client?
Regardless of their reasons, Facebook, Amazon, and Google are helping to fund Breitbart's hate speech. Their support of Breitbart contradicts both their official policies and their opposition to Trump and Bannon's Muslim ban.
Citizens and customers who want these companies to stop dealing with Breitbart will have to embrace tactics voters are using to influence members of Congress. Tens of thousands of people working with the Twitter account Sleeping Giants have organized a sustained campaign to demand that corporations remove their advertising from Breitbart. Since November, over 1,100 companies―including major firms such as BMW, Chase, Kellogg's, T-Mobile, and Visa―have chosen to pull their ads from Breitbart. After all, why would any company want their products or services associated with discriminatory hate speech?
The online work of Sleeping Giants has convinced more than a thousand companies to reject Breitbart. But it's clear that citizens will need to apply additional forms of direct pressure to persuade Breitbart's more loyal advertisers to change course. Petitions are worthwhile, but Amazon is already ignoring the signatures of more than 500,000 people asking it to stop advertising with Breitbart. Call-in campaigns to these companies' customer service lines could be effective, as could protests outside these companies' offices. Even Amazon employees have started to demand that their employer cut ties with Breitbart. Hopefully employees at Google and Facebook will follow suit. An organized boycott of Amazon may eventually be necessary to get the online retailer to abandon Breitbart. Whatever the best strategy may be, citizens will have to continue putting direct pressure on tech companies to get them to honor their principles and policies and remove their ads from the hate website Breitbart.
Related
Popular in the Community