Because I am a writer. I like to write about stuff that touches the strings of my heart and makes it go gooey and happy. Then , I feel like sharing the gooey feeling with the world. I feel that there's no dearth of sadness in the world , there is a need of lots of happiness and love. If I can spread that by my words , I'll be extremely happy. Like that time when being stuck in the rain for hours , while hiking in the Himalayas at 8000 feet made me extremely happy. Even with those muddy shoes and a wet backpack , I was the happiest of the pack of hikers. Why ? Because as a child , I used to dream about being poor and living in a hut and the rain coming and salvaging my worries. When I would spread my arms in joy and just experience the fresh droplets across my skin , and be delirious. Yes , I was a funny kid back then , thinking of all sorts of fantasies.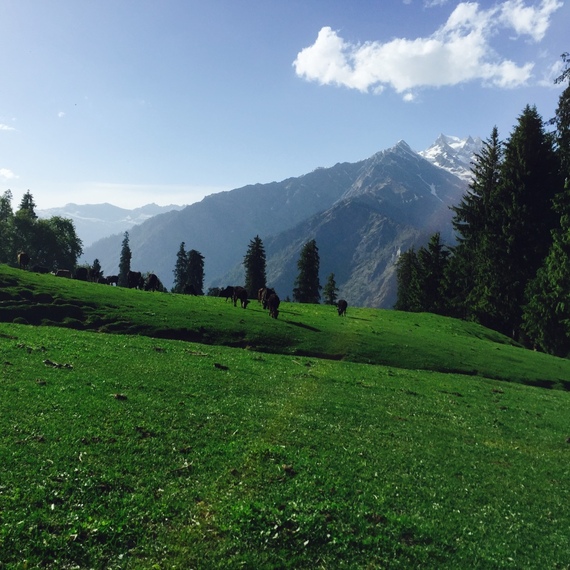 In places like this , I love to open my travel journals and pen down my thoughts. It is an act of relieving yourself of the things which worry you and concentrate on the stuff which makes you happy.
I also think about death. When I die , what would I have done with my life that would make people remember me , A legacy! Writing is my legacy! I want it to be. Whether I succeed in that or not , time will tell. But I like the idea , and hence I am pursuing it! As Steve Jobs , the founder of Apple Computers said , we all long to "put a dent in the world". I am just slowly denting the world as I go. Seems like a good plan.
I don't write because I want to be a best-selling author , well , it wouldn't hurt to be. But thats not the goal. If I am inspired and happy by something and I know a way to do it , why not share it with the world? The world need more happiness and inspiration. By this blog , The Purple Backpack , the goal is inspire travel , as much as possible. There is no need to quit your job to travel the world. I have a full time job , but by night I become a dreamer and a writer. There are people who have quit their jobs to travel the world , that's awesome for them. I am not saying I won't but to each his own.
Writing may not pay anything per say , but there's a huge sense of satisfaction I derive from actually completing a blogpost and sharing my experiences to the world. The satisfaction from writing a piece of code is not as much , but it pays! But , the heart want what it wants , and if this yearning is satisfied with me writing , I will keep on doing so.
I write also because I read. I love reading inspiring books , be it about travel , life or just autobiographical. It makes me believe that anything can happen. Some author just touch the string of your heart and make you smile , I merely try to do that! I usually read many books together. Currently I am reading The Hitchhiker's Guide to The Galaxy by Douglas Adams , A Walk in the Woods by Bill Bryson , Life is a Trip : The Transformative Magic of Travel by Judith Fein and My Life on the Road by Gloria Steinem.
I write because good writers make writing look sexy. They can write sitting in beautiful road-side cafes of Europe and then write about writing in beautiful road-side cafes of Europe and how it was so enriching and meaningful and what not. Not me! I usually write in the wee hours of the night , extremely tired from the day's work , and looking like a blood-hungry ghoul. But that's just me , I just can't make writing look sexy.
And because I can't think of anything to end this post , I outsourced it to google to find a relevant inspiring quote for me , it's allowed come on!
"Who wants to become a writer? And why? Because it's the answer to everything. ... It's the streaming reason for living. To note, to pin down, to build up, to create, to be astonished at nothing, to cherish the oddities, to let nothing go down the drain, to make something, to make a great flower out of life, even if it's a cactus."
--Enid Bagnold
Follow 'The Purple Backpack' on Social Media :
Website : www.roota.in
Facebook : https://www.facebook.com/the.purple.backpack/
Instagram : instagram.com/the_purple_backpack/