-Post Originally Appeared On CityLately.com, Hop On For More Fashion News & Inspiration-
In our inherent and constant search for relevance, fashion week seems the perfect venue to proclaim yourself a part of the in-crowd. Understandable; The increased churn of street style photos and front row pictures that permeate your feeds certainly paint the occasion a glamorous affair. This may come as a shock, but fashion week is actually a place of work.
A new book Tales from the Back Row by Cosmopolitan.com editor Amy Odell "addresses frustrations about working in [fashion] that few will say out loud." For instance, she discusses the "dubiously employed," reports Alyssa Vingan of Fashionista.com, "Internet-famous folks who hang around Fashion Week in order to get their photos taken and who somehow occupy a large section of the front row; the fact that self-promotion and building a personal "brand" through social media can be more important than actual talent" seems to have seeped into folds of fashion week and stained the actual purpose of the bi-annual occassion.
...So let's clear somethings up as to what fashion week is and is not...
Familiar With Fashion Week
What Is Fashion Week?
Fashion week is essentially where editors pick their paint. It is a press week where designers debut their new collections to the press. The press that includes fashion editors will take what they have seen to create stories throughout the year. What the editors choose to edit and feature in their magazines trickles down to you, whether you realize it or not. The stories they tell every month through magazines are what will be in fashion and what you will be buying.
The collections shown always correlate with the season to come; For example, during the fall shows in September, clothes for spring will preview and during the spring shows in February, fall clothing will walk.
Fashion week occurs twice a year and in several cities. Traditionally the shows start in New York, then they move on to London, Milan, and finally Paris. Most recently newer fashion capitals all over the world have sprung their own fashion weeks including Stockholm and in Australia.
American based designers including Ralph Lauren, Alexander Wang, DVF, Vera Wang, Oscar de la Renta, Marc Jacobs and Calvin Klein will show in New York; English designers such as Burberry, Sibling, Simone Rocha, and Erdem will show in London; Italian based designers such as Gucci, Fendi, Cavalli, Missoni, Versace and Armani will show in Milan; French design houses including Lanvin, Sonia Rykiel, Jean Paul Gaultier, Chloe and Giambattista Valli will show in Paris.
As a result, if you work in the industry, fashion week is actually fashion month because coverage will last the month it takes shows to travel from New York to Paris.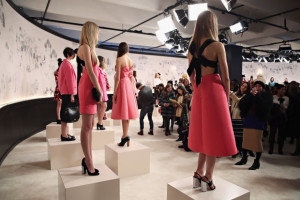 (Photo Courtesy of Cindy Ord)
In general there are two types of shows: a runway show and a presentation. Runway shows are surprisingly quite short typically lasting but a few minutes. Presentations last a couple of hours or more and instead of models walking the runway, they are usually standing in a venue for attendees to get an up close view of the clothing.
Can I Buy A Ticket To Fashion Week?
No. You need to be invited to a particular show, it is not open to the public.
So, Who Goes To Fashion Week?
The Working Bunch:
Editors- At shows editors are getting a sense of what is to come, what is trending and creatively mapping out ideas for what they will feature in upcoming issues and stories.
Buyers- Major stores send buyers to plan what they will buy and sell in upcoming seasons.
Stylists- Those responsible for putting together looks for clients will frequent shows to see what they can pull throughout the year.
Bloggers- Most bloggers attend to take photos for their Instagram feeds, hence why the fashion crowd is often quite frustrated with this burgeoning circle.
Socialites and Friends Of The Designer-The frequent buyers club...
Celebrities- Celebrities are invited with the hopes that their name will help bring attention to a collection and usually it does; However in the haze, often coverage of the actual artistry of the designer's work gets lost 'guess who sat front row' type stories.
-Post Originally Appeared On CityLately.com, Hop On For More Fashion News & Inspiration-