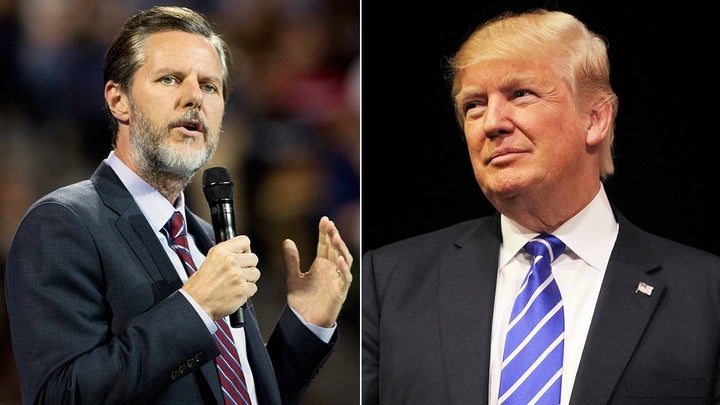 Even after his apparent confessions of sexual assault, evangelical leaders have doubled down on their support for Trump. The Faith and Freedom Coalition's, Ralph Reed, obstinately announced that Trump's objectivizing of women doesn't even "rank high on the hierarchy of concerns of those faith-based voters," that he is apparently empowered to speak for.
Up is Down and Down is Up
Probably, the prize for the most hypocritical goes to Jerry Falwell Jr. The heir to his name sake's legacy, Falwell serves as President of the conservative evangelical Liberty University, which boasts a total enrollment of over a tenth of a million students! These students have to abide by a strict moral code. Among its list of "misconduct that is contrary to the teachings of the Christian faith," are "sexually-oriented joking," "unwelcome touching…of a sexual nature," "non-marital sexual relations," and "persistent or unwanted attempts to change a casual…relationship into a romantic…one."
Apparently, as far as Falwell is concerned, the language and behavior that could result in expulsion for his own students, are simply "dumb comments" when his apparent Messiah boasts about them. The septic depths to which Falwell's concept of morality has sank is most evident in his assertion that if Trump is not elected, this country will "go down the toilet..." Implicit in the statement is the suggestion that Trump has the moral qualifications to uphold conservative values. This strange assessment makes me wonder if he has borrowed Alice's looking glass and is under the delusion that "up is down and down is up."
The Religious Right is Wrong
These students have chosen to side with some prominent evangelical leaders who have openly chided their colleagues who have gleefully jumped on the Trump bandwagon. Months before the release of the Access Hollywood recording, Max Lucado condemned the New York billionaire's hateful, insensitive and bigoted comments about people. He was especially concerned, that the Republican presidential candidate was doing this "while brandishing a Bible and boasting of his Christian faith." Additionally, Sojourner's Jim Wallis has steadily called out the incongruity between the "Gospel" message and the evangelicals who have thrown their support behind Trump.
A Consistent Inconsistency
Wallis is correct in denouncing the evangelicals' inconsistency with the social justice message that permeates the teachings of Jesus. However, I would be amiss if I didn't point out their inconsistency is very consistent with a dominant stream of historic American Christianity. The truth is, Dobson, Falwell, Graham, and the crew of bewitched clergy that belong to their fraternity represent a distinct Christian ideology that has long existed in America.
They are the final holdouts of an American Christian tradition that promoted prayer in school while demoting "Colored" people to the back of the bus. This is the same Christian tradition that banned the teaching of evolution while promoting the intellectual inferiority of Negroes who were forever afflicted by the mythical "Curse of Ham." This is the same Christian tradition that gave birth to a deceptive Declaration of Independence which claimed the equality of all "men" while cruelly depriving enslaved Africans of their humanity.
This is the "great" Christian nation that Trump and his wolfish pack of clergy counselors pine for. It's the same Christian nation that the Pilgrims and Colonialists viewed as a Promised Land to be ripped from the possession of the Sioux, Apache, Navaho, Lakota, and others upon whom they bestowed the "Canaanite" label. It's the same Christian nation that Apartheid era South Africa could depend on for constant support.
Ominously, these words serve as a haunting warning to America from the 65 percent of white evangelicals and their leaders who have thus far exhibited unflinching support for Trump. In Trump's America, there will be no refuge for the undocumented immigrant, many of whom are subject to slavery and exploitation. There will be little relief for the masses crippled under the burden of student debt and impoverishing minimum wages.
Additionally, there will be no support for those among the sick who have been disadvantaged by pre-existing medical conditions. There will be no justice for Black youth, for whom an encounter with law enforcement may very well result in "the gloom of the grave." There will be no asylum for the millions of Muslim refugees fleeing nations that have been thrown into chaos as a result of our own foreign policy that drew them into George W. Bush's "axis of evil."
This is why so many evangelicals still support Donald J. Trump. They want to halt progress. Along with David Duke, they want America's future to be like their version of the past. They want their country back.
Calling all HuffPost superfans!
Sign up for membership to become a founding member and help shape HuffPost's next chapter