Over the course of my 12-year teaching career, I've been very fortunate to be able to travel as part of my job. Whether it be taking 120 eleven-year olds to a chateau in Belgium or 15 eighteen-year olds on a World Challenge expedition to Madagascar, each trip has had a myriad of benefits for students and staff alike.

During my two plus years at THINK Global School, travel has been an inextricable part of my working life. Every semester brings with it new horizons, new challenges, difficult family goodbyes and joyful re-acquaintances with colleagues and students.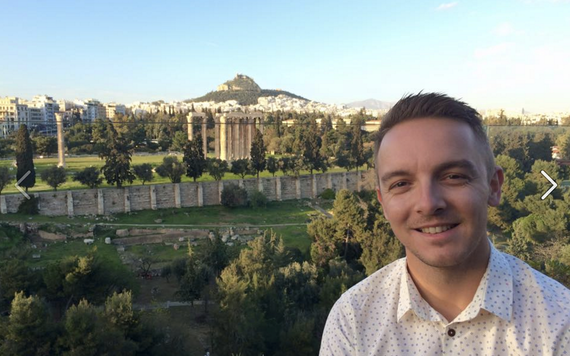 Greece was one of three countries we lived and learned in during the 2014-15 school year
One thing that often strikes me is the frequency of repeat conversations I have with people -- ironically, I even have frequent conversations about this very topic with TGS staff and students. There are often set patterns to the start of conversations once you mention that you work or study at TGS.
"Wow, I've never heard of that!" is usually the starting point, closely followed by "Well, the students must all be loaded! (this is certainly not the case - as I always emphatically state - as we have students from all over the world who come from a wide range of socioeconomic backgrounds, and tuition is assessed on a sliding scale). Sometimes I get halfway through the conversation and realise the person I'm talking to doesn't grasp that the students travel with us as well. I've often pondered this point -- these people must assume we're like the A-Team of education, swooping in to foreign climes to save the educational day. "That ain't no place-based learning, fool!". Like me, THINK Global School's students are in it for the long haul, with all 45 traveling alongside our staff to experience life in three different countries each year.
Another question that I've been asked on many occasions is simply "Why?". Why do we go to the effort of organising visas for everyone, arranging accommodation, flights and logistics and writing our curriculum to reflect the places in which we are living? In short, why do we explore?

I think this is a fitting moment to explain our weXplore programme: each term, we arrange a series of short, themed trips for our students typically lasting between four and six days. During my time at TGS, I've planned and experienced a wide range of excursions, ranging from multi-city trips across the UK and Greece to a community project in a children's refuge in Sicily. Each of these trips has been rewarding in its own way, and has meant something different to every participant.
During one of my conversations about TGS, a teacher from another school asked me how we justify taking valuable time out of the classroom. So to reframe the question, why do weXplore?

#1 Travel broadens the mind

This may be an overused cliché, but in my experience it really rings true. I consider myself to be a more knowledgeable person in no small part due to where I've been and what I've learnt in those places.
Travel never ceases to be interesting, and I don't think I'll ever lose the thrill of stepping out of an airport into a new country. My favourite experiences have been the ones I've shared with others, and especially the people I've met in those locations -- from Kiwis to Greeks to Bosnians.
This is the first reason why we travel. Being able to interact with locals and hear the history of a region firsthand is an invaluable learning experience. It's also an opportunity to delve into the issues that are pertinent to the region, and experiencing them in person is also more likely to generate a sense of understanding, or empathy when needed. Some of these experiences can be overwhelming, like our visit to Srebenica, Bosnia and Herzegovina, where one of the worst massacres of the Balkan Conflict took place. These are the experiences that often stick with our students long after leaving, and we hope as they mature into global citizens, they become motivated to create meaningful change in the places they have visited, even years down the line.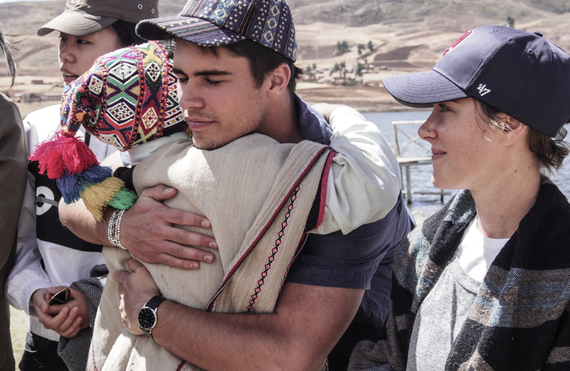 TGS student Jonah receives a despacho blessing from a Q'ero Shaman. Photo by Jen Buchanan, Media Specialist at TGS
#2 We learn much more through context

Here at TGS we espouse a place-based, project-based educational model. There is a lot to be said for students getting stuck into a project, and there is a lot of evidence that points to the merits of learning through longer, in-depth tasks. In addition, students learn best when they are motivated by what they are doing. It goes without saying that in our plugged-in and multitasking society, a simple textbook is probably not going to motivate a large proportion of students. So what better way to get them interested than taking them somewhere new? It doesn't even need to be somewhere exotic, as endless opportunities for project-based learning exist right within your community, regardless of where you live. Swapping the standard classroom routine for lessons that venture outside and establish real-world connections can work wonders for the students' motivation and focus.
#3 It reminds you that the world is worth fighting for

If you're fortunate enough to have lived in the Costa Rican cloud forest or visited the gargantuan Kauri trees in New Zealand like our staff and students have, you've witnessed how varied and beautiful our planet is. As beautiful as it may be, the natural world is in trouble, and it's easy to forget about that when you're living in any kind of urban environment.
While THINK Global School was travelling around Costa Rica, our grade 9 and 10 students worked on a multidisciplinary project in which they chose a cause and advocated for it through a digital campaign. I was on the judging panel of the project presentations, and the students' passion stemming from the first-hand experience of their chosen issues was truly inspiring. As an educator, a trip to the cloud forest isn't necessary for students to embrace the environment; go local with your projects by encouraging your students to tackle issues that are pertinent to their community. Projects might explore how to combat environmental contamination or cultivate a school garden that provides healthy lunchroom options. These projects instill a sense of responsibility and civic pride, and often lead to conscious choices -like healthier snacking- being made outside of the school setting.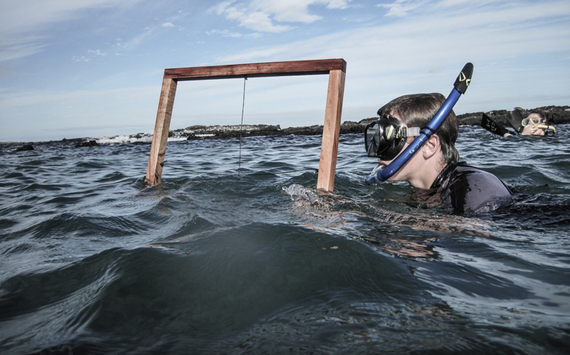 Students gather marine data in The Galápagos Islands.
#4 It builds a sense of community

Many educators often speak of "the line". There is always a line between staff and students - at times immovable and rigid, sometimes shifting and opaque, but it is always there. "You can be friendly, but you can't be friends" as the mantra goes. While I would agree that there is a different dynamic between friends than between teachers and their students, it is undeniable that it is crucial to have good relationships in the classroom. When you take those relationships out of the classroom, something very special can happen. Shared experiences between teachers and students really help build a strong community, and it's an excellent way to enrich relationships -- be friendly, without being friends.

#5 Travel isn't just about sightseeing

When many people go on holiday, the onus is often on what can be seen. Much of traditional travel is passive. Yes, I've seen the beauty of the Iguazú Falls, and I've seen the Northern Lights, but I believe that the most profound experiences for students are when the onus is shifted to what they do. From writing and recording an original Beatles-inspired song in London, to speaking to survivors of the siege of Sarajevo, to re-enacting scenes from Homer's Iliad while cruising the Ionian sea, to bonding with local students while getting a Wilderness First Aid qualification, we endeavour to provide immersive, challenging, educational and above all active weXplores. These are the ones that really add value to the trip, and encourage learning in much more depth.
Additionally, during these excursions we encourage our students to keep the school's core values in mind. Being cognizant of these guiding principles, like Qiú Zhi Yù, what the Chinese call a thirst for knowledge, and Ubuntu, the Zulu philosophy of human kindness towards others, helps our students approach their experiences with a common mindset and purpose. For teachers looking to galvanize greater interest in their students by taking time out of the classroom, I encourage you to look at what values are important to you personally as an educator, and embed them into how your students learn.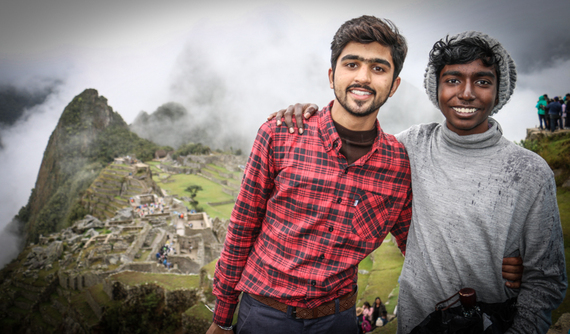 TGS students Wajahat and Victor explore Machu Picchu. Photo by Tianxiao Xu.
And that's why weXplore. I hope our approach to infusing travel into educational experiences is something you can apply directly to your own classroom experiences, whether it be on a local level or, even better, during your own school excursion to the cloud forests of Costa Rica.
Related
Popular in the Community