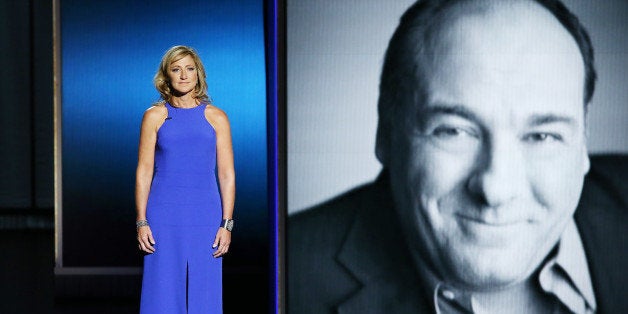 I remember the day my husband shouted upstairs to tell me that James Gandolfini had died. This was not big news in our home as we didn't really watch The Sopranos but we both felt sad. Prompted by this I began to think about why we grieve so much when someone famous dies. It's as if they were part of our family, and in a way they were. So why are we so affected by the death of someone we don't know and probably never met?
We see a big outpouring of grief when a celebrity or public figure dies especially on social media sites. The expression of grief is as if they were part of our family or group of friends. In a way, famous people are an extension of our friends and family. Although we don't know them and probably have never met them, they are very much a part of our lives as we know so much about them. Online we could watch where they shopped, dined and took holidays. They were readily available to us on gossip sites as well as in their day job in drama series, films and TV shows.
As we have such a lot of access to people's lives they become part of ours. In the case of James Gandolfini, he was the main character in The Sopranos which was one of the most successful TV shows of the late '90s and early "noughties." We watched and loved the program discussing the twists and turns of the plot over six series until the last episode. Then as the final episode finished airing, a bit of us died; it had been a constant in our lives for eight years, and it had come to an end. The program and characters are a part of us as they have been around for eight years, longer than some friendships! In our memory, it is part of a particular time of our life and the memories that are evoked remembering where we lived , who our friends were, parties, holidays it is all part of a big picture, a part of our youth revisited.
It also affects on a more personal level if they are close in age to our own. In the cases of Whitney Houston and Michael Jackson, it was felt that at around 50 years of age they were too young to die. We grew up listening to their music and looked up to them as role models even when perhaps they were not appropriate ones. Diana Princess of Wales not only was very young, but also had two young boys; the fact that she was in such an awful car crash was a big shock. A a celebrity death can remind us of friends or family who have died and can replay all the feelings of grief and loss.
With the ability to share in the death and grief on social networks there is a feeling of needing to be a part of that. There is a sense of community in those who are grieving together by posting thoughts on social media. It is almost as if we are a part of it sharing our own thoughts and experiences for others to read. Stating the connection between yourself and the celebrity maybe through work, meeting socially or as a fan, how they supported something you did for charity. A sense that they have gone and no-one will be talented enough to take their space and so we cling on to who they were, what they did, how we connected with them and what they meant to us.
The effect of a celebrity death feels like part of our youth has died and with the loss of Lou Reed this week that is very much reflected in the tributes to him. A loss of a little bit of what makes us who we are, the people who helped form how we are now. We align ourselves to famous people who are similar to us, we aspire to be like and who we look up to as role models and so they have an impact on us at certain times during our lives. When they die it is like a part of us has gone too and we will never get that back. It reminds us we all mortal and that we are still here and to make the most of our life, at least for a while.
Popular in the Community