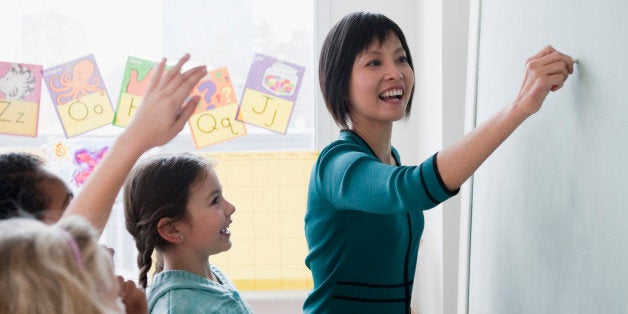 It's September -- that time of year. Cartoonists, comedians, pundits, and critics are out in force running down the teaching profession. We treat the start of school as though forcing children into the classroom condemns their young lives. The critics are indiscriminate: all teachers are lousy; all teachers are ineffective. How can we expect our children to love learning and become productive citizens if we teach them to hate teachers and schools?
We have an unhealthy attitude about education in this country. We treat education like a commodity bought and sold on the futures market, a manufactured product, or a clear process for simple implementation. In fact, education is a responsibility. It is an opportunity in which young people must invest themselves. It is a duty families owe to the development of their children. It is a community obligation to insure the republic has qualified citizens to perpetuate our system of self-government. Education is a responsibility that we, the citizens of this republic, should take up gladly with excitement, enthusiasm, and an eye to the future.
Rafe Esquith is a veteran teacher at the Hobart Boulevard Elementary School in Los Angeles, California. He recently published Real Talk for Real Teachers, and if you want a feel for the day-to-day life of classroom teachers today, read his advice for young teachers just entering the profession. You will be shocked. Only the most devoted educator survives in the profession. Esquith tells the new teacher, "You will meet kids who are so incorrigible you will completely lose your cool. You might be in an unfortunate situation and feel absolutely no support from your administration or the parents. And you will pick up the newspaper and get no love from society either."
Classrooms are buffeted by the cultural forces in our communities. Esquith reminds readers that, "We are trying to teach kids to be honorable in a world where dishonor stares them in the face constantly. We are trying to convince kids to be decent in a world where indecency is not only the order of the day but shockingly celebrated in the media and, as a result, by much of our population."
Still, and despite all the challenges, Esquith encourages the new teacher to endure. Rewards in his world are measured not in monetary compensation or policy success or new-age educational process, but in the hundreds of students who leave his classes to become successful in school, at college, at work, and in the community.
Education is not just a teacher's responsibility. Education is a community endeavor. It takes concerned parents, businesspeople, community leaders, and others to successfully educate our children. But citizens, like teachers, are conflicted about and often bewildered by our education system. The national news, rhetoric about education policy, and constantly shifting curricular trends are baffling. Phi Delta Kappan and Gallup have released the 45th "Poll of the Public's Attitudes Toward the Public Schools." Americans believe that, nationally, public schools are inadequate. Only 18 percent of those surveyed grade American schools at an A or B. The majority of those surveyed also said that high school graduates were unprepared for college and for the workforce. Yet, these same individuals rated their own community schools highly. Seventy-one percent give their local schools an A or B. Why the disparity? Citizens, like teachers, view education from the front line and in terms of individual students. Citizens see their own children learning and they are encouraged and inspired.
Because education is a community issue, we can work together in communities to change attitudes about our schools and teachers. We can improve local schools. Volunteer. Support your local students and teachers. Join in the discussions and debates about local education policy. Let's celebrate the coming of fall not with jokes about teachers, but with stories about the teacher or teachers who inspired us. Talk up the importance of education to our republic. Yes, there are problems, but for every concern and issue there's a story about a student and teacher's success. Most of all, let us remember that education is not a gift bestowed upon each new generation; Education is a responsibility undertaken by students, teachers, parents, and the community at large to ensure the continuation of a viable republic. Therein lies the future of us all.