Iron Chef in its early days: Japan's top chefs racing around the kitchen studio engaging in "Battle Globefish" or "Battle Quail."
Ten years and countless imitations later, celebrity-chef cooking contests aren't just a thing but a ubiquitous thing. Fame and reality-showness have merged with food, just as they have with duck-hunting and nearly every other aspect of American culture.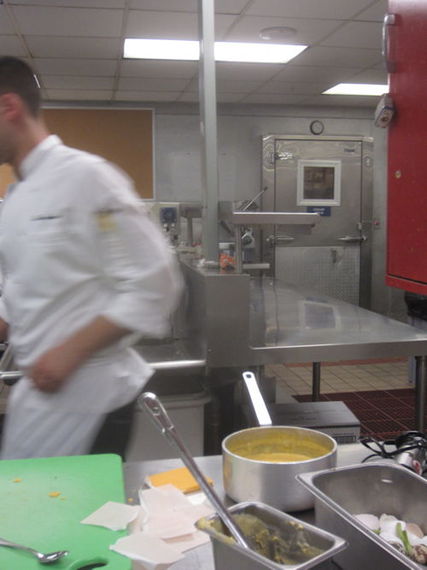 Why do we love cooking contests?
"Because spectators want to participate vicariously, as if they were doing the cooking. Because it's not salacious. It's not about sex," said San Francisco radio host Joel Riddell, who has emceed cooking contests at annual foodaganza SF Chefs (this year renamed EatDrinkSF) and emceed the InterContinental Hotel & Resorts' Ultimate Culinary Clash on May 15 at the towering InterContinental San Francisco -- in whose presidential suite Barack Obama stays when he's in town.
"Don't get me wrong. I like Game of Thrones," Riddell told me. "But sometimes people just want to be able to watch something alongside their ten-year-old kid, and that's getting less and less possible these days. Plus everyone loves food."
May 15's UCC pitted against each other five culinary-school students who had previously won local competitions at this and four other InterContinentals. Each student, mentored by a different InterContinental chef, presented a dish to be judged by a panel of experts including celebrity chef Todd English.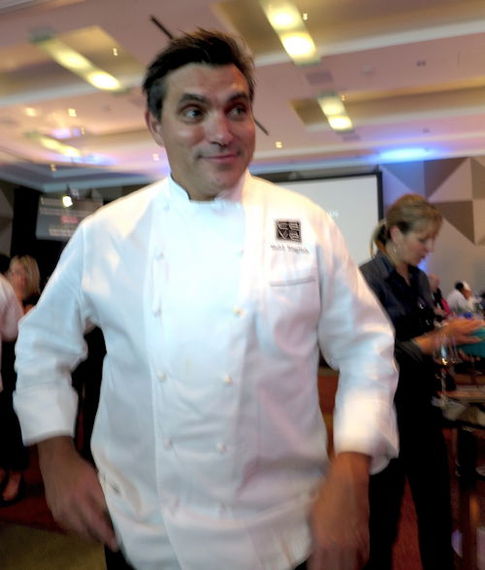 "For chefs, life itself is a constant cooking competition," English told me somewhere between the gigantic ice sculpture and a server bearing deviled eggs. "We live it every day. As much as we have fun and respect each other, we're still out there competing with each other -- because you're only as good as your last dish."
"Cooking contests like this one celebrate the self-starter, the student who's going to rise above others who have the same skills," added Daniel Corey, the Michelin-starred executive chef at InterContinental San Francisco's Luce Restaurant.
"Competition is important and healthy. But it's mainly a great learning experience -- not just for the student competitors but for us, their mentors. What makes this contest different from Iron Chef is that we're not trying to knock each other off our thrones."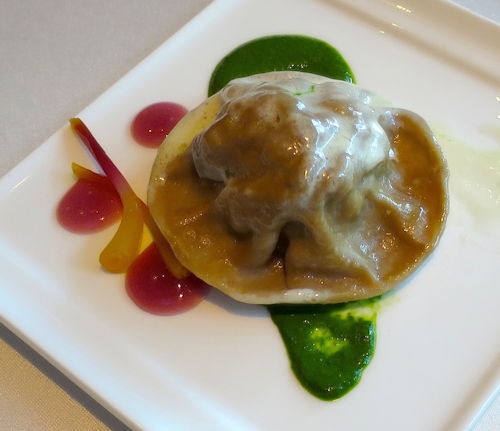 As a member of the local media, I was permitted to sample the dishes. My favorite by far was rabbit-morel ravioli with pickled ramps (pictured above), prepared by student and avid forager Brad Lancaster, mentored by InterContinental New York Times Square executive chef Andrew Rubin. Other entrants included Pacific snapper with Parisienne gnocchi, grass-fed strip loin with chimichurri, and beef cheeks with smoked Gouda grits.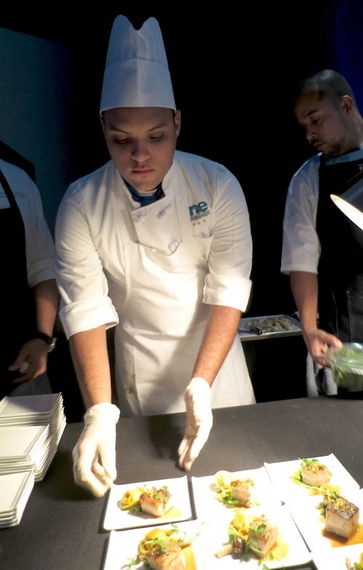 Winning the grand prize -- a $5,000 scholarship -- was apple-sage-roasted pork belly with butternut squash, exotic mushrooms tortelloni, petits pois and hickory-smoked pork jus prepared (as depicted above) by student Victor Bonano Ortiz, mentored by InterContinental San Juan executive chef Efraín Cruz. I can't get with pork belly, mainly because of its name, but obviously everyone else can.
Hundreds of other cooking contests had come and gone around the world and on TV when, two weeks later, I attended another hotel-generated cookoff, the San Francisco segment of the Hyatt Hotels' Good Taste Series. The series finds young Hyatt chefs -- not executive chefs but sous chefs, banquet chefs and such -- competing against each other regionally, with regional victors eventually facing off in one big cookapalooza.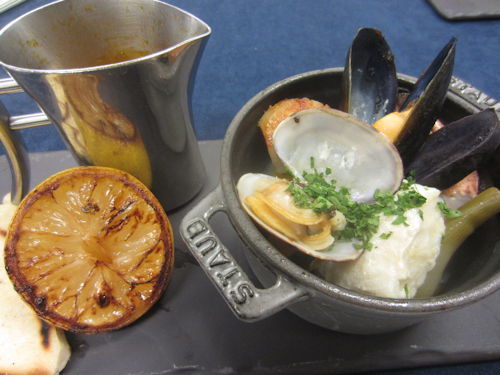 One stunning, sculptural, succulent dish followed another as eight contenders raced against each other and the clock in the Hyatt Regency's kitchen, using their own recipes and ingredients they had sourced and brought themselves. Standouts included deconstructed cioppino (depicted above), red quinoa porridge in pistachio milk, gluten-free chicken-pot-pie sliders, almond-butter and fresh-fruit soft tacos (depicted below), steak-scallop-prosciutto roulade, Dungeness crab soufflé, pasta-wrapped bison "meat-pops," and poached eggs topped with tomato jam.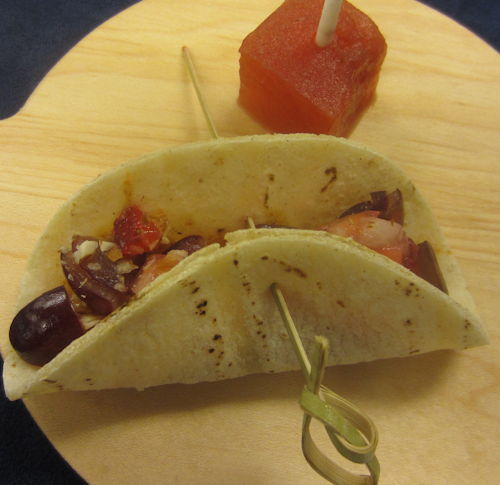 Eric Rogalski, banquet sous chef at the Hyatt Regency San Francisco Airport (and maker of the sliders), won a cash award, a fancy Japanese knife, and a chance to enter the next round in Maui.
But I didn't want anyone to lose, because every single competitor brought to the table -- literally, in plates and bowls -- authentic passion, dedication and eye-popping artistry. After leaving the hotel, I wished I could have somehow said this to all eight competitors: that in this jaded cynical world, some of the greatest art, hewn by visionaries with valiant hearts, is happening in kitchens. That's why we love cookoffs.
Todd English image, ravioli image, white-plate array image and Victor Bonano Cruz image by Kristan Lawson, used by permission. All other images by Anneli Rufus.