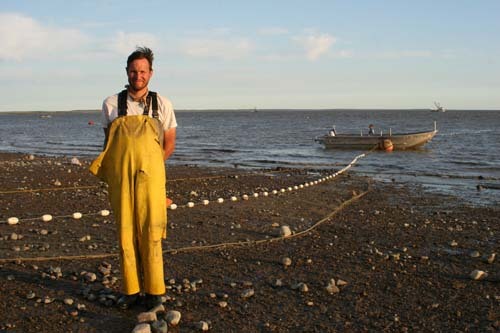 Bristol Bay salmon fisherman Christopher Nicolson
There are plenty of reasons to oppose genetically engineered salmon, ranging from consumer health concerns to environmental risk, but there's a larger question we need to ask in the debate around Frankenfish: what kind of food system do we want to sustain us? AquaBounty, the company who genetically engineered this fast-growing salmon hybrid, claims that we need GMO farmed salmon to meet growing demand. But do we?
Americans love salmon. Most salmon found on the market is unsustainable farmed salmon, and AquaBounty's genetically engineered salmon is designed to make salmon farming more productive and profitable. But we don't need more cheap salmon -- we need better salmon. Instead of continuing to fuel a system where food is a commodity and the health and environmental costs are externalized, we should be eating less and eating better.
We have a sustainable and healthy supply of wild salmon. The salmon run in Bristol Bay, Alaska is the largest and best managed in the world. Each year 40 million wild salmon return to Bristol Bay's watershed to spawn. Bristol Bay salmon provide sustenance for thousands of fishermen and natives, not to mention lucky diners around the country who enjoy the harvest.
Our fisherman friend Christopher Nicolson has been fishing in Bristol Bay since he was 13. He tells us that his grandfather settled in the Alaskan territory in the 1940s to take advantage of the Homestead Act, which offered ownership to anyone who spent two years on a piece of land. Nicolson's grandfather spent two winters without a permanent structure in a camp on Graveyard Point. Today, Nicolson and his cousins return to his grandfather's homestead each summer to fish for wild salmon. He describes fishermen camping together waiting for openings, working together to pull shallow nets bulging with brilliantly colored sockeye salmon surging through rivers and streams.
The Bristol Bay fishery might not be able to feed the world, but it is an example of a sustainable food community that we should defend and support, instead of allowing a questionable supply of genetically modified seafood go to market. As Paul Greenberg argued early in the GM salmon debate, "Why are we engineering a fish instead of protecting the resources we have?" If we want healthy sources of seafood for future generations, we need to seriously evaluate the health and environmental risks of GMO farmed salmon as well as consider the effect on our traditional food communities. Ultimately when we make choices about what products we want as consumers, we have to keep in mind the link between our dollars and producer livelihoods. Who do we want to feed us? Remember that when we eat salmon, we're part of a much larger web.
The FDA issued a preliminary finding of no significant impact. We think they missed the point. Let your voice be heard.
Calling all HuffPost superfans!
Sign up for membership to become a founding member and help shape HuffPost's next chapter