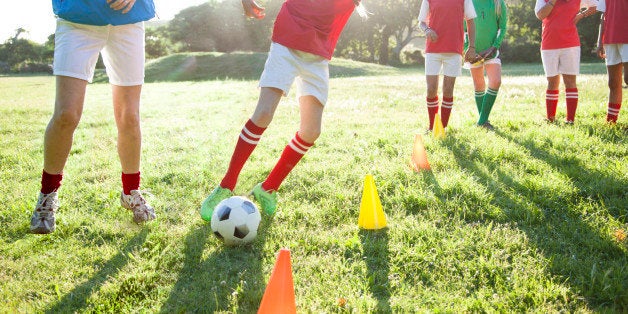 Youth sports are being hijacked.
Let's put it more directly -- your sports are being hijacked. The sports that your kids play are being taken over by a well-intentioned but misguided and counterproductive drive to make them better athletes in the hopes of attaining glory at "the next level" -- college, pro, the World Cup, etc.
You know it's a legitimate problem when a columnist at ESPN, a company that feeds on serious sports, bemoans the "youth-sports industrial complex" that lures parents with words like "elite" and "select." At younger and younger ages, parents are pushed to put their kids in programs that suck up a lot of time and money.
What's the harm? Several things:
1. Playing too much at an "elite" level, as opposed to recreationally, can lead to overuse injuries and burnout. It's different if kids are playing on their own, where they can just run around until they're tired and decide on their own to wrap things up for the day, free from the stress of barking coaches and parents.
Even European professional academies realize this -- renowned Dutch club Ajax trains its 12-and-under players three times a week and asks them to go play on their own: "Under these conditions, they can play with no one telling them what to do and they can be totally free."

2. Specialization in one sport runs similar risks. As I've said in a previous column, everyone from the athletes I spoke with for Single-Digit Soccer to the American Academy of Pediatrics extols the virtues of playing multiple sports, not specializing.

3. You can't even tell which players will be best at this age. The best players on the world's stage in Under-17 competition are usually not the same players you see excelling in the pros a few years later. So why do you think you know how good a player your child will be before he or she hits puberty? A player who is declared "elite" at age 8 based on nothing more than early athletic development is often doomed to be frustrated when everyone else catches up at age 12. (And then that player is likely to quit.)
4. Recreational play, which benefits everyone from the elite athlete seeking "the next level" to the sickly child who needs exercise, is dying out. For too many parents and youth organizations, it's "elite" or bust.
What can you do about it?
Become a well-educated consumer, just as you would for any other good or service you buy.
And above all else, make sure you're doing what's best for your child and his or her interests. Don't get caught up in the rat race of trying to keep up with your neighbors.
That doesn't mean taking your kids out of travel soccer and relying on your neighborhood park to account for all of their sports. It just means being aware of the excesses that too many parents are swallowing without question.
You don't have to be one of those parents.