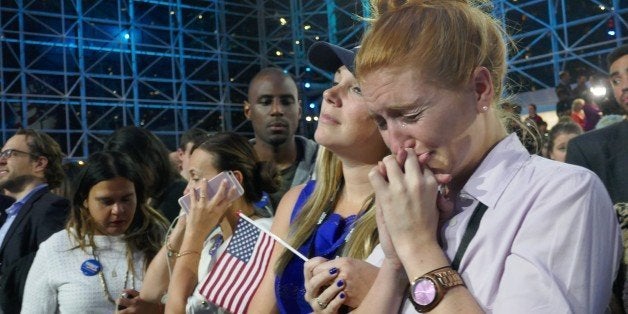 For the first time in my 50 years on this earth, I have started to doubt that I will see a woman president in my lifetime. There I said it. I have had to wrestle with, and accept a fact so foreign and unexplainable to me: a lot of women seem to have an innate bias against other women. Even in this historic election, after 240 years of men, women voters still wouldn't rally around our first woman running as a major party candidate. Let me be more precise: white women wouldn't. I think it's time for a serious discussion of what's at play here!
I had hoped this was a generational thing, and with the evolution of our culture, and factors like women mainstreaming into the workforce and making up half the population on campuses, we could finally view each other as teammates, not enemies. This election revealed the opposite -- young women were actually the toughest on Hillary. Millennials preferred Bernie in the primary election, and when they did finally come around to Hillary in the general election, a USA TODAY/Rock the Vote poll found that support was much higher from Millennial men (65 percent) than women (47 percent). And here we've been consternating about whether men were evolving on gender! I'd be lying if I didn't say this breaks my heart a little.
What happened? We can put away some of the hackneyed excuses, typically pulled out each time a woman runs for office. The most convenient, go-to tends to be, "I vote for the most qualified person" (the underlying insinuation being women are less qualified). That excuse unequivocally fails this election, and so instead, the essence of dissent seems to be she wasn't trustworthy -- a storyline as ancient and engrained in our psyche as Adam and Eve. Or for others, the old-fallback that we really need to unpack: Hillary is not likable. Trustworthy and likeable -- compared to any man, but this particular man?
I know the next excuse: I support women, just not this woman. Oh please! As she ended her time as Secretary of State, Hillary was the most popular politician in our country -- more popular than President Obama or VP Biden. Then, when she took the bait, and declared her candidacy for president, it was like a ski slope down. She had, in American's eyes, risen above her station. We then proceeded to find a rationale to turn on her: an email account -- quelle horreur! -- nothing more than a modern day witch-hunt! And please don't kid yourself: if First Lady Michele Obama or Senator Elizabeth Warren ever choose to run for president, we'd do the same thing to them too (or at least white women will). That's why we need to figure out what's going on here!
I have struggled to understand what is happening between women. My instinct and habits have always been to surround myself with, and support other women. From playing on sports teams, to joining a sorority (those women are still my friends), to mentoring scores of young women while working on Wall Street, and hundreds more for the last decade as head of a national women's organization. I always tended towards seeing the better side of my gender, and propping them up.
And so, I am completely at a loss in understanding this aspect of my gender: why are we so darn hard on each other? It's like when we tell men, they can't understand what it is to look over your shoulder in a dark parking lot; or we tell our straight people, they need to walk in our gay shoes for a day; or we tell our white allies, they can't understand our daily struggles from a place of privilege. I am an outsider. I have racked my brain, heart and soul to understand why women (again, white women) would support a less qualified man who said out loud, "Grab them by the pussy," and we all know in our hearts, has sexually assaulted and discriminated against and objectified women his entire life. And white women: we split the vote? This is where I discover, I have no answers.
What I do know is that Donald Trump was clever. He knew the notes to play ("Crooked Hillary") to give women the license to turn on each other. He isn't the first, and he won't be the last! Turning women on each other is the surest way of holding us down, and maintaining the status quo of women being secondary class citizens by so many measures.
I fear for what comes next. These coming four years, will not be good years for women. Sexual harassers and assaulters are emboldened -- hey, even Bill Cosby now wants another chance! Workplace discrimination will be rampant, and likely go largely unenforced. Women will be put down at the workplace, at home, and on our campuses. This is happening, already.
After a decade of running a national women's organization, and living through two campaigns with Hillary, I can tell you this without a doubt: women will never advance to equality until we start supporting one another. Can we at least start by giving one another the benefit of the doubt? I implore every woman reading this, in her quiet moments, to give this some thought. Especially young women: you are our future, and if you can't band together, you'll always be relegated to a place at work and at home which has your needs as runner-up.
All it would have taken this election is a few more women giving Hillary the benefit of the doubt.
Calling all HuffPost superfans!
Sign up for membership to become a founding member and help shape HuffPost's next chapter