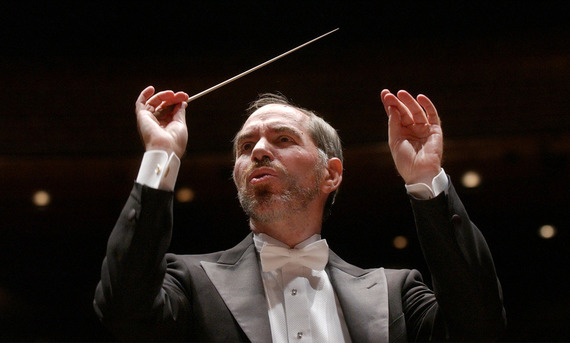 Noted internationally for performances that combine innate musicality with interpretive insight, David Loebel joined the faculty of New England Conservatory as Associate Director of Orchestras in 2010 following an eleven-year tenure as Music Director and Conductor of the Memphis Symphony Orchestra. Loebel has conducted orchestras all over the world and honored five times by ASCAP for his adventurous programming. He is a recipient of the prestigious Seaver/National Endowment for the Arts Conductors Award. 
"Why Do You Give Two Beats?": Pierre Boulez Remembered
- By David Loebel -
In the days since Pierre Boulez's death on January 5, innumerable tributes have hailed him as the dominant European composer and conductor of the post-war era. Not mentioned as often, however, is his role as an educator of musicians and audiences. Like his New York Philharmonic predecessor Leonard Bernstein, Boulez was a born teacher; this was the Boulez I was lucky enough to know.
My path crossed that of Boulez at two crucial times in my conducting life. Although I grew up in a musical household, as a teenager I was turned off by anything having to do with classical music. Fortunately, my interest was reawakened during my college years, a time that coincided with Boulez's first extended relationship with my hometown band, the Cleveland Orchestra. It was through that now-legendary partnership that I really heard--not just listened to--revelatory performances of the great twentieth century masterpieces in which Boulez excelled: Le Sacre du Printemps, Jeux, Bluebeard's Castle, Arcana, and many others. I could not have wished for a better initiation.
Whenever possible, I attended Boulez's Cleveland Orchestra rehearsals with scores in hand, occasionally gathering the courage to ask him about the music I'd heard. Although many still saw him as a cold, calculating ideologue, to this aspiring conductor he was unfailingly warm and approachable, scribbling in my scores with his inimitably tiny, beautiful handwriting to show me the reasons for his musical decisions. (The last note of Le Sacre, he said, was "just noise" unless one plays the grace notes preceding the penultimate note slower than Stravinsky notated them).
Boulez and Cleveland parted ways in 1972 and he didn't return to conduct there until 1986. It was a happy reunion; my father, a violinist in the orchestra, wrote that he hoped I could someday have a relationship with Boulez. Miraculously, that came to pass a few years later when I was given carte blanche to attend his rehearsals with the Chicago Symphony Orchestra, another magnificent ensemble with which he'd formed a special bond.
Over the next several years I spent countless hours watching Boulez in action, marveling at his formidable intellect, x-ray hearing, and beautifully functional gestures. By 1990 he was no longer the enfant terrible who talked about blowing up opera houses but rather a beloved elder statesman. One morning upon entering Orchestra Hall I ran into a senior member of the CSO's staff. "How are you?" I asked. "Great," he replied; "How can I not be great when Pierre is in the building." Boulez's kindness and generosity were even more bountiful than twenty years earlier. He sat with me once for nearly an hour answering questions about La Mer, something a musician of his stature was certainly not obliged to do.
During this period I was invited to participate in one of the conducting workshops Boulez periodically taught. That it took place in Carnegie Hall with the Cleveland Orchestra was intimidating enough; to have to actually conduct in front of him made it all the more nerve wracking. But like any great teacher, he put me at ease without for a moment lowering his astronomically high standards.
At one point in Messiaen's Chronochromie, I gave an extra beat before giving the real upbeat; it was the tiniest of gestures--no more than two inches big-- given with one index finger and mostly for my own benefit. He snapped at me immediately "Why do you give two beats?" I sheepishly eliminated the gesture the next time and the lesson was clear: the conductor's job is to give the orchestra the precise amount of information it actually needs, not a bit more (or less).
The workshop included a concert by Boulez and the Cleveland Orchestra that remains among the very few truly great performances I have ever heard. It was as though this supremely sensitive orchestra, having seen him try to explain the mysteries of conducting, became even more attuned to the deep subtleties that so enriched their already superlative music making.
My last visit with Boulez occurred in Cleveland in 2010, a few weeks before his 85th birthday, during what proved to be his last visit to America. For the first time he seemed old. I found myself asking him questions to which I already knew the answers, just for the joy of hearing him talk about whatever was on his mind.

***
No one would have objected if Boulez had spent his life surrounded by a tiny handful of his intellectual equals (if indeed such people actually exist). We must always be grateful that he chose a different path. His interest in his younger colleagues reminds us that for the sake of future generations we are obliged to share what we've learned, be it the intricacies of complex music or how to change a tire.
In an age when buzzwords like "charisma" and "marketability" have all but drowned out the notion of serious, selfless music making, Boulez stands as proof of the first rule of conducting: the conductor's authority stems from his knowledge of the score, period, end of discussion. To gain that knowledge and authority a conductor must think like a composer, not merely noticing what is going on in the music, but constantly asking why.
My connection with Boulez was never as close as that of a student and teacher, but for me he became something more important--a role model whose insights on matters large and small, theoretical and practical, remain among the most valuable lessons I've ever received. In my own inadequate way I try every day to incorporate those lessons into my own work and, more importantly, to pass them on to today's young musicians.
Photo of David Lobel. Photo Credit: Matthew Craig
Calling all HuffPost superfans!
Sign up for membership to become a founding member and help shape HuffPost's next chapter