I like to think I'm a thoughtful person and over the years I've pondered this a lot. My first response and the obvious one is that our customers are here. They ride every day, educate kids about trees and arboriculture, and raise millions for tree research. The second, less obvious, but a more profound answer is rooted in the culture set forth by the founder, Andreas Stihl, Over 90 years ago. A culture of innovation that bleeds into everything we do. It's no different on the Tour, everyone here is dedicated to improving their craft, understanding urban forestry and making a huge impact in their discipline.
Now I'm going to get on a small philosophical tangent that stems from a conversation with one my good friends on the tour also an original tour rider, Ward Petersen. We were discussing this topic at length. At the end of our conversation, we agreed — corporate interests largely drive the reality of our world. I'll let you decide which corporations turn your stomach, but I will share my resulting belief. If these interests drive our reality, we need to make sure these corporations merge business interests with social and community interests. So, I'll ask again — but in a slightly different way: Why shouldn't a chain saw company sponsor a bike tour for trees?
For the 25th Anniversary Tour, STIHL has taken it a step further by collaborating with the Providence Forum to donate six Liberty Trees to be planted along this year's tour route in and around our nation's capital. If you've never heard of a Liberty Tree, they date back to the 1700's and were gathering places for supporters of the American revolution. Each of the thirteen colonies had a Liberty Tree. The one in Annapolis, Maryland was estimated to be 800 years old when it died after Hurricane Floyd in 1999.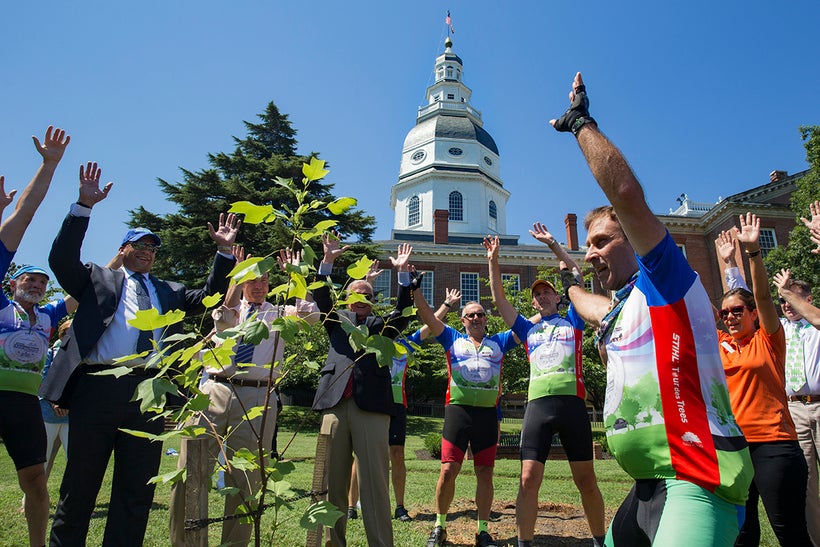 We had the honor of replacing the Annapolis tree with a bud-grafted sapling from the original Maryland Liberty Tree. The planting on the Maryland Statehouse grounds was the best tree dedication I've attended in all the years I've been on the tour. Riders were greeted by several Maryland dignitaries including Lt. Gov. Boyd K. Rutherford who shared our commitment to the preservation of urban trees. They even shared in our unique tree dedication chant, known to all veteran riders. This one was particularly powerful as it echoed off the walls of the Statehouse and rolled through the streets of Annapolis, harkening back to the days of the original Liberty Tree, letting everyone know the importance of our cause.
A world with healthy, thriving trees is a better place. The Liberty Trees we've planted this week stand as a symbol of TREE Fund's ever-present mission and a reminder that the urban canopy is an invaluable resource.
We've ridden many beautiful miles through Maryland, Washington D.C. and Virginia on this tour thanks to Paul Wood of Black Bear Adventures. As I ride every day, I see the faces of my tree friends pedaling through these urban forests and smiling the whole way. I see people ride longer distances than they ever thought possible, and some faster than they ever thought possible. I hear the stories of their lives; they leave me humbled and amazed. I learn about their passions and their families. But mostly, what I learn from them, is more about the man that I want to be. All the business and politicking aside, this tour and our lives, are about the people we meet, the people we love and the impact we have on each other.
STIHL Inc.'s former president of 23 years, Fred Whyte, believed in these types of people and letting them shine. Every rider, volunteer and guest speaker involved with the tour has an unwavering passion for trees and spreading the word with friends we meet along the route. Fred passed away last month, but I know he would be proud of the work we are doing and the relationships we have built along the way
Calling all HuffPost superfans!
Sign up for membership to become a founding member and help shape HuffPost's next chapter
This post was published on the now-closed HuffPost Contributor platform. Contributors control their own work and posted freely to our site. If you need to flag this entry as abusive,
send us an email
.