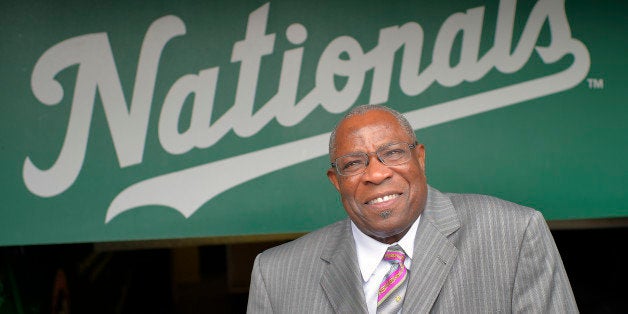 Dusty Baker shouldn't have been the Washington Nationals' choice as manager. Not after original manager Bud Black bailed because of a reported low contract offer.
This isn't a knock against Baker, no indeed. In fact, Baker is overqualified to even be in this particular discussion. But despite Major League Baseball preaching the "gospel of inclusion" with regards to hiring more minority candidates, the numbers tell a different story.
When Seattle Mariners manager Lloyd McClendon was fired in October, there wasn't a single active African-American manager in baseball and just one Latino: Fredi Gonzalez of the Atlanta Braves.
The numbers are disheartening, and MLB and its parent clubs must be held accountable. The hiring of Baker furthers the discussion of the role race plays in baseball, not just for the players in between the lines, but for the coaches in the dugouts as well. And it begs the question: where are the minority coaches?
Assistant coaches Demarlo Hale of the Toronto Blue Jays, Jose Oquendo of the St. Louis Cardinals, Sandy Alomar Jr. of the Cleveland Indians, Dave Roberts of the San Diego Padres and Dave Martinez of the Chicago Cubs are all worthy candidates for a managerial position.
Oquendo, the longest tenured third-base coach in the majors, could have been a formidable pick for the Nats. He just finished his 16th season, and his two World Series championships, mixed with his gutsy and fiery style of coaching, might have worked well in the nation's capital.
Martinez, who is the sidekick to baseball's pope Joe Maddon since his days in Tampa, seemingly went under the radar by the Nats, too. Martinez was crucial in the Cubs' turnaround this past season and has an infectious personality that goes over well with younger players.
Padres bench coach Roberts hasn't been able to crack the secret managerial code either. It is worth noting that Martinez and Roberts are both managerial candidates for the open position with the Los Angeles Dodgers, but from the looks of it, former MLB outfielder Gabe Kapler -- who doesn't have any coaching experience -- looks to be the frontrunner.
Cleveland Indians first base coach Alomar Jr. might be the biggest snub of them all. Considering he was a catcher, one would think that alone might convince general managers and front office executives. Your catcher is your general; a consummate team leader that controls the pace -- and sometimes the outcome -- of a game.
Take St. Louis, for example, where former catcher Mike Matheny was hired after the retirement of Tony La Russa. The biggest knock against Matheny was that he didn't have any coaching experience. Still, the Cardinals went with their gut; It turned out working for the better.
Alomar Jr., on the other hand, is seven years into his tenure, but he can't seem to break the ice.
With Hale, it is much of the same. He's been an assistant since 2006, a well-seasoned coach who previously worked his way through the minor league system as a manager, yet he wasn't acknowledged as a potential major league manager.
All of these candidates might have been a better long-term fit than Baker.
But, hey, I get it, Baker is a player's coach with more of a proven track record. He is a likable guy that builds character in his younger players. Perhaps he is the only one who can help the Nationals' bounce back from their infamous collapse and turn around a dysfunctional clubhouse. Baker will no doubt add to the already-flavor-filled chocolate city.
But we have to be careful when calling it progress. It's not. Baker first appeared onto the scene in 1968, as a 19-year-old player for the Atlanta Braves. He was a two-time All-Star and went on to win a World Series in 1981.
Baker got his first manager gig in 1993. During his tenure, he was a three-time Manager of the Year, coaching Barry Bonds and his San Francisco Giants squad to the 2002 World Series in one of the most historic -- yet controversial -- seasons in baseball history.
Baker has been in the sport nearly all his life, and has been damn good at every part of it. Yet here he is again, gnawing his way back into a game that only invited him in as its mistress.
MLB has to be careful. It can't continue to use Baker as the "token minority face," making people believe they are changing the landscape of a flawed system.
Baker's introductory press conference was last week. As you heard the cameras flicker, Baker, with his natural charismatic smile, bent his baseball cap, making sure the shape of it was just to his liking. He then looked toward his number 12 uniform. With the help of General Manager Mike Rizzo, Baker slipped on his jersey that engulfed his slouched shoulders. But it fit perfectly, and Baker thrusted his fists in the air as a sign of jubilation.
Where some envisioned triumph, I saw regression, because it felt like the uniform came from a second-hand thrift shop. They just made sure to patch up all the wear-and-tear and resell it for cheap. So in comes Baker, fully equipped for the position, but it wasn't suppose to be this way.
Maybe I feel those sentiments because of all Baker has done for the game of baseball -- even in his failures. Playing second-fiddle to Black, a white coach that isn't nearly as accomplished, just doesn't feel right.
But the lack of opportunity for minority candidates is the thought that really lingers. Baker isn't the only coach who can get the job done. It's time baseball and its viewers start to realize that.
REAL LIFE. REAL NEWS. REAL VOICES.
Help us tell more of the stories that matter from voices that too often remain unheard.