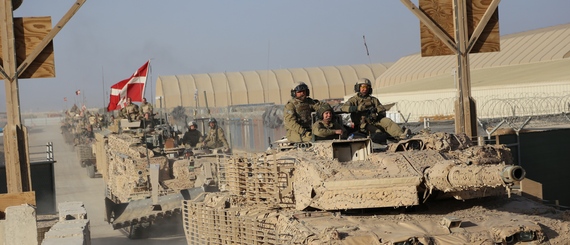 (Photo credit: Nicholas Lundgard, www.forsvarsgalleriet.dk)
Are you going to watch the Oscars on Sunday? I'm quite excited about the Danish movie 'A War'. It is nominated among best foreign language films. 'A War' depicts the tough split-second decision for Danish soldiers in Afghanistan. The movie is screened right now in US theaters.
The movie is just one glimpse into the long-standing Danish commitment to Afghanistan. For over a decade, Danish civilian aid combined with military assistance has helped Afghans move towards a better future than their past under oppressive Taliban-rule.
43 Danish soldiers have lost their lives in Afghanistan. Compared to our population, it gives us a sad record among allied nations. We continue to honour those who have made the ultimate sacrifice.
Why does Denmark, a small country want to be get involved far beyond its borders? I'm often greeted with interest and sometimes surprise about Denmark's broad international engagement. Also here in the US where I proudly serve as the Danish Ambassador. After all, with 5.6 million Danes, we roughly correspond to a smaller US State like Wisconsin.
So let me try and explain why Denmark insists on 'punching above its weight' internationally. In short, it is because we care about international security and because we firmly believe that we can make a difference.
Since the end of the Cold War, successive Danish governments of different political leanings have pursued an active and engaged foreign and security policy. Denmark is committed to promoting a just and rule-based global order based on international organizations with the UN, EU and NATO as the pinnacles. And we insist on playing an active role in all of these settings. I have served in the Danish Foreign Ministry for many years. And I have had the privilege to see with my own eyes what difference a small country can make.
Danish flags waving on the main square in Benghazi, Libya! That was an unexpected sight, and made a lasting impression on me. I was there in June 2011 - shortly after NATO had intervened in Libya to protect civilians in the dying days of the Qaddafi-regime. Danish F-16 fighters were among the first to come and the last to leave. They made a real difference. But the images from Benghazi also remind me, that the international community has a continued responsibility to stabilise Libya so the country doesn't descend into chaos again.
We have not seen many encouraging developments in the devastating civil war in Syria. But in 2013 there was a rare international agreement that the Syrian regime's chemical weapons must be destroyed. In close cooperation with the US, Denmark led the maritime operation. I was on our support ship HDMS Esbern Snare in early 2014 and saw first-hand how we managed to navigate a rare international cooperation between not only close allies like the US and Norway, but also with countries like Russia and China. The mission was a success. Just ponder the nightmare scenarios if those chemical weapons had still been around now with the terror organisation Da'esh creating havoc in Syria.
Talking about Da'esh, Denmark was among the original 8 members of the coalition against Da'esh. Danish military trainers are installed at the Al Asad base, training Iraqi forces together with their US colleagues. Our humanitarian assistance is channelled to the many vulnerable refugees fleeing the devastating war in Syria. And our fighter planes went in to target Da'esh in Iraq. From October 2014 to October 2015 the Danish F-16 flew 1112 flights on 547 missions over Iraq. I visited them in early 2015. And I am confident when saying that it would be difficult to find more dedicated and professional soldiers than the ones I met at the base in Kuwait from where the Danish fighters were flying. As I write these words, Denmark is preparing for a new and even stronger contribution to the international coalition against Da'esh.
One of the most shocking experiences I have had was visiting Sierra Leone during the outbreak of Ebola. I will never forget driving through the capital Freetown and witnessing this normally vibrant city in total lock down. The human, social and economic cost of the Ebola crisis is beyond comprehension. In the middle of all this - just outside a small town named Port Loko, 40 miles north east of Freetown, I visited a little piece of Denmark - an effective and professionally run field hospital managed by Danish nurses, doctors, and the Danish Emergency Management Unit. Together with hundreds of international health workers, they put their lives on the line trying to contain Ebola and care for the ill.
Like finding the right piece which fits into the puzzle, my examples show how even a small country in the global ranking can make a difference. There are many other examples. Fighting pirates of the coast of Somalia, stabilising Mali and the Sahel region, and standing by our eastern European allies when faced with an unpredictable and threatening neighbour. I think it is fair to say, that Denmark has proved, that small dedicated countries can make a real difference.
I am very proud of that. Especially as Ambassador to the US, as all these efforts are done with the US as a close partner. The transatlantic cooperation has probably never been more important than it is today.
Calling all HuffPost superfans!
Sign up for membership to become a founding member and help shape HuffPost's next chapter