I'm almost embarrassed to say it, but I'm sort of turned on by Flo from the Progressive Insurance ads. Is this infatuation wrong? Should I seek counseling over wanting to consummate my internal passion for a slightly annoying woman who sells car insurance on TV ads?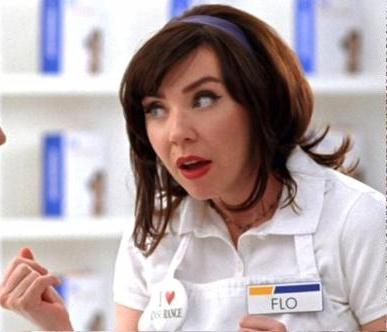 Flo -- of Progressive Insurance ad fame -- is so annoying it's almost sexy. Garnishing an extremely enthusiastic personality, heavy makeup, tricked out name tag, and retro hairdo, there's something about Flo that just does it for me, when she spews out phrases like, "And we're walking...."
Somehow Flo is the type of woman I'd love to hook up with and never tell my friends or bring her out in public: Flo would be my secret-insurance-guilty-pleasure-concubine.
Am I alone in my amorous captivation of the woman who pitches car insurance? I did a little web searching and apparently I am not alone with this secret infatuation.
This drunken man seems to share my sentiments for Flo. I'll call this fella, "America's Flo-loving everyman" (slightly NSFW):
Flo has millions of followers on Facebook. Maybe the majority of gentlemen who are attracted to her are without health insurance: Flo represents full coverage!
For those of you who are not in the know (or may have suffered a minor head injury), Flo is actually a character portrayed by actress Stephanie Courtney. You might recognize her from the role of Diane on the extremely short-lived 2007 ABC comedy Cavemen, which was based on the GEICO caveman ads. (Was taken on the role a conflict in insurance brand loyalty?)
I'll leave you with a video of Flo that will embed in your dreams, or nightmares, depending on your perspective:
Popular in the Community