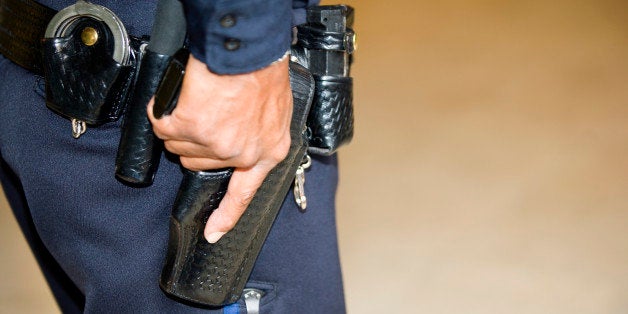 On September 16, helicopter video and a Tulsa police officer's dash cam captured the fatal shooting of Terence Crutcher by Tulsa police officer Betty Shelby. Crutcher, 40, was unarmed, and controversy has swirled regarding whether Crutcher was a stranded motorist with his hands in the air or whether he was a potentially violent, noncompliant suspect under the influence of PCP.
Since his shooting death, the officer who fired the fatal shot has been charged with first degree manslaughter.
According to an affidavit filed with the charge, Shelby "reacted unreasonably by escalating the situation from a confrontation with Mr. Crutcher, who was not responding to verbal commands and was walking away from her with his hands held up, becoming emotionally involved to the point that she over reacted."
The use of lethal force by law enforcement has escalated tensions between civilians and officers nation-wide. The Crutcher shooting, in which a fellow officer felt threatened only enough to deploy a taser, not a bullet, highlights a serious problem in Oklahoma specifically: the use of lethal force at a pace that far eclipses other states.
According to recent studies, Oklahoma led the nation in fatal police-involved shootings last year. In 2015, Oklahoma law enforcement officers shot and killed 32 people--that is a rate of 4.4 per million, which is double the rate of the next highest states, with the exception of Arizona, where police shot and killed civilians at a rate of 3.6 per million.
Of those 32 people, four were unarmed and one was armed only with a toy weapon.
So far in 2016, Oklahoma law officers have shot and killed 15 people, including Terence Crutcher.
In June, Oklahoma City police shot and killed Miguel Chavez-Angles, a Hispanic man whom police had already encountered on a mental health call earlier in the day, on a transit bus. Police initially said he was armed with a knife, but later recanted saying the man was using a "foreign object" as an offensive weapon.
Crutcher allegedly has battled with substance abuse--investigators say PCP was found in his vehicle. Chavez-Angles was distraught over his pending divorce and had been transported for mental health evaluation earlier in the day.
Could it be a race issue? Sure. But these deaths seem to highlight what may be the basis for the large percentage of police shootings in Oklahoma: inadequate mental-health response training.
Brady Henderson, the Legal Director of the Oklahoma ACLU, says of the state, "Oklahoma has a bit of a perfect storm to create the circumstances for violence between police and citizens." Henderson cites lack of standardized training for local law enforcement officers as well as the state's high rate of untreated mental illness and substance abuse issues.
Certainly, having one of the highest incarceration rates in the nation doesn't help, either. For many people in Oklahoma--especially those with substance abuse issues, mental health issues, or a prior record--an encounter with police is almost assuredly going to end in jail or prison. This can trigger flight, and fleeing from law enforcement is an almost guaranteed way to escalate violence.
As far as mental-health response, the state is rife with stories where an appropriate response to a distraught or disturbed individual could have de-escalated an apparently dangerous situation, rather than further agitating a person and escalating the situation to the use of lethal force.
In 2010, police shot and killed Patrick Trevino, 23, at an Oklahoma City physical therapy center. Trevino had mistakenly walked into a physical therapy center thinking it was a hospital. He was reportedly under the influence of PCP and was wanting help. Instead, police arrived and the situation escalated. During a scuffle with police, Trevino attempted to grab an officer's gun. Police shot him in the back of the head, and he died instantly. Remember--he was looking for treatment. Was the shooting justified since he tried to get the officer's gun? Perhaps. However, it seems that an appropriate response may have de-escalated the situation, ending it with hospitalization and treatment rather than death.
In 2014, an Oklahoma State Trooper shot and killed Joshua Stand, 35, a man with a history of mental illness who had just been released from jail the day before and was to be committed to a mental health facility after the weekend. The trooper says he feared for his life after confronting Stand due to a call about a "knife wielding man" behaving erratically. However, dash cam footage appears to show Stand running from the trooper, calling, "Leave me alone." The trooper says Stand suddenly turned, again removed the knife from his pocket, and stepped toward him. With 20 feet between himself and the suspect, the trooper fired. Stand was shot nine times--twice in the back. The knife? It was a pocket knife that was closed at the time of the shooting. The trooper was cleared.
Last spring, Oklahoma City police shot and killed 83-year-old Richard "Buddy" Weaver after the mentally ill man threatened neighbors with a machete. When police responded, Weaver refused to drop the machete and charged at an officer, who fired, killing the elderly man. Two weeks prior to the shooting, police had been at Weaver's home following up on previous calls. They evaluated the man, but at the time, there was not enough evidence to have him committed. Again, police may have been justified in killing a man who charged at them with a machete, but wouldn't an appropriate mental-health response in the weeks preceding the man's death been a preferable solution?
Of these cases, in which police are called to respond to a person with mental health issues, Henderson says, "Those are people, they're not necessarily trying to do anything criminal. They're not there to hurt anybody else. But they can appear dangerous to a law enforcement officer."
Of the 15 people shot and killed by Oklahoma law enforcement this year, at least 7--nearly half--had clear indicators of mental illness.
The collision of mental health and law enforcement isn't just an Oklahoma problem, however. It's a national problem. Of the 990 people killed by law enforcement in the United States last year, more than a quarter were actively exhibiting signs of mental illness or had a history of mental illness.
If we are going to rely on law enforcement as emergency intervention for acute mental illness and substance abuse, then we must provide every officer with the training and resources to make sure those encounters end in help for the ill, rather than death. Oklahoma, and the entire nation, needs reform for officer training.
REAL LIFE. REAL NEWS. REAL VOICES.
Help us tell more of the stories that matter from voices that too often remain unheard.