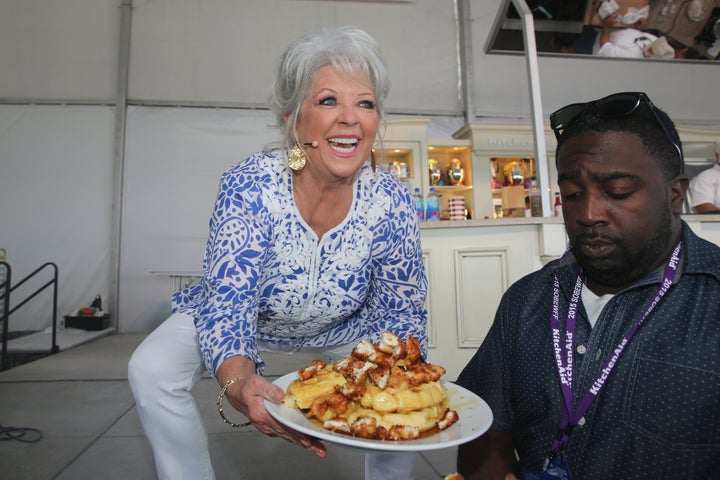 The question of why Paula Deen exists takes two forms. In the wake of her posting a photo of her son in brown face, one might ask, Why do we let an unabashedly racist person continue to be racist while trying to kill us all via early onset diabetes? But before we can even tackle that very rational inquiry, we have to wonder how she got so famous in the first place. There are a lot of racist white ladies with large hair and an even larger predilection for bigotry living in the American South. Why do we care so much about Deen?
To really discuss Deen's fame, we should first consider the rise of the celebrity chef -- a phenomenon which is interesting if only for its surprising recency. The likes of Deen, Martha Stewart, Gordon Ramsey and the frosted-tipped beast known as Guy Fieri seem so ubiquitous at this point, it's strange to think the foreground for their sort of fame was only laid in the '90s.
Long before Gordon's bright idea, of course, there were notable chefs such as Julia Child and Jacques Pépin, though they earned their fame in a different era, based on cookbooks leading to wider recognition. Gordon took the idea of accessibility so present in Child's work bringing French cuisine to the American kitchen and morphed it into a force in the marketplace. Gordon's chefs weren't just teaching the art of cooking -- how often do audiences really make the food they watch celebrity chefs prepare? -- they were peddling a lifestyle.
Deen earned her first show ("Paula's Home Cooking") on the heels of Martha Stewart's mid-'90s ascent as "the definitive American woman of our time." In fact, she told her agent Barry Weiner she wanted to "become the Martha Stewart of the South." But according to Allen Salkin's book From Scratch: The Uncensored History of the Food Network, it was 9/11 that really catapulted Deen into celebrity status, specifically the mounting desire for comfort food in the wake of disaster. In that newfound need, Weiner saw an opportunity for his Martha wannabe.
"One thing that we've all learned because of 9/11 is we're all going to die," he is quoted saying in Salkin's book. "We know that. Whether we eat corned beef, or we don't eat corned beef, or whether we eat fried chicken, or we don't eat fried chicken, or whether we eat macaroni and cheese or we don't, it's not going to make a difference."
This nugget is interesting, because comfort food is inherently cheap and easy to come by. We didn't "need" Paula Deen any more than we need to eat a stick of butter at 1 o'clock in the morning. She filled an apparent consumerist void that emerged from a cultural moment. But now that cultural moment is over.
At the end of the day, celebrity chefs are perhaps some of the most manufactured of our stars, because their presence is specifically engineered to sell products under the umbrella of a curated lifestyle. Unlike actors who entertain us and develop personas which are then attached to products, celebrity chefs are created as brands themselves.
The fact is that since she was first dropped from the Food Network in July of 2013, Deen's brand has transformed into something most accurately described as "deep-fried racist." Recognizing the way her presence was created (the way any famous food-maker is created, really) allows us --as the people who are supposed to be buying the schtick of butter -- a greater freedom in dismissing her as relevant.
So, let us say farewell to even giving a sh-t about the Queen of Cholesterol. May her leggings be loose and her calories be empty. Acknowledging the deliberate nature of her ascent comes with a liberating takeaway: We don't have to hang out on that plantation anymore.
Middlebrow is a recap of the week in entertainment, celebrity and television news that provides a comprehensive look at the state of pop culture. From the rock bottom to highfalutin, Middlebrow is your accessible guidebook to the world of entertainment. Sign up to receive it in your inbox here.
Popular in the Community