With depressing regularity, it keeps happening. A child, sometimes as young as a toddler, gets hold of a firearm (usually owned by a parent or other family member) and unintentionally pulls the trigger with horrific results.
The most recent high-profile incident occurred this week in Florida, when a four-year-old sitting in the back seat of a pickup truck picked up a 45-caliber handgun and shot and injured his mother while she was driving. The boy's mother is an outspoken pro-gun activist who frequently writes about firearms and gun rights on her Facebook page. In a Facebook comment the day before the shooting, she wrote: "Even my 4-year-old gets jacked up to target shoot with the .22."
By now, these tragic news events have become well known throughout America. Less known is the fact that the NRA and the gun industry are currently engaged in a systematic effort to place firearms in the hands of children as young as grade-school age.
For some gun owners, there is almost a race to the bottom to see how young a child can be to handle, and eventually possess, a gun. In the comments section of an online article from the NRA's American Hunter magazine titled "Choosing Your Child's First Gun," readers detailed the ages at which they felt their own sons and daughters were ready for their first gun: five, six, seven, and older. One commenter did take issue with the author's hesitation to recommend an AR-15 assault rifle as a first gun for an eight- or 10-year-old, writing, "If you teach your child proper firearms basics an AR is the perfect way to go. I built my six-year-old son one and he loves it."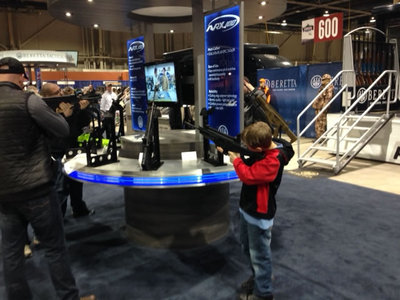 At the 2014 NRA-sponsored Great American Outdoor Show in Harrisburg, Pennsylvania, a constant stream of children could be seen at a display of Beretta assault rifles (see photo). One model was touted in a review on a gun store's website as a perfect holiday gift for kids. The website stated: "The Beretta ARX 160 is a great choice and the holiday gives you the perfect excuse to buy one and act like it is a gift for your son or daughter. Just be sure to bring them to the range and let them shoot it every once in a while." Surrounded by candy canes, a bow, and ribbon, this assault weapon was the gun dealer's "December Gun of the Month."
The gun industry consistently ignores the tragic consequences that all too often occur as the result of putting firearms into the hands of young children. Here are just two of many:
In August 2014, 39-year-old firearms instructor Charles Vacca, a father of four, was shot and killed at the Last Stop gun range when he was teaching a nine-year-old on vacation with her family in Las Vegas how to shoot an UZI submachine gun. The girl lost control of the weapon as the result of the full-auto weapon's recoil. The gun climbed up out of her control and she unintentionally shot Vacca in the head.
In April 2013, a two-year-old Kentucky girl was unintentionally shot and killed by her five-year-old brother with a 22 caliber rifle he had received as a birthday gift. The gun was a Crickett rifle made by Keystone Sporting Arms, the self-proclaimed "leading rifle supplier in the youth market." On the company webpage, a friendly cartoon character known as "Davey Crickett," playing the Joe Camel role for the company, holds a rifle and stands atop the company's slogan: "My First Rifle."
Yet, as the gun lobby has made it perfectly clear, no level of tragedy will prevent them from aggressively promoting firearms for children. Just last month, on the recently revamped NRA Family website, the NRA cheerfully posted photos of a 10-year-old, a five-year-old, and a seven-month-old receiving their first guns. Five months earlier, the site featured a video of a seven-year-old girl firing an AR-15 assault rifle.
Contrary to the NRA's online celebration of guns in the hands of babies and small children, the American Academy of Pediatrics, recognizing the developmental and physical limitations of youth, emphatically advises parents that homes with children be gun free.
And while pro-gun advocates reflexively deny the relationship between gun availability and increased risk for injury and death, the fact remains: If a handgun had not been in that pickup truck, a mother and her child would be home tonight, not recovering from the trauma of an all-too-predictable tragedy.