Donald Trump is making it very, very difficult to teach lessons in "digital citizenship" (how to use the Internet safely, respectfully, and responsibly).
Those of us who teach digital citizenship in the classroom work hard to impress upon students the significance of their "digital footprints." We tell them that everything they post online will stay online forever and can be viewed by, to use the words of scholar danah boyd "vast, invisible audiences." Additionally, we remind kids that their posts can be shared far beyond their own circle of family and friends and, most importantly, that all of this really, really matters when it becomes time to apply to college or for a job.
This is a tough sell today. After all, the guy within spitting distance of the top job in the land has a digital footprint that would certainly earn him an "F" in digital citizenship.
Here, for example, are the topmost pillars of digital citizenship and the unfortunate examples of how each has been recently disregarded:
Good digital citizens show respect for one another: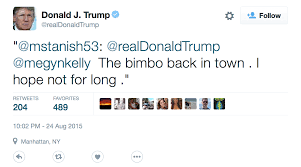 Good digital citizens don't bully others: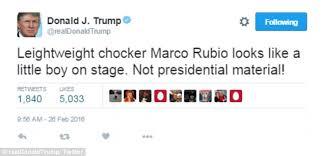 (Proper spelling and grammar is also encouraged).
Good digital citizens post their accomplishments with grace and good taste: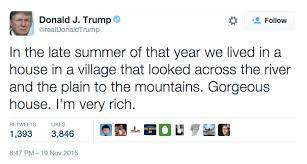 Good digital citizens use respectful language: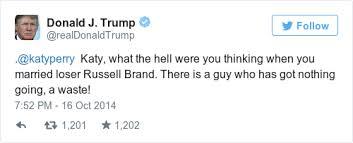 Surely you see the dilemma here?
Washington Post reporter Amber Phillips wrote an article titled, "Your Next President, Donald Trump, Basically Tweets Like a 12-Year Old." Frankly, I think this article is unfair to 12-year olds. Many are turning out to be much smarter than the generation that's supposed to be raising them when it comes to polite and respectful online communication. So I'm not ready to give up on their "digital citizenship" education just yet. Instead I'd like to propose some of the following talking points to educate youth about online communication:
Sometimes Adults Are Just Poor Role Models. Here's some great advice from Sue Scheff, author of SHAME NATION: Preventing, Surviving & Overcoming Digital Disaster (Sourcebooks 2017), "When we see public figures making bad decisions online, this is an opportunity for adults to discuss this with children, explaining that it's inappropriate behavior for anyone, especially a celebrity. Ask children how they would feel if they were at the receiving end of that Tweet or cruel comment? Finally, remind children that digital citizenship is not about judging others, it's about having empathy towards one other."
Adults Are Still Learning How To Use The Internet. Remind children that, believe it or not, most adults did not grow up with the Internet, let alone social media. Tell them that's why they often see adults making mistakes or using the Internet poorly. Encourage children to lend a hand or a bit of advice when they see an adult struggling with new technologies.
You Can Do Better. Because the Internet and social media tools are about as old as most preteens and teens are today, the digital world is THEIR world. They will be designing and negotiating the social norms that will guide them, and future generations, in this new and growing space. So remind children that they can and should use the Internet and social media better than most adults.
If you have any other ideas on how to best educate children on the pillars of digital citizenship during what's turning into the year of ugly Tweets, please share them here.