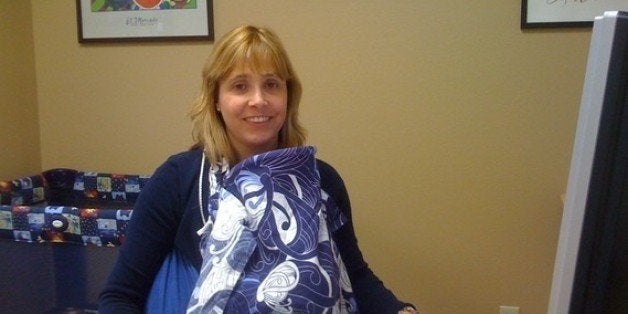 Recently, I have been lucky, happy and proud to feel like my support of working moms is getting recognized and my message is getting spread more widely.
I was lucky enough to not only be invited to the White House Summit on Working Families, but also to have a small speaking role, introducing the STEM panel, and having the opportunity to tell my story about how I came to understand that corporate culture needs to change in order to help more women succeed and thrive.
My story is pretty simple. I never set out to crusade for working moms and to change corporate culture. I wish I had that mission, but to be honest it all happened when I became a working mom, and was lucky enough to be able to call my own shots.
Before I had kids I assumed I would always "do it all." I always knew I would have kids, career and that I wouldn't skip a beat. I never even thought about whether it would be hard or doable. I just knew I would do it.
Then my son was born. I had not been able to find a daycare that I liked -- or so I told myself. In reality I just could not bring myself to leave my new baby anywhere. It wasn't only about not wanting to leave him, it was a physical reaction. As I've heard described by other new moms, it was a visceral reaction. I simply could not leave him at home. But I was not going to stop going to work or veer away from my career. So I just brought him with me. I was in the position at my company to make the calls, I just decided to "have it all." Continue working, and have my new baby with me.
Then baby boy number two came, and I did the same thing. I made it work. My babies loved being in a sling and practicing attachment parenting while working worked for me. My babies didn't fuss as long as they were in the sling and nursing on demand.
And as I was just doing what I needed to do to be a mom and continue to excel in my career, more and more women would comment on what I was doing. More and more people would be amazed, jealous, impressed, shocked, horrified. And really at the end of the day, what got me writing, talking and wanting to join the cause to help women succeed, help women get in leadership roles and fight against women being "mommy tracked" was not the women who supported me, but the people who criticized me. It was those who wanted to perpetuate the idea that women belonged only as the primary caregivers of kids, and that no woman could have kids and excel in her career. In an early USA Today article I appeared in, a commenter said: "There is no such thing a mom who is also a CEO. Stop playing CEO and go back to being a mom, back to where you belong."
For as much support as I continued to get, there are always the people who disagree and don't think corporate culture should change. These are the people who encourage me to continue my fight.
I'm also motivated by the women who have achieved their ultimate career goals, like Sheryl Sandberg or Indra Nooyi, but had to do it in a corporate culture that fights against women instead of supporting them. When Sandberg gives advice, she tells women to do what she has done: "lean In," change who you are, negotiate in a way that men like and learn how to adjust. And Nooyi says that women can't have it all, and then wonders out loud whether her daughters think she is a good mom. It's frustrating to hear these things. Sandberg and Nooyi are smart and successful women, they shouldn't have to change who they are or accept that they can't have it all simply because they are women.
And then there is Matt Lauer asking Mary Barra whether she can do it all. Lauer got a lot of pushback with his question. Both men and women have wondered why he asked Barra that question, and has never once asked the same question of the men CEOs that he interviews. Matt Lauer's producer, Tammy Fine, defended the question, also saying that women can't do it all. She used an example of an event at the school where her twin daughters go to school, which required volunteers. Every single volunteer was a mom, both working and some stay-at-home. She said there were no dads there at all. Instead of challenging why no dad's volunteer and advocating that we help men find better balance in their lives, her conclusion is that women can't have it all.
I don't blame women in the current corporate culture for saying it how it is. I find Tammy Fine and Indra Nooyi very brave -- willing to actually say what it is like to be a working mother in today's American workplace. The fact is that Nooyi and Fine are right. Women are expected to try to do it "all," including picking up the milk or doing all the volunteering at the school event. Fathers have been able to "get away" with not doing the same family related activities, and when they do, they often experience disdain and criticism from fellow work colleagues. Men are supposed to give it all up for work, and women are supposed to give it all up for family. And it's time we all said no. It's time we all acknowledged that if we change the way we interact with work, family kids, and parents, there can be a place where women (and men for that matter) "can have it all."
Let's stop trying to balance our lives and realize that the best way to approach work and family is to be able to integrate your life. Let's make it a given that newborn babies are allowed in offices to bond and breastfeed with their mothers until they are four months old. And if a baby has special needs or happens to just have the bad luck of being very colicky, then let's do a better job in America on giving paid and protected parental leave. Let's make it OK, and not "unprofessional," to have an older child show up at his or her parent's office after school and quietly read or do their homework while the parent finishes up. How much better would it have been from Nooyi if her daughters could just come to her office and do their homework and read, and then earn their screen time, rather than having to call her assistant for instructions? And what if being at their mom's office, and really seeing her in action, inspires them to become leaders of Fortune 100 companies?
I think my boys have learned so much more than any of their friends about the real world, business and what their mother does because they come to the office with me on a regular basis. They also travel with me whenever I can make it work, and have been able to experience cities all across the U.S. and beyond on business trips with me.
My 10-year-old son will tell people that we he grows up, he wants to be in marketing. He actually knows what it means, and gets excited by the idea of "marketing" a cool product to people. My 10-year-old chose to use PowerPoint as his visual aide for his Oregon Native American project, while all the other kids did dioramas or murals. He worked on a PowerPoint slide show and then learned and practiced on how to present it. He has seen me do the same, and pitched the teacher on why this was just as valuable as any other visual aide. He ended up getting the best presentation score in the whole class.
Not only am I able to spend time with my children while continuing to excel in my career simultaneously, but my children are gaining valuable experiences that they would never get at daycare or at home. If more companies allowed their employees to do what I have done, and what I allow my employees to do, women truly could have it all. And think of how much more value we would bring to the kids of America? Real work experience, and not just once a year "take your child to work day."
Related