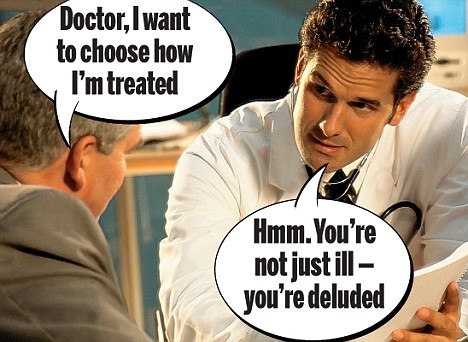 In early 2015, the National Health Policy Conference was held in Washington D.C., Dr. Stephen Berkshire, member of the American College of Health Care Executives and Academy Health, was not surprised that a main topic of discussion at the conference was doctor-patient communication, patient engagement and patient satisfaction.
Dr. Berkshire is a Professor and the Director of the Central Michigan State University Department of Doctoral Health Administration program, and knows full well the need for improved doctor-patient communication and improving patient relationships. Currently, this topic is considered the number one challenge in today's health care environments.
With the Pay4Performance measures now being exercised that require physicians and primary care providers to demonstrate not only how they are addressing disease prevention through patient education, but also how are they are being reimbursed based on patient surveys and data metrics on t heir practice outcomes, the problem is in the spotlight.
It is a long standing complaint of patients that doctors do not listen to their patients or provide information that the patient can understand and implement into their self-care. In the past, patients did little to confront their doctors about the inadequate communication and lack of information or patient empowerment. However, in today's world of instant health information and self-diagnostic tools provided through the internet, doctors are having to step up their game if they are to be rewarded with top tier reimbursement from the Pay4Performance insurance guidelines.
While prevention is the primary goal of today's health care reform mandates as well as the Pay4Performance initiatives, prevention and treatment should be part of a united effort to enroll the individual in a self-directed skill set to understand what they can do to take care of themselves, get well, or prevent further illness. Doctors need to communicate and educate their patients effectively, even within a short window of time. Some say that is not as difficult as it sounds -- doctors just need the right skills, which can accomplish both goals within the time frame they have with patients.
One of the symptoms of the lack of good communication between doctors and their patients is the upsurge in the last decade of the "celebrity doc" phenomenon. Dr. Oz, "American's Doctor," is beloved because of his easy to understand presentation of complex topics, as well as providing the viewer with a sense of empowerment to take control over their health and longevity. He's accessible, he's engaging and he takes the mystery out of difficult or frightening health issues.
However, the good doctor has come under fire by his peers, as well as the U.S. Senate for what is being described as "pushing miracle cures" on his popular TV show. His passionate and descriptive language for the many weight loss products he recommends has some calling him "misleading" and others using much stronger language that have colleagues calling for his firing from his position as vice chairman of Columbia University's Department of Surgery.
Controversy aside, what is important to point out is why his show is so popular and what exactly doctors and health care providers need to take away from his success as "America's Doctor." It's the communication -- it's the sense that he is on a level playing field with his viewers and making available information about how someone can address their health concerns -- even if some of that information is being looked at under a microscope. People want what he is providing and for those who can look beyond the controversy there is a huge lesson to be learned from his popularity.
Let's get back to the National Health Policy Conference for a moment to discuss what is being done about the doctor-communication problem. Dr. Berkshire has been involved in a pilot study, funded in part by Blue Cross and Blue Shield of Michigan foundation, testing a model for teaching physician-patient communication along with empathy skills to improve patient satisfaction, practice outcomes, decrease malpractice and enhance insurance reimbursement.
The outcomes were so successful that a second registered pilot study, being funded by the U.S. Department of Health and Human Services, MI Department of Community Health. The pilot study will further examine Behavioral Engagement with Pure Presence in patient-provider relationships on patients with chronic illness while utilizing the model in Electronic Medical Records communications.
Dr. Berkshire states, "This is certainly an important study to conduct", and a third, randomized, controlled clinical trial study on the same subject is slated for 2016. It is targeted for federal funding and has the attention of several health agencies interested in improving health care.
It seems the take away from both the National Health Policy Conference and the peer response to Dr. Oz, is that we want to have a relationship with our doctors, we want them to communicate, educate and meet us on our level. Dr. Oz does all of that, and perhaps while some are justifiably asking questions about the quality and efficacy of the information he is providing, some doctors might want be taking notes about what he is doing really well. The future of the quality of our patient-doctor relationship might possibly depend on it!
Popular in the Community