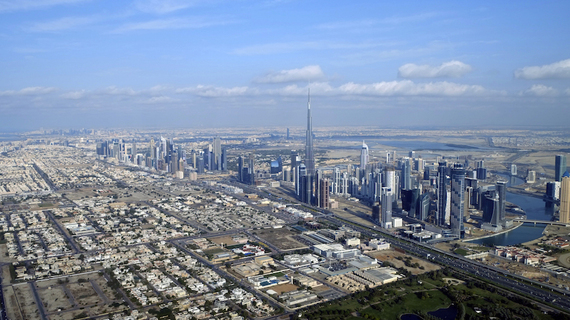 Several months ago when I visited the United Arab Emirates nation of Dubai on the Persian Gulf, more than a few people asked me why ever would I go? Those vaguely familiar with this tiny country of nearly two million people regarded it, correctly, as a major trade and banking city in the Middle East, while others believed it to be nothing more than a major shopping destination for Eastern Europe, Western Asia and China. Still others asked if I didn't fear for my life because of terrorists everywhere.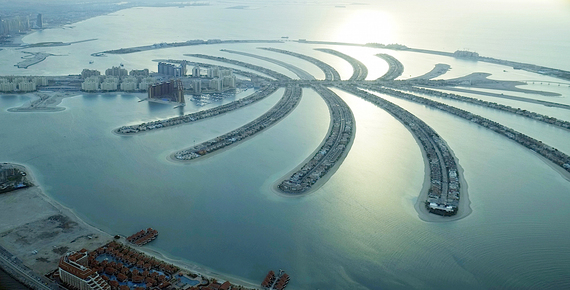 As for this last objection, the irrational fear of terrorists appearing around every corner and a huge misunderstanding of the variants of Islam nations in belief systems, culture and form of government is born of ignorance, though in other Arab countries tourist travel should be undertaken with a high degree of self-preservation. (Late breaking news: The massive fire that broke out on New Year's Eve at the Address Hotel, where I'd stayed last year, apparently showed no signs of being a terrororist act.)
I have no intention of getting political or argumentative about these notions, so I will report only what I found on my trip about this remarkable city state whose superstructure and development was unthinkable even a decade ago. Dubai must be seen to be believed.
It is not an ancient city, for although there are records of some form of settlement going back to the 11th century, it only became a fishing village as of the 1830s, and oil was not discovered in Dubai until 1966, which caused the economy and development to soar. Today there is very little oil left and its production contributes less than 5 percent of the country's revenue. The global financial crisis that began in 2008 greatly affected Dubai and debt mounted, requiring a huge bailout from Sheikh Khalifa bin Zayed al-Nahyan, emir of Abu Dhabi in 2009. But this year the country, ruled since 1833 by the Al Maktoum family (now headed by Mohammed bin Rashid Al Maktoum), expects to run a surplus.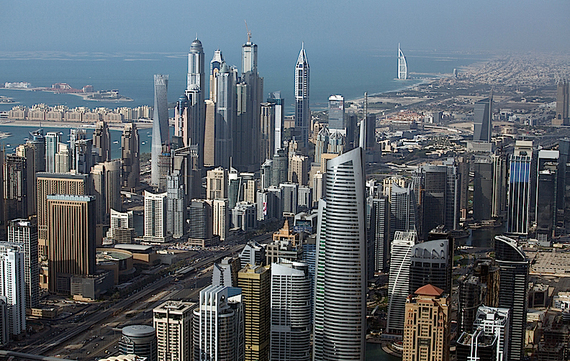 International business, tourism, financial services and real estate have driven the economy since, leading to an astounding number of high-rise skyscrapers as modern, though often derivative, as any on Earth. Dubai natives--only about 20 percent of the population of two million people--are given free houses, cars, education, and medical coverage, though the 80 percent who come to the country to work do not enjoy such privileges, and the disparity is marked.
In an upcoming article I will write about what to see and do in Dubai, but for the moment let me jot down a few things one should know and what to expect. When you go can be crucial to any enjoyment of the city, since the Arabian Desert temperatures can easily climb to 106 degrees (the record for July was 120˚) and even in October it averages 96. So the best time to visit as a tourist is December through April, when highs range from 75 to 91 degrees, and at night a dry 57 to 69. (You do not want to go during the Month of Ramadan, which starts in June in 2016 and in May in several following years.) Fortunately, all public buildings are very well air-conditioned, and there are 20,000 new hotel rooms coming on-line soon, including three Hilton Worldwide hotels, Melia Hotels International, Park Inn by Radisson, and Starwood.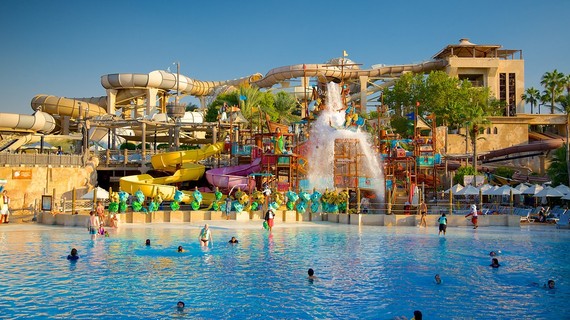 Sofitel The Palm has opened an eco-friendly sea-side golf driving range whose golf balls are biodegradable and serve as fish food. The Jumeirah Group's Wild Wadi water park (above) has become the first to be Green Global Certified. Cruise ships, including the Queen Mary 2, are now sailing into the Mina Rashid terminal. And soon Dubai will have the Middle East's first tropical rainforest opened in time for the 2020 World Expo. Dubailand, a theme park twice the size of Walt Disney World Resort, will have six separate parks, including Marvel Superheroes and Legoland (Dreamworks and Six Flags dropped out).
If you fly over Dubai you'll see the tentacle-like housing additions to the Palm City flaring out into the Gulf (right). When you land at the vast, state-of-the-art Dubai International Airport, you may notice--or not notice--the very small number of uniformed security personnel, which seems to provide a sense that this is a very, very safe place to be. This is also true of the hotels, where you won't find the Army or police toting semi-automatic weapons in the lobby.
Be assured, however, that the Dubai Police Force is well situated, and I was told more than once that every infraction of law is taken very seriously: no one dares run a red light or speed through downtown. You don't want to throw trash on the street or ever appear drunk. Muslims appear before the Sharia Court, non-Muslims do not. But Sharia laws rule throughout the emirate, and these include prohibitions against kissing in public and drinking alcohol, except in licensed venues inside hotel restaurants. Free-standing restaurants cannot even serve beer, and there's no B.Y.O.B. policy here.
There are, however, no strict rules on dress, except that it not be provocative. I was told before arriving that foreign women need not cover their heads and ankles, but I was surprised to see as many Arab women sporting short dresses and spaghetti straps as I did women in hijabs, the full-length garment that does not cover their faces as does the niquab, with only a slit for their eyes to see. Still, I saw many women with gorgeous eyes wearing a niquab while walking around on very expensive stiletto-heeled shoes; apparently the strictures about the hijabs and niquabs apply only in public, and in private homes they may doff them and reveal Georgio Armani and Chanel ensembles underneath.
It is most certainly true that one must never insult or even joke about the name of the Al Maktoum family and be careful about discussing Dubai politics, a subject that will be quickly diverted to another, But generally speaking I found I could ask pretty much any discreet questions I wished to without any show of antagonism or caution in return. Indeed, I found everyone I met, from people in various industries to a Bedouin in the desert extremely cordial in every respect.
In Part Two of this article I shall write about the astonishing development of Dubai, the enormous array of shopping activities, the vestiges of the old part of the city, the burgeoning arts community, the restaurants, and, of course, the world's tallest building that spirals above the city.