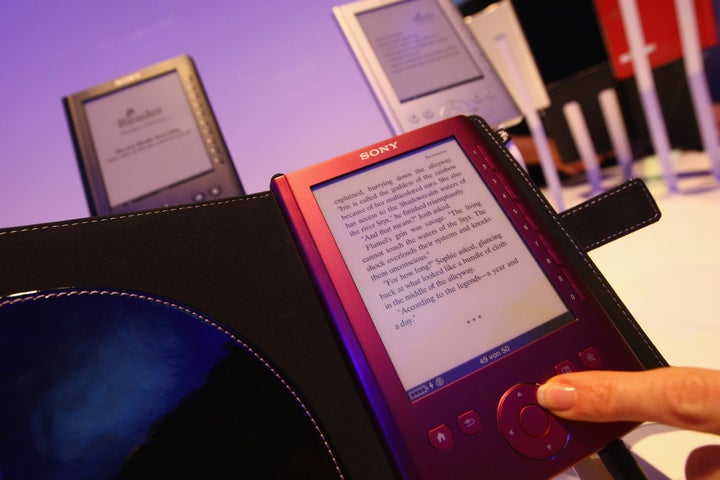 2009 will go down in history as the year e-books went mainstream.
According to the Association of American Publishers (AAP), between 2002 and 2008, e-books grew at a compound annual rate of 58%, compared to 1.6% for the overall book industry.
In the last two years, e-book growth has accelerated. In July 2009, the most recent reported by the AAP, sales increased 214%. Yet despite this growth, e-books accounted for only 1% of book sales. One percent? Do e-books even matter?
The answer is yes, because AAP statistics dramatically understate the overall market share for e-books. AAP collects its data from about a dozen large publishers. Thousands of smaller independent publishers, as well as self-published authors, don't report data to AAP.
Consumer purchase surveys provide more perspective. Bowker's PubTrack consumer survey reported e-books accounted for 2.4 % of book sales in the first quarter of 2009, up from .6% for all of 2008. On July 21, 2009, Motoko Rich, a reporter from the New York Times, referenced a Codex Group survey that stated e-books reached 4.9% of book sales for the month of May 2009.
Amazon's e-book results point to an even larger market opportunity than indicated by the consumer surveys, especially for retailers with a strong e-book strategy. Last week, Amazon announced that for books it sells in both print and Kindle editions, Kindle versions now account for 48% of unit sales. In February, the number was around 12%.
What's driving the rise of e-books? A confluence of multiple, self-reinforcing factors, including:
1.Screen reading now rivals paper - Thanks to advances in screen-reading technology, today's crop of e-reading devices offer a reading experience as good as, and sometimes better than paper. Screens on cell phones, personal computers and dedicated e-reading devices are much-improved over just a few years ago. It's not just the screens -- the underlying software allows consumers to customize their reading experience by increasing the font size. For those of us in the over-40 age group (and we buy more books than anyone), larger type and customizable text layout make for a more pleasurable reading experience.

2.Proliferation of multiple high-quality e-reading devices - Multiple e-reading devices satisfy different consumer preferences. The iPhone has introduced millions of readers to the joy of e-books, thanks to a beautiful screen and free e-reading apps such as Lexcyle's Stanza (acquired by Amazon earlier this year) and Barnes & Noble's eReader. E-books are also coming to Android smart phones thanks to apps such as Aldiko and Word Player. In the next two years, entry-level mobile phones will feature e-book-ready screens and apps, which will dramatically expand the worldwide market for e-books. Last but not least, dedicated e-reading devices based on E-Ink technology such as Amazon's Kindle and Sony Electronics' Sony Reader have introduced millions of additional readers to e-books. Barnes & Noble is rumored to announce their own LCD-based device next week.

3.Oprah Winfrey - Few consumer taste makers can match the influence of Oprah Winfrey, especially when it comes to books. In October 2008, Oprah dedicated an entire show to celebrating her favorite gadget, the Amazon Kindle. For millions of book lovers, this was their first introduction to e-books. Immediately following the segment, the rate of growth for ebooks accelerated.

4.Early adopters become new evangelists - Books have always been a word of mouth business, and ebooks are no different. Most people today have a "wow" experience when they try ebooks for the first time. These early adopters then evangelize ebooks to their friends. My personal wow moment occurred when I sampled, purchased and downloaded my first Kindle book while sitting on a beach in Hawaii.

5.Greater content selection - Hundreds of thousands of ebooks are now available for instant sampling, download and purchase. Within the next few years, the vast majority of books ever printed (and still preserved) will probably be available in ebook form, and many of these books will be free.

6.Free books are gateway drug - Many consumers discover ebooks for the first time by downloading free books. Most free e-books are classics derived from the digitization effort of Project Gutenberg, the brainchild of Michael Hart. Hart founded the non-profit, all-volunteer organization in 1971 to distribute out-of-copyright works as electronic books. While it's difficult to name any single person as the father of e-books, it's fair to say Michael Hart was in the delivery room.

7.Portable library in the cloud - Imagine holding a portable, limitless catalog of books in the palm of your hand, accessible any time, anywhere. This is possible today with a wireless or Internet-enabled e-reading device. Books are moving from physical repositories (personal libraries, public libraries, book stores) to virtual repositories (personal online libraries, online public libraries, free online repositories, and online bookstores).

8.The slush pile, digitally liberated - Independent authors are adopting e-books as a format for rapid publishing. Whereas traditionally published print books require months or years to sell to a publisher (if ever), and then 12-18 months more before the books appear in bookstores, e-books offer instant publishing. The tools to publish and distribute e-books are available to any writer at little to no cost. Free ebook self-publishing platforms, such as Amazon Digital Text Platform, Smashwords (my company), Scribd, Lulu, and Sony's recently announced Publisher Portal, allow writers to upload their manuscript as a Microsoft Word document, and start selling it online to a worldwide audience within minutes or days. Major e-book retailers such as Barnes & Noble, Sony, Amazon, and ShortCovers have opened up their stores to independently published e-books, allowing authors to bypass publishers altogether. The rise of independent publishing has opened the floodgates to thousands of new books that might otherwise have never seen the light of day. The e-book publishing platforms mentioned above perform little quality control, delegating the vetting to consumers instead. Like a giant slush pile of digitally liberated books, these titles comprise gems of undiscovered brilliance alongside works that might make your eyes bleed.

9.Prices dropping - Amazon made waves by pricing first run e-books at $9.99. As prices drop further (see my column from last week, Why We Need $4.00 Books), it will serve to accelerate e-reading adoption. One factor driving price drops is the proliferation of free e-books, including out-of-copyright classics. Many talented indie authors also offer some of their e-books for free to build readership and fans.

10.Impulse buying - E-books are the ultimate impulse purchase. With a few clicks of a button, you can download dozens of free book samples in seconds. A few more clicks and you can load your e-reading device with multiple e-books. No more driving to the bookstore to wait in line, and no more waiting days for your Amazon shipment to arrive. Today, ebooks offer instant sampling, immediate gratification and affordable reading pleasure.
What do you think is next for e-books? Share your thoughts below.
Mark Coker is founder of Smashwords, a publisher and distributor of ebooks. Follow him on Twitter at http://twitter.com/markcoker. He is also the co-author, along with his wife, Lesleyann, of Boob Tube, a satire about the daytime television industry.

Related
Popular in the Community