Today, we live in a world where networked-based technologies transform the way we live, work and play. I have had the opportunity to witness firsthand how these same technologies are also transforming the way we learn.
Traditional forms of education tend to focus on the accumulation of knowledge over the application of knowledge. Technology now enables students to not only facilitate access to information anytime and anywhere, but it also allows them to apply that knowledge to a real-world setting immediately. Today, students want the same technologies they use daily to be integrated in their education experience. Governments are waking up to the understanding of the essential link between education access and technology use. This is making technology adoption in education a fundamental driver of economic growth.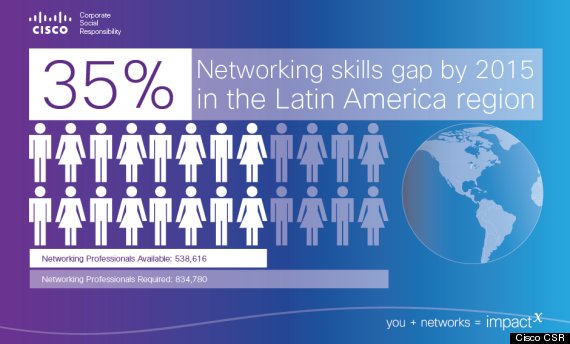 As the use of Internet technologies is growing exponentially, it is becoming more and more challenging to find qualified professionals in networking in Latin America. In my interactions with industry contacts in Brazil, Mexico, Chile, Peru and other Latin American countries, I have heard frustration expressed when it comes to finding qualified talent that has the right combination of technical and English skills. Interest in studying this career is decreasing as well as access to this type of education, while there is an increasing demand for full-time skilled professionals in networking. According to global research firm International Data Corporation (IDC), there is a growing skills gap in Latin American countries where demand for full-time skills resources will outpace supply by an estimated 35 percent by 2015 - equivalent to almost 300,000 people. A lack of qualified professionals will pose a challenge for the economic development of these countries in the coming years.
A clear opportunity lies in our ability to train the next generation of networking professionals. According to an Inter-American Development Bank technical note published in November of 2012, a 10 percent increase in broadband penetration is associated with a 3.19 percent increase in GDP and a 2.61 percent increase in productivity. Adopting technology alone is not enough without having qualified people to develop, implement and maintain it. The Cisco Networking Academy program in Latin America and the Caribbean is one program addressing the networking skills gap while stimulating economic growth by developing a highly skilled workforce with employable skills. Today, more than 170,000 students in more than 25 countries in Latin America and the Caribbean are opting to gain the skills needed to build, design and maintain computer networks, improving their career prospects while filling the global demand for networking professionals through Cisco Networking Academy.
We must work together to give students the foundation to succeed beyond school with a focus on ICT and 21st century skills -- those competencies will sustain employability throughout life and allow them to thrive in a knowledge economy. A flexible educational system coupled with successful teaching will allow us to take advantage of the opportunities to develop the next generation of professionals and leaders that will contribute to economic prosperity and foster social inclusion and equality. Though technology is no substitute for an inspiring teacher, it can serve to expand that teacher's reach well beyond the classroom.
Private-sector companies like Cisco play a role to help educators around the world implement technologies for collaboration, connectivity, data center, mobility, video, virtualization and more. These technologies help spread knowledge and improve outcomes by facilitating equal access to students regardless of gender, geographic location, socioeconomic or ethnic background, illness or disability, or any other circumstance that may hinder such access. The more exposure students have to technology while they are learning, the better prepared they are to use those technologies and improve the world when they graduate.
What more can we do together to prepare the students of today for the demands of tomorrow?
This piece is part of Cisco's series on the workforce of the future. As the worldwide leader in networking, Cisco is committed to helping people develop the technology and career skills they will need to succeed in tomorrow's workforce. Learn more at http://csr.cisco.com/techtalent

Calling all HuffPost superfans!
Sign up for membership to become a founding member and help shape HuffPost's next chapter