If we play this right, Kla Williams will be a potent weapon to ensure a wide-scale Ebola outbreak never happens again.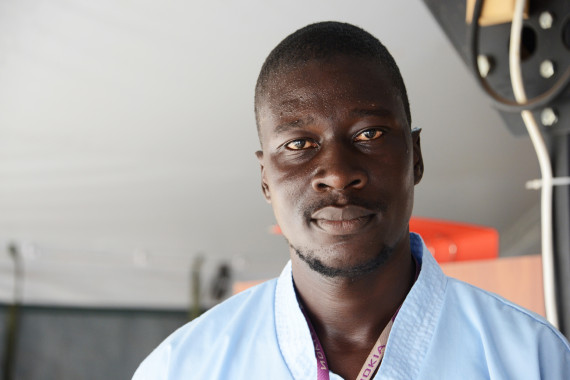 Kla Williams in the Buchanan Ebola treatment unit in Liberia.

Kla is not the head of the World Health Organization. He does not carry the credential of an infectious disease specialist at the U.S. Centers for Disease Control and Prevention. Nor is he a disaster-hardened relief worker for one of the private emergency response agencies like Doctors Without Borders or my own organization, AmeriCares.

Then who is Kla? He is a front-line warrior and one of the silver linings emerging from the dark cloud of Ebola.

Kla is Liberian. He served in the army, where he did logistics work operating and maintaining fleet vehicles; then he worked for a sports betting company, studied French and was employed by a tour group. In other words, Kla was a hardworking and resourceful everyman.

Then came Ebola. As the Liberian government, U.S. military and relief agencies built and staffed Ebola treatment units across the country, they trained and hired local staff. These included health workers, ambulance drivers, supply clerks, laundry operators and more. Kla landed a job at the Buchanan Ebola treatment unit, which AmeriCares supplied, staffed with international health workers and is managed by the International Organization for Migration. Kla's job: chlorinator. That means he is trained to properly mix the chlorine solution that flows throughout the Ebola unit to treat anything that might be contaminated with the Ebola virus -- protecting himself and others in the process.

More broadly, Kla learned critical skills in certain aspects of infection prevention and control - what is called "IPC" in the world of global health. "The training, the lectures -- it is perfect," Kla recently told one of my staff. "We are ready for any kind of outbreak, but before we were not ready."
Kla is now part of a small but important army of Liberians with critical skills. Do the math: Some 20 ETUs with 180 local staff each equals 3,600 trained personnel. On top of that, the Buchanan team in one Liberian county alone has trained 303 local health workers, 104 nursing students and 105 teachers in the basics of infection control. This army is a force now, highly sensitized and professionally trained to combat deadly diseases -- Ebola, Lassa fever and measles among them.

The Ebola epidemic is not yet over, but case counts have dropped dramatically. Liberia recently reported its first Ebola case in weeks, while the virus has been more stubborn in Sierra Leone and Guinea. According to the World Health Organization, Guinea reported 95 cases and Sierra Leone reported 55 cases for the week ending March 15. At some point, Liberia's Ebola treatment units will close and this trained cadre will disperse back into the Liberian health system and society at large
What then? We must rebuild and strengthen the health systems and the ETU army is a good beginning. I had the chance to express this to President Ellen Johnson Sirleaf of Liberia when visiting with her in Monrovia last month. She thanked AmeriCares for the work we have done, including providing millions of items of protective gear and medicine for thousands of patients. I suggested that one of the most important things we have done was to train Liberians in infection control.
To exact its toll of 10,000 lives, Ebola took advantage of weak health systems in West Africa -- hospitals with empty shelves, remote clinics without running water and at the start of the epidemic, just 51 doctors for 4.4 million people in Liberia. If we are serious about global health, we need to extend our emergency response into a long-term recovery. West African nations need stronger health systems with supply chains, infrastructure such as roads and ambulances, investments in doctors and infection control skills among all levels of medical staff.
And to withstand the next epidemic, West Africa needs Kla and his cohort. Let's maintain them as a ready force.
Popular in the Community