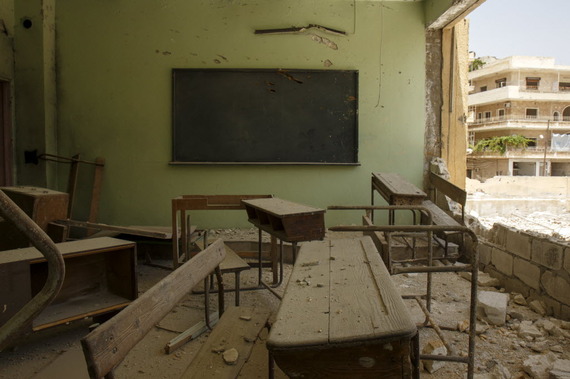 The recent UN mission to assist starving families in the besieged Syrian town of Madaya has refocused world attention on the horrendous suffering endured by millions of parents and their children as the conflict approaches its 5-year mark in March. Yet ensuring that humanitarian aid gets through to hard-to-reach populations on a regular basis--as challenging as that may be--is only one critical step in the long-term process to help Syrians rebuild their country.
The keys to a hopeful future for Syria are to end the conflict and educate its youth.
On February 4, when leaders from the U.S. and other donor governments gather in London to discuss the Syrian crisis, a major focus should be on its impact on young Syrians.
Five years ago, before the conflict began, virtually all boys and girls attended school in Syria. Within a few years, half of these children dropped out--the now 50 percent attendance rate is one of the lowest in the world. These figures remain similar among Syrian refugee children. Turning this around requires world leaders to close the education funding gap, to ensure adoption of policy changes, and to assure protection of Syrian students, teachers, and educational facilities from attack.
This conflict is starving millions of young minds, and that must stop now.
Within Syria, safety is a key driver of the increasingly high dropout rate. Many schools have been attacked or used as military assets, and thousands of students and teachers have been injured or killed. Syria has been the site of more than half of all attacks on schools across the globe during the last four years. The UN has estimated that by 2014, at least a quarter of Syrian schools were destroyed. As a consequence, many parents across Syria are too afraid to send their children to school. In parts of Aleppo, where 40 percent of schools have been shelled at least once, enrolment has dropped to as low as 6 percent. National governments with influence over armed forces or armed groups involved in the conflict must use their influence to stop attacks on schools and their military use.
Outside Syria, only 50 percent of Syrian refugee children in neighboring countries have access to formal education. But there are many barriers, despite significant efforts by those neighboring governments. For some, the issue is economic. For others, their school environment has not met their needs; new curriculum is challenging or Syrian students feel discriminated against. For others, the issue is a lack of documentation. It has also been a challenge that some refugee children have been out of school for years.
These challenges require creative solutions, and NGOs like Save the Children are laying the necessary groundwork. It is essential to increase the capacity of host country school systems, and that requires multi-year investments. A complementary initiative would be to increase the availability of informal learning opportunities, such as community-based initiatives, vocational training and accelerated learning programs and distance and e-learning programs that have accreditation or will allow children to eventually join accredited programs.
Deputy Secretary of State Antony Blinken and Assistant Secretary Anne Richard have championed the importance of preventing a lost generation of Syrian children. To avoid this prospect, donor governments should work with governments in the region and other stakeholders to invest the $1.4 billion required annually to ensure all Syrian children and young people affected by the crisis have access to safe, quality education. This would amount to $150 per child.
U.S. Secretary of State Kerry, who will head the U.S. delegation to London, recently called for increasing the number of refugee children worldwide in school by 1 million. We need more leaders to speak out on this issue, as well as support from the U.S. and other governments. London is the time and place for the world to mount a concerted effort to do just that.
Making sure that Syrian children are learning is the right thing to do. It also protects children and youth from being exploited by child labor, early marriage, and recruitment by armed groups.
Making the decision to prioritize the education of Syria's children will also impact the region's economy and society for years to come. Save the Children estimated that the cost to Syria's future GDP if 2.8 million children never go back to school would be 5.4 percent, or $2.18 billion annually.
As the conflict persists, this impact will worsen without powerful commitments coming out of the London conference to change that trajectory. As international efforts to address the political dimensions of the crisis begin to gather momentum, world leaders must recognize and support the essential role education will be play in returning the country to stability, and rebuilding society. Syria cannot afford a lost generation. The time to act is now.
Michael Klosson is vice president of policy and humanitarian response at Save the Children.
Related
Popular in the Community