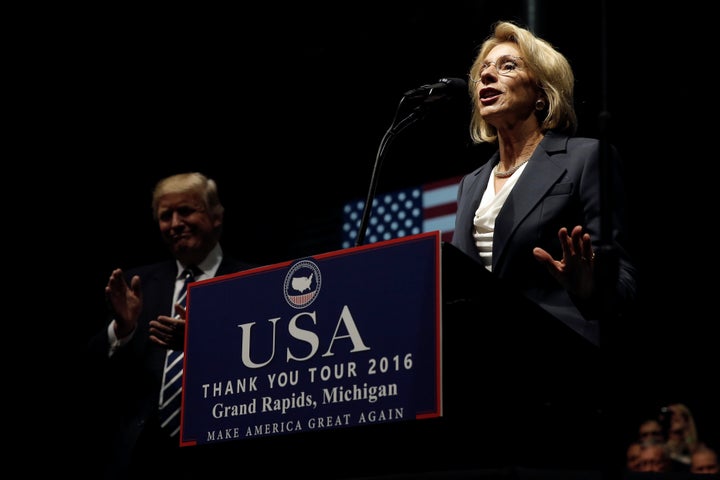 "It is unfathomable that the next Secretary of Education would oppose basic protections for LGBT students and roll back the progress we have made to ensure all students feel safe and supported in our schools," Representative Mark Pocan (D-Wis.), an openly gay House member, said in a statement last week about Donald Trump's nominee for Secretary of Education, the Michigan billionaire Betsy DeVos. "Ms. DeVos' history of opposing equality for LGBT individuals is deeply troubling, and the public deserves to know whether she will work with us to improve lives or continue to advocate an extremist agenda that bullies our students."
DeVos is not just someone who has opposed marriage equality in the past, like many people, Democrat and Republican, or who differs on particular policies or laws. She is a hardened anti-LGBTQ crusader, a member of a family that has devoted itself ― by donating tens of millions of dollars ― to fighting the rights of queer people. DeVos is a religious zealot who spoke about using public education to "advance God's Kingdom." She doesn't belong in a government job in which separation of church and state is crucial, and one which over the past eight years has been critical to the safety and educational experience of LGBTQ students.
Amid reports in recent years of what seemed like an epidemic of suicides of gay, lesbian, bisexual and transgender students, the Obama administration worked with advocates for queer youth to fight the bullying in schools that often leads to students taking their own lives.
President Obama himself embraced the "It Gets Better" movement championed by Dan Savage in response, and the Education Department's Office of Civil Rights instituted programs to fight anti-LGBTQ bullying. An LGBT youth summit occurred at the White House. The office issued a directive to schools nationally to allow gay-straight alliances to form on campus.
And last year, the administration issued guidance on the treatment of transgender students with regard to public facilities, something which conservatives challenged in court ― a challenge that is still pending, with the Obama administration fighting it during the last days of the administration and which is uncertain under a Trump administration.
Will DeVos continue these programs and advance further desperately needed policies toward LGBTQ equality? Both her record and Vice President-Elect Mike Pence's own words in a radio interview with evangelical leader Dr. James Dobson during the election campaign would suggest not. Pence said he and Trump plan to withdraw federal guidance to the states issued by the Obama administration protecting transgender students:
"Donald Trump and I simply believe that all of these issues are best resolved at the state level. Washington has no business intruding on the operation of our local schools."
And since 1998, DeVos and her family's foundations have donated at least $6.1 million to Focus on the Family, which has fought rights for LGBTQ people, promotes "conversion therapy," and deems transgender people as "mentally ill." Focus on the Family also opposes the very anti-bullying programs that the Education Department has developed, and opposes workplace protections for LGBTQ people (like those included in an executive order President Obama signed banning discrimination among federal contractors).
A letter from Pocan and four other gay members of Congress to Senator Lamar Alexander (R-Tenn.), chairman of the Senate Committee on Health, Education, Labor and Pensions (which will question DeVos tomorrow), points out other anti-LGBT efforts the DeVos family has backed:
$1,000,000 to the Institute for Marriage and Public Policy, which has claimed that the overturning of the Defense of Marriage Act amounted to a "fatwa;"
$15,000 to the Becket Fund for Religious Liberty, which has opposed adoption with same-sex couples;
$433,750 to the Council for National Policy, a highly secretive group that is led by extremists like Focus on the Family's James Dobson among other extremists; and
$13,498,000 to the Heritage Foundation, which has stated that "Despite activist judges' opinions, the majority of Americans continue to affirm the reasonable conclusion that marriage is the union of one man and one woman."
The DeVos family also contributed $500,000 to the anti-gay National Organization for Marriage. And DeVos and her husband Richard personally contributed to a successful effort to ban marriage equality in Michigan's constitution. DeVos herself also personally contributed to the campaign of Michigan representative Andrea LaFontaine, who spearheaded abominable legislation in 2015 that now allows state-funded adoption agencies to discriminate against gay and lesbian couples seeking to adopt, turning them away because they are gay.
Senators must raise each of these donations and causes in DeVos's confirmation hearings tomorrow, and hammer her on them. But unless she disavows them and claims to have had a miraculous transformation, it's impossible to imagine how this individual who has championed school vouchers and private, Christian schools could fairly guide the nation's public education system, where LGBTQ students are often under attack and need the protections of the federal government.
As I wrote at the very beginning of the Trump transition, with evangelical, anti-LGBTQ Pence in charge of the transition, the Trump cabinet picks are a who's who of homophobia and transphobia, as evangelical groups like the Family Research Council are getting paid off for their support. It looks like a pack wolves ready to rip apart rights for LGBTQ people. And Besty DeVos is among the leaders of the pack.
Before You Go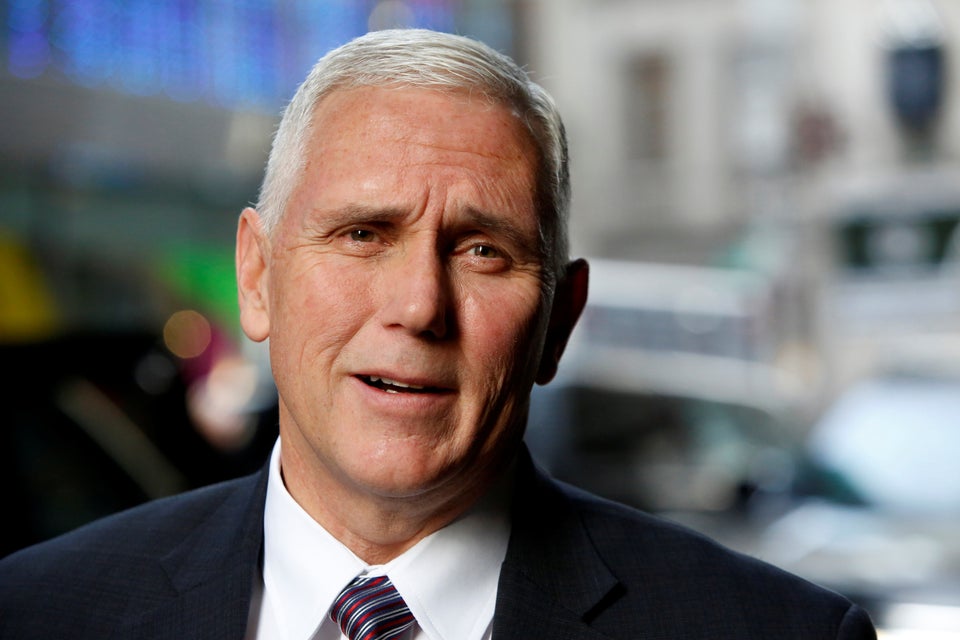 LGBTQ Villains
Popular in the Community