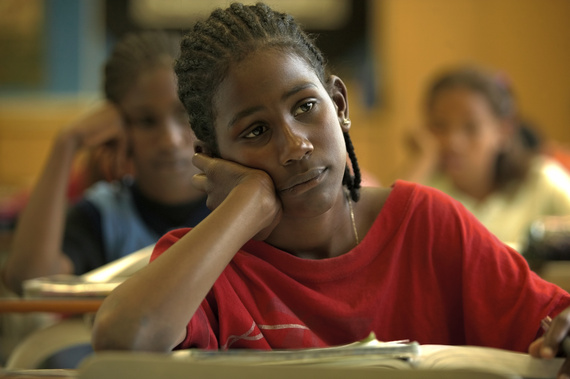 The Compton Eight are right to seek a judicial solution under the Americans with Disabilities Act to address their unmet mental health needs by the Compton Unified School District. It is unconscionable that this nation - which is justifiably quick to express disfavor when our returning veterans fail to get adequate mental health treatment - fails to rally behind children, yes children, who demand that their mental health needs are met when studies suggest that growing up in Compton carries a greater risk of PTSD than fighting a war.
The often-overlooked toll of youth violence is not just the senseless loss of life of the young victims on our streets but also the brain death of those children who are exposed to this violence. I say "brain death" because trauma prevents brain cells from functioning in the way they should. Exposure to ongoing trauma shuts down parts of the brain that are responsible for children's executive functioning skills. Those are the skills that help a child focus, display discipline and retain information in the classroom. This is why the onus of treatment of this trauma must be shared by our education system.
The counter argument to the Compton Eight is that it is unfair to burden teachers with becoming mental health workers. This distorts the solution as one that rests solely on classroom educators. While all teachers should undergo training to recognize and respond to trauma, a more comprehensive response requires providing students adequate access to counseling and to after-school services, like sports and arts programs, that provide trauma-sensitive programming. Schools do not have to bear the whole costs, but they should be mandated to develop the partnerships with nonprofits and health providers to ensure that these services are available to every student.
America has an epidemic of youth violence that must be addressed. If we don't put some of the responsibility on our public schools to tackle the impact of this violence, then we have few alternatives for addressing it at the scope that is required. If it makes logical sense that Sandy Hook, Connecticut would spend upwards of $250,000 on trauma-related services in the year following their tragic shooting, why shouldn't the Compton Eight seek a similar investment in their school where youth experience acts of violence on a regular basis? As I said, this is not just a matter of mental health; this is a prerequisite to achieving academic success. And, isn't that the mission of public education?
Up2Us Sports offers a trauma-sensitive approach to coach training. We are preparing coaches to work with young people who experience the daily stresses of poverty and violence. Coaches who are trained to understand the impact of trauma are better prepared to form lasting relationships and to employ trauma-sensitive coaching techniques that will be more effective in serving youth. To learn more, click here.
REAL LIFE. REAL NEWS. REAL VOICES.
Help us tell more of the stories that matter from voices that too often remain unheard.