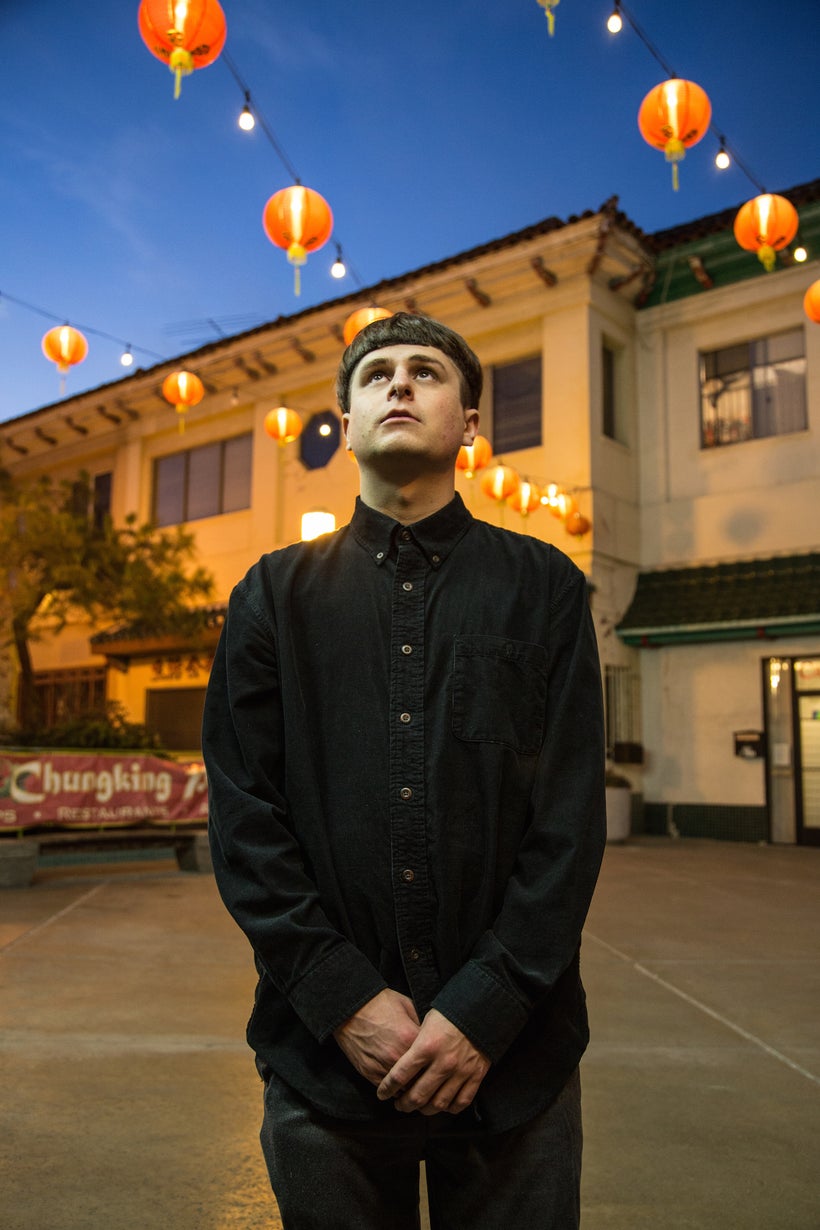 "I try to let my truest self out in the music."
Oliver Tree's music is an enigma of genre. While he's primarily a pianist, guitarist and producer, his real-instruments-based-production incorporates rap, male and female vocal harmonies, poetic lyrics, strings and a hearty dose of synth. Whereas some electronic artists go overkill with rib-shaking wobble, the bass in Oliver Tree's music doesn't drop like a ton of bricks. Instead, it looms heavily in the background, anchoring the songs as a point of orbit in the galaxy of sounds that he creates.
His music is certainly not everyone's cup of tea. It's dark. It's creepy. The progressions can be tense and discomforting. But this is where he shines: a surreal aesthetic that simultaneously grounds the listener in what is real and what is not. His upcoming release, a nine-track mixtape called Squirt, is a herald of the next phase for this artist whose journey has been marked by constant evolution.
A native of Santa Cruz, California, the 22-year-old Oliver Tree Nickell is all but impossible to pin down as an artist. His earlier song "Revival" showcases his ability to make anything his instrument. A didgeridoo holds the bass line, GameBoy beeps fill the bridge, dogs bark in the intro — you name it, it's probably in there. By recording sounds of everyday objects and blending them into his soundscape, he layers up to 100 tracks in a single song. He composes music differently almost every time, and his portfolio shows it. 
"I try to let my truest self out in the music, and I try to be honest with myself and try and create something that has some kind of positive impact," Oliver says. "I'm conscious about what I'm putting out, and I want it to be something that's going to benefit the world."
Growing up, Oliver took piano lessons. Then guitar lessons. More than a dozen instruments later, as a senior in high school going by the moniker Kryph, he opened for electronic heavyweights Skrillex and Datsik.
Being a dubstep DJ was a stepping stone. On his 18th birthday, he reinvented his persona as Tree. "This marked the conscious decision to birth a new project where I had creative freedom to release all styles of music and art that inspire me," Oliver says. "A place where I wasn't confined by genres, or even mediums for that matter."
"I didn't choose that path — it chose me."
Oliver's new sound quickly gained traction. His SoundCloud music garnered responses from MTV and record labels. On the eve of his 19th birthday, he signed with Apollo, an associate of London-based R&S Records.
"When my label offered to pay for me to live for a year and to do music as my job, it wasn't the sort of thing I could pass up," he says. "I almost felt like I didn't choose that path — it chose me."
Perhaps one of the boldest moves for the young producer was his vision to cover Radiohead's "Karma Police," incorporating his own rap lyrics. Thom Yorke, the lead singer of Radiohead, gave him the thumbs-up on the demo, and Apollo flew Oliver to London to record the cover for his first EP, Demons (2013). "It was my first real chance to take my music out of my bedroom and into a big studio with other engineers and professional session musicians," he says. His music video for the cover delivered just as much audacity as throwing rap lyrics into a classic, with Bullett Media calling it a "slowed-down, creepy-crawly vibe." 
After London, Oliver moved back to his hometown. Why an up-and-coming artist would want to leave the big city arts scene for small-town comforts reflects his philosophy on creativity. He says, "When you're able to bring together a group of artists working towards a common vision, you're given the opportunity to make something much bigger than yourself." Back home, he helped form Tree Collaborations, a self-described "family of young artists" in the Bay Area that creates elements around the musical experience.
Currently, Oliver is studying music technology at California Institute of the Arts in Los Angeles. Under the new name Oliver Tree, he's spent the last few years working on his vocal chops (although Lena Kuhn's contributions to Demons have not gone unnoticed), and his recent work shows it. Nickell's vocals are featured on Bay Area producer Getter's EPs Planet Neutral (2015) and Radical Dude! (2016). On June 21, the music video for "Forget It" featuring Oliver Tree was released  -- and those who loved the concept-heavy creepiness of the "Karma Police" video won't be disappointed. 
The Oliver Tree / Getter collaboration continues with Squirt. The new album signals a revamping, with inspirations stemming from far beyond the confines of traditional electronic. He's created what he calls a "time capsule," paying homage to a smattering of late '90s-early-2000s hip-hop, using remakes and remixes of his favorite songs, and freshening them up with his quirky, witty raps. 
For Oliver, music is a way of tapping into a spiritual sort of energy. "I kind of see music as my religion," he says. Oliver has a self-described addictive personality that fuels his commitment to music. "It's a crazy obsession," he says. "An addiction, essentially." But his zealousness is more inspiration than hindrance, serving as a way to connect and grow. "You're creating a little world you can share with people," he says. 
Nickell's lyrics are a testament to the relatable, down-to-earth person behind the experimental style; he intentionally leaves them open-ended so listeners can apply them to their lives. An excerpt from "Demons":
Sometimes you know, sometimes you don't
Sometimes your thoughts provoke assumptions
Assume that you're wrong; it happens a lot
Sometimes it's easier pretending that you're somebody you're not
Oliver delves into meta-questions that shatter the stereotypes of a genre often associated with rave culture and shallow songwriting. He examines his motives as an artist and the impact of his work. "Who am I making this for?" he asks himself. "What purpose will this art serve? Why does it need to be here? I've been thinking of more grandiose questions, always thinking about the purpose and the intention behind it."
In asking Oliver about his career trajectory, there's little talk of record deals and album sales. "I would never build my life around trying to become famous," he says. "I just want to make really awesome art." He seems to be as much philosopher as musician, and a big dreamer at that. His goal is to push the art form forward, and beyond the electronic scene, he aims to have his work reach the world and in doing so, better his listeners' lives. 
After what he's produced so far, it's anyone's guess where Oliver Tree is headed from here. The free-spirited producer evades classification and keeps his listeners forever wondering about the next chapter. He has hinted that he has a new music video and a series of albums in the pipeline, and if history is any guide, they may take his work in ever-bolder directions.
Squirt will be available to download free on his website, and you can hear his music on SoundCloud. 
Calling all HuffPost superfans!
Sign up for membership to become a founding member and help shape HuffPost's next chapter
This post was published on the now-closed HuffPost Contributor platform. Contributors control their own work and posted freely to our site. If you need to flag this entry as abusive,
send us an email
.