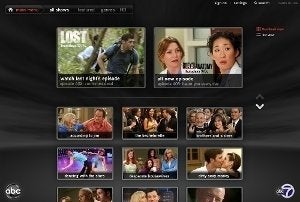 Fans of
Boston Legal
earlier this month were getting worried:
Upfront week
was closing in, and
ABC
still had not committed to a fifth season of their show. Adding to the tension was the fact that the network had renewed all of its most popular series way back in February but had left
Legal
off the list.
Then came the good news: Only a few days before ABC presented its
fall schedule
to advertisers and the press, the network picked up
Legal
for another 13 episodes, which are scheduled to play out this fall at 10 p.m. on Monday nights. (The series concludes its fourth season this week.) Now, here's some potentially
great
news: A very well placed source tells me that the Season 5 episode order for
Legal
is not carved in stone and that it could be extended beyond 13, depending on how well the show does in the fall and how strong ABC's midseason development turns out to be.
I suspect that another honor or two at this year's Emmy Awards might also support an extended fifth season. The odds should definitely be in the show's favor when nominations are announced in July. (Nomination ballots go out to voting members of the Academy of Television Arts & Sciences in two weeks.) Last year, James Spader nabbed yet another Emmy for the role of attorney Alan Shore, bringing his total to three (one of them for his portrayal of Shore on
The Practice
, the David E. Kelley legal drama on which he originated the role, and two for his work on
Legal
, a
Practice
spin-off). Spader's 2007 win over James Gandolfini for the final season of HBO's
The Sopranos
was considered a major upset (although Jack Myers called it in his
annual Emmy prediction column
).
As powerful as Spader was last year, though, he has been truly dismantling this season, especially in episodes that have been telecast since
Legal
returned from its writers strike hiatus. Many series just haven't been themselves after their
strikus-interruptus
, but
Legal
has rocked, with episodes so emotionally rich and resonant that they would seem to ensure nominations for Spader and two of his co-stars, William Shatner and Candice Bergen, as well as the series itself. Two episodes in particular -- one in which Crane, Poole & Schmidt senior partner Shirley Schmidt (Bergin) fought to allow her Alzheimer's-ravaged father to die with dignity, the other featuring Shore's destined to be legendary confrontation with the Supreme Court -- could bring Spader his fourth statue, Shatner his third and Bergin her first for their portrayals of these characters. The writers who give these actors such sterling dialogue also deserve recognition.
If you haven't seen the clip below, stop reading for a few minutes and watch an actor at the top of his game as Spader makes Shore a worthy adversary for our current Supreme Court justices, each of them played to modest perfection by actors with whom you are likely not familiar.
And now, watch Spader in grand form once again, as Shore argues in support of passive euthanasia for Schmidt's ailing father, referring at times to his growing concern and love for his dear (and unnamed) friend Denny Crane (Shatner), who is in the very early stages of Alzheimer's. Keep a box of tissues at hand.
Before these episodes were telecast, I was ready to argue from now until September that Bryan Cranston of AMC's Breaking Bad deserved the Emmy this year for Outstanding Performance by a Lead Actor in a Drama Series. (Indeed, I recently asserted that an Emmy wasn't good enough for the work Cranston does in this show and suggested that he receive an Oscar instead!) Further, I was perfectly at peace with the idea of Cranston losing to breakout star Jon Hamm of AMC's Mad Men, a singularly stunning drama that I fully expect will be honored with the Emmy for Outstanding Drama Series. (Then again, I assumed that NBC's Friday Night Lights would be similarly singled out last year, and it wasn't even nominated!)
But Spader in recent weeks has been a game-changer. All Emmy bets are off.
Post-strike, Legal has also delivered timely stories about media manipulation and the power and responsibilities of that much misunderstood political fixture, the super-delegate. With The West Wing now just a pleasant memory, Legal is the only scripted series on television that dares to repeatedly address and force people to think about politics, and it does so with provocative gusto. Yes, the characters tend to preach, especially the lawyers in their passionate closing arguments. That doesn't mean the viewer must agree with them. Both sides of every issue are presented within each story.
Critics of Legal complain about the bizarre sub-plots and lunatic characters that often run parallel to or intersect with its essential dramatic storylines. I dismiss their gripes as so much "poopycock," a term favored by the increasingly befuddled Judge Robert Saunders (played by Shelley Berman, one of many wonderful character actors who appear in often-riotous recurring roles). Without its signature lunacy, Legal would be just another powerful drama about lawyers and the work they do, just like L.A. Law and The Practice when they were at the top of their games. The pervasive and invasive nuttiness makes Legal singularly distinctive and more entertaining overall than it might otherwise be, at least for those viewers who are wise enough to surrender to the will of David E. Kelley and his creative team, not to mention one of the best group of actors working in television. Boston Legal challenges easy categorization. That's part of what makes it roar and soar as often as it does.
To communicate with or to be contacted by the executives and/or companies mentioned in this column, link to the JackMyers Connection Hotline.
Calling all HuffPost superfans!
Sign up for membership to become a founding member and help shape HuffPost's next chapter