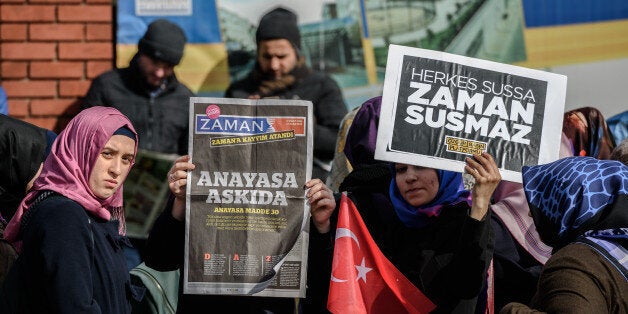 A week after the Turkish Constitutional Court ruled out that the arrest of Can Dundar and Erdem Gul, two prominent journalists of Cumhuriyet Newspaper, violated their basic human rights, a local court ordered the illegal takeover of Turkey's largest media group, Feza Zaman Inc., which includes Zaman Daily, Today's Zaman, Cihan News Agency and Aksiyon Magazine.
President Erdogan, who took the ruling as a challenge to his power and executive presidency ambitions, said that he does not respect and does not even recognize the decision of the Supreme Court.
This development came right after former President Abudllah Gul's moves and remarks were considered as signs of the emergence of a new center right party that could challenge Erdogan's executive presidency goals.
Many believe one of the reasons for Erdogan's decision to illegally order the takeover of the Zaman media group was to silence the rising opposition around the leadership of Abdullah Gul and leading figures from the Justice and Development Party, such as Bulent Arinc, Huseyin Celik, Sadettin Ergin and Nihat Ergun, who started to criticize Erdogan before the Constitutional Court's ruling about Can Dundar and Erdem Gul.
Some also believe that Erdogan and his family members might face some international law suits and, on the way to executive presidency goals, Erdogan would do his best to silence critical media outlets in the country as much as possible. The possible international legal cases against Erdogan and his family members are allegedly linked to ISIL's illegal oil trade issue.
For instance, an Italian public prosecutor has opened a file on Bilal Erdogan, son of President Erdogan of Turkey, to investigate allegations about his involvement to bring in large amounts of money to Italy last September, which has received a huge media attention across the world. The recent efforts by the Russian Federation at the U.N about Turkey's alleged involvement in ISIL's illegal oil trade brings to mind a similar possibility for Berat Albayrak, another son-in-law of Erdogan.
No matter what Erdogan's real motivation is for the unlawful order to takeover Zaman media, it is obvious that Erdogan wants to silence all critical voices. For many, it was one of the darkest days of Turkish history -- and it seems that it will not be the last one.
"It's yet another setback for freedom of the press and for democracy in Turkey. Ultimately, countries are stronger and more stable when opinions can be aired freely," Pulitzer Award winner journalist Paul Moses told me.
Professor Lauhona Ganguly of The New School in New York notes that that the takeover of media organizations is a blatant and shameful move to undermine democracy in a country, and that is what we are witnessing, unfortunately, today in Turkey.
"It is important for critical voices to flourish in a democratic society and this rather explicit political act of seizing a media organization, even if it is being done through the courts, must be opposed by all -- not only by people in Turkey but by democratic societies all around the world," she said.
Ganguly further states that "the threat to free press and democracy in one country today has an impact on free press and democratic movements around the world. It is time for European Union, in particular, to issue stronger statements and actions condemning this act against free speech by the Turkish government."
Joyce Davis, a well-known American writer and Middle East expert emphasizes that people who love Turkey are heartsick about the unlawful takeover.
"The basis of any democracy is a free press. Turkey has just taken the path toward dictatorship. It is not only alarming for the Turkish people, but for the entire world," she said.
One of the biggest mistakes of President Erdogan, during his entire rule, was the illegal order to take over a media group.
Erdogan has already lost his eligibility for being part of the civilized and democratic world. The only hope he has from now on is to reach out his goals to establish an autocratic rule where no checks and balances would be tolerated in the system.
Any attempt to change the constitution by Justice and Development Party in near future does not aim to promote civil rights or democracy but Erdogan's ambitions to be the executive president of Turkey. By limiting free speech, and taking over 70 percent of the media, Erdogan has already reduced the ability of voters in Turkey to make free and informed decisions during elections. The law allowing the government to regulate the Internet and block any content is a major setback towards civil liberties and democracy.
The recent developments demonstrate how press censorship in Turkey has been activated through a dispersed network of state power, commercial forces, and self-censorship.
Turkey has still a high number of journalists in prison. Furthermore, the media under Erdogan's control organizes smear campaigns and witch-hunts against Erdogan's opponents. Besides, journalists are not the only individuals suffering from the authoritarian nature of Erdogan's government but credible scholars and the business elite as well. Many highly credible businessmen are jailed in Turkey for their alleged sympathy for one of the world's most peaceful social movement known as the Gulen movement.
Calling all HuffPost superfans!
Sign up for membership to become a founding member and help shape HuffPost's next chapter