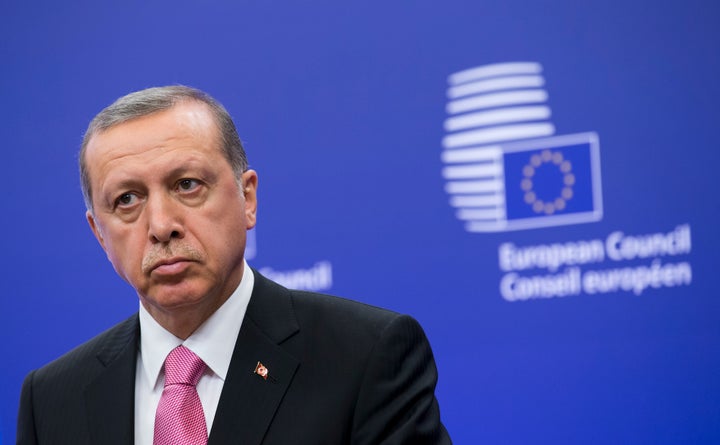 There is a large consensus among the members of free world that Turkey's liberal trajectory long ago halted and began rolling backwards through means of majoritarian authoritarianism by President Recep Tayyib Erdogan. What we have been observing particularly over the last three years is that Turkish president makes sure that the country is heading to a very predictable direction — consolidating power around one man by taking it away from the military and judiciary; and silencing domestic dissidents whenever it is doable.
In fact, the EU to a larger extent decides to keep a very low profile up until recently vis-à-vis Turkey's internal developments mainly because of the fact that Turkey is home to 2.7 million Syrian refugees — a reality which Erdogan is treating like being in possession of a loaded gun. Accordingly, Turkish president on several moments threatened to open Turkey's borders to illegal migrants after the European Parliament voted to back a freeze in membership talks with Ankara. "Listen to me. If you go any further, then the frontiers will be opened, bear that in mind," Erdogan told the European Union (EU) in a speech in Istanbul. However, the recent decision taken by the European Parliament calling a temporary suspension of the accession negotiations as a result of the serious deterioration of the rule of law and human rights following the 15 July failed coup, has given a powerful signal about the limits of the EU's patience bar. Following the decision taken by the EP, there are now more outspoken debates and discussions in the EU corners about whether Erdogan becomes a much bigger threat than the refugee crisis itself that the EU is challenged with.
In fact, this major concern is not only shaped by Turkey's domestic ups and downs in terms of rule of law matters but more predominantly it is associated with the massive purge in Turkish military, Turkey's recent reconciliation with Russia, and the radicalization of Turkish diaspora in Europe.
To be more precise, Turkey, a major NATO member, launched a massive manhunt spanning all levels of society following the attempted coup on July 15. Turkish authorities went on to detain close to 38,000 people while purging more than 100,000 employees from the state. The military has also undergone a large-scale crackdown especially against pro-NATO military personas where Turkish government on a number of occasions has also accused the West of possibly being behind the coup.
Commenting on the ongoing crackdown that is decreasing efficiency of NATO operations, Curtis Scaparrotti, NATO Supreme Allied Commander in Europe, said recently that half of the 300 or so Turkish military staff assigned to NATO were detained, recalled or retired from the alliance in mid-July. About 75 of them have been replaced so far. The four-star general also added that he had talented, capable people, and he is taking degradation on his staff, stressing that it will take some time to find new officers with that level of experience.
Having said that, one needs to also refer to the recent comments by Alexander Dugin – President Putin's special advisor on Turkey, who argues that Turkish officials are considering an opt-out from NATO and willing to cooperate further with Russian military. For that matter, the more alarming issue for many European leaders seems to be the fact that Turkish military is now vulnerable to Russian influence more than ever. Therefore, NATO generals are very much reluctant to work and share sensitive issues with the newcomers in Turkish military and it seems that there is an extreme low level of mutual trust between the NATO and Turkish officers.
Particularly, after President Erdogan's recent words that if Turkey takes its place in the Shanghai Cooperation Organization (SCO), this "will allow Turkey to act more freely", there has been an incredible rise in concerns and questions about whether Turkey may leave the Western security bloc and split from the West. However, the answer to this vital question can be found among Turkey's military-security indicators, rather than its political and economic patterns.
Last but not least, one of the other major concerns that is shared by many leaders in Europe has to do with the divisions that have emerged after the attempted coup also in a number of European countries where there are large Turkish communities. Since President Erdogan publically pointed and demonized Gulen movement as the mastermind of the attempted coup, the purge against Gulenists has been also kicked off in many European capitals. Often the purge in Europe has been violent, with pro-Erdogan protesters throwing stones into the windows of education institutions linked to the movement in Germany, and the Netherlands, or calling to arson schools in Belgium ("Burn them alive!" the protesters shouted).
In fact, such a fast-growing trend of radicalization among supporters of president Erdogan in some of the EU member states is a major concern and a serious threat to the intra-society co-existence in these countries. For that reason, the decision-makers are extremely cautious for such developments that might turn into larger negative trends.
* Ebubekir ISIK is a PhD Researcher at the Free University of Brussels (VUB), Belgium. His expertise covers stateless nationalist and regionalist parties.