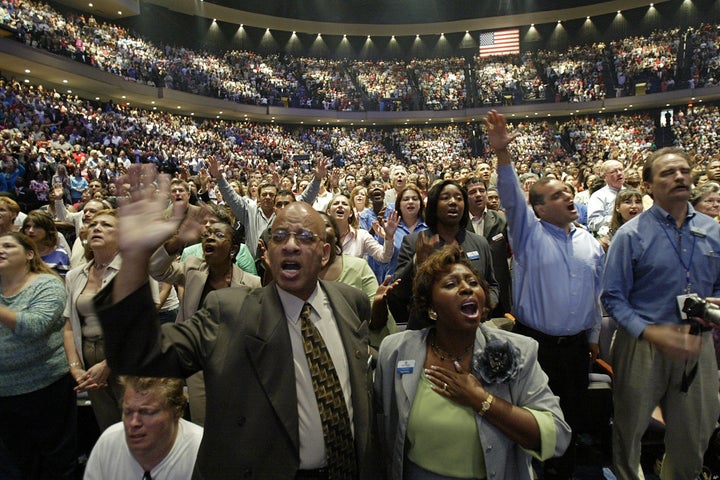 We are in the midst of a shift in American Christianity, as Evangelicalism is failing to reach a new generation. For the last couple of decades, Christians looked to the Evangelical movement to show us how to gain new members and keep our churches relevant. They showed us how to attract young members. Even stodgy denominational congregations could not hide their curiosity when megachurches took root in our nation's religious landscape. They watched as families drove to the sprawling parking lots of the giant suburban church -- the one with the rock band, theater seating, and that charismatic guy at the center of it all. Evangelical talking heads began to pop up on news programs, claiming that they represented vast swaths of the American population. But now those megachurch crowds are graying and there is something about Evangelicalism that is not transferring to a new generation. The shift is well documented: everyone from Christine Wicker, to Robert Wuthnow to the Barna Group is pointing out the change. Many who grew up in those packed seats, clapping along with the praise band, are abandoning Evangelical congregations. Why is that? The robust churches had it all -- large staffs, great programs, and engaging preaching. Why would a new generation, including me, leave that behind?
There are three major reasons that a younger generation is leaving Evangelicalism: pernicious sexism, religious intolerance, and conservative politics. The term "Evangelical" is a broad brush that colors a large and diverse movement, so these characteristics may not be true of every Evangelical. But as long as those in the movement allow themselves to be represented by Pat Robertson and James Dobson, then these spokesmen will continue to whitewash the entire group's values.
Many Evangelical megachurches began with a specific inquiry: "Why aren't men going to church? What would attract men to a congregation?" Evangelical pastors concluded that if a husband went to church, then the wife and children would follow. The services and programming catered to men. The staffs reflected the bias, as they filled each leadership position with a man. Outside of the church, more women became CEOs of powerful companies, judges on the Supreme Court, and viable candidates for President of the United States, so women began to wonder, "Why can't we be pastors? Why aren't there more women in our church leadership? Why would all the rules change once we stepped inside of the church walls?" Men and women alike began to long for gender equality in church leadership. But the sexism wasn't just in the church. Many Evangelicals began waging a culture war against "radical feminism," which, to a new generation of women, didn't seem radical at all. It just felt like equality. We had men like Mike Huckabee teaching that the man is the head of the household and that the wife ought to "graciously submit" to him, but in a time when wives were just as educated and brought home just as much money as their husbands, domestic subjugation seemed unthinkable.
In addition, the religious intolerance that many Evangelicals preached no longer made sense in our changing neighborhoods. After the immigration laws in 1965 abolished the national origin quotas, we began to see a rich cultural and religious diversity in our country. While loving our new neighbors, we appreciated their traditions and respected their beliefs, even when they didn't look like our own. The religious intolerance that was preached in many Evangelical churches not only disrespected men and women of other faiths, but it even questioned the beliefs of other Christians who were not as socially conservative.
Finally, the conservative politics drove us away. There were some progressive Evangelicals, yet their voices were sidelined far too often. For the last couple of decades, a majority of the movement began to find great power as the Christian Right. Partnering with the Republican Party, they began to extol an idealized view of the family, rallying against abortion and homosexual rights. Often the fixation on these two issues came at the expense of feeding the hungry and sheltering the homeless. Many Christian Right leaders brushed aside caring for the earth and mocked global climate change. Health care became demonized and wars glorified. So many Christian teachings became sacrificed for the Republican agenda that we hardly recognized our faith any longer. And so we left our congregations.
Where are all of the young Evangelicals going? That's hard to say. I found a home in the Presbyterian Church, but most of them probably aren't going anywhere for now. Nevertheless, this is an important moment for progressive Christians. There is a generation of people wandering, and many of them are hoping that their faith is made of something deeper than what they hear from the Evangelical talking heads.
Related
Popular in the Community