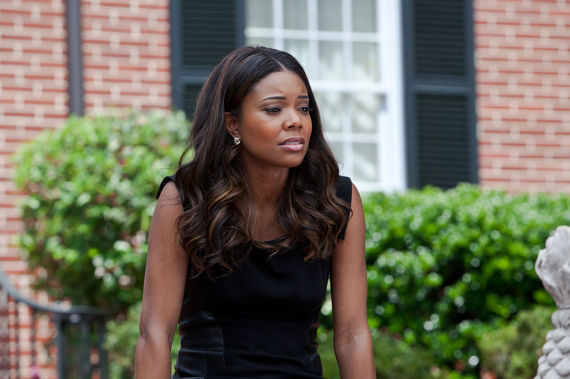 Almost 3 years ago, Gabrielle Union took over national airwaves with the character Mary Jane Paul (MJ), and all but commanded the attention of every Black woman that took at least fifteen seconds to watch her story unfold. Being Mary Jane, in my personal opinion, has been one of the most captivating viciously honest pieces of work in an American drama series, that I've seen in a long time. The show started out with no fluffs and never promised to please any particular audience or point-of-view. We got so lost in her affair with Andre, her feisty unapologetic tone, and self-righteous temperament, that we let it float over our heads that we just might have been looking into a mirror.
Mary Jane embodies that Black woman struggle that is only seen in our living rooms and behind the big oakwood closed doors of an expensive therapy session. This isn't the stuff that we like to talk about. These aren't the issues that we like to admit to others or ourselves that really do exist. The blue-print of 'Black Girl Magic' has become the ability to abandon transparency and just pretend that everything is ok. The strong Black woman should probably keep her mouth shut, mind her manners, let family walk all over her, put on her white face for her career, be a Super Hero to all of her friends, and still find the time to just fall her unstable behind into the arms of the perfect man that she can actually call all hers. How adorably oxymoronic. This is not real life for the Black woman, or any woman for that matter. If you can manage to shoot beyond the dissenting propaganda, her fly wardrobe, and the obvious metaphoric symbolization of her dope ass glass house, you would then be able to see this masterpiece for what it is. Every woman that I know is entombed inside of this person created by Mara Brock Akil. The Black Woman is Mary Jane Paul's ventriloquist, if you will, and here's why...
- At Some Point You Probably Dated a Man That Wasn't Yours Either and You Had No Idea What to Do About it - Let's just call out the spades before we even start the card game. While I do not condone or promote extra-marital affairs, I'm not so aloof and bourgeois to realize that they do in fact exist, and that it's a lot of women out here who think it's ok! Y'all watched Mary Jane's mess unravel and had all types of fire to breathe her way, but you forgot about that one time in college with the married professor, or who your illegitimate child's father is. Yes, I went there and I'm going to keep going. This woman was a whole entire discombobulated tacky ball of mayhem, and what's more important is that she was forthright enough to just go ahead and be honest about it. Guess what, she eventually got over it, and him too...just like you did!
- You Have Gotten to a Certain Age and Become Severely Depressed Because You Don't Have Kids Yet, and Have No Idea Who in the Hell the Daddy Would Even Be if You Did - Let's be real. As most women creep through their thirties, this is a one-on-one conversation that you have with yourself. Of course all women do not want kids, but I've heard this story too many times to ignore the relevance of such. The fact of the matter is that it is Hard to have and then balance it all. Even those of us who have it are still trying to work out some kinks. Corporate society has always shunned the idea of placing motherhood over career, which is why most women wait. Corporate society has no idea about the silent personal struggle these women go through to put something so imperative to themselves on the back burner. The scary realities of fertility is something I could discuss all day! Then we have the women who are not in long-term solid relationships at the moment, but want a baby. Your time is ticking away! I'm not saying to go pilfer your next one-night-stand's sperm, but you can clearly see the bigger message here.
- You're Tired of Being the Loyal Heroine for a Family That Thinks You Owe it to Them to Fix Their Chaos (But You Still Love Them Though) - Let me paint the picture for you. You're the successful one with a stellar education, great job, nice income, and seemingly stable lifestyle. Your family resents you for this and has no problem letting you know how arrogant or selfish or rude you are, but then they end the conversation asking you for a couple of dollars. You play every role from therapist, to referee, to Mom, to big/little sister, to financial advisor and beyond. Your everyone's whipping boy but they always call you when they're in a jam. You feel strong guilt. This becomes emotionally draining and takes a toll on your entire life (read my second point again).
- You're the Strong Friend That Sometimes No One Realizes Needs Her Own Hug and Time to Just Fall Apart - You're the alpha female in your group of friends that seems to either have it all together, or keeps them all together. You rushed to your girl's side when she passed out in the street over a break-up with her guy, and you nursed her back to life after one too many dips in the vodka bottle, over an argument with her mom. Most friends just expect that you are always ok and assume that if you do have an issue "she'll probably just work herself out of it." Not so much! You have your weak moments as well, men do you wrong too, and you cry in the shower more than you would like to admit. Work is stressing you the hell out but all of your inner circle thinks that you have the "job a million girls would kill for." So you resort to your own little rehabilitative idiosyncrasies and become your own darn support system (there is a method to the madness of MJ's infamous Post-It notes!!!).
- Everybody Self-Medicates Under Pressure. Yours Just Might Be Worse Than Tequila - We were enraged when the writers turned MJ into an under-the-cabinet alcoholic. Hmmmm, Wake Up Black Girl! That $700 that you just spent on the new red bottoms and called it "retail therapy" is no different than downing a glass of Mexico's finest after a bad day at the office. Everyone has their vice. You picked yours. Don't judge hers.
- You Aren't Perfect But You're Still Trying - This one goes without needing to say very much. Every conflict in life knocks you ten tiers down from perfection. You know this, you've accepted this, and at some point you learn how to gracefully keep going. This, My Loves, is the quintessential essence of exactly why we are all just "Being Mary Jane..."
Calling all HuffPost superfans!
Sign up for membership to become a founding member and help shape HuffPost's next chapter