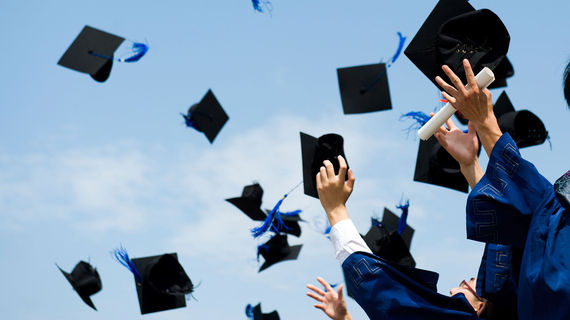 It's the time of year for the event that some family members love and some dread, but all of us will be there: graduation. For the graduates, it's a freeing, fun and frightening experience -- pretty much a bunch of f-word emotions. And frankly, I'm jealous. The excitement of the graduation experience is hard to replicate. But what if we did? What if we could have a graduation of sorts at the workplace every year? Here are four-and-a-half reasons to graduate more often:
1. Celebrate. Many coworkers have no problem putting a few bucks in a hat to buy a cake for the latest office birthday. But why don't we celebrate the work that we do instead? Celebrate the completion of a project, party down after a solid quarter or cheers to the fact that a hard year is behind you. Whatever the reason, take the time to enjoy the moment.
2. Move on from old adventures. If high school wasn't your thing, you welcomed the end to being thrown in a locker with open arms. In the same vein, sometimes we have to move on from certain responsibilities at work. It's only natural that over time, we outgrow some of our duties and reach a ceiling on what we can accomplish in our current role. Maybe it's time to check in with your boss to see about graduating the tasks that don't inspire you anymore.
3. Start new adventures. After graduation, I headed to Los Angeles to see about becoming the next Brad Pitt. Unfortunately, I lack his sex appeal so I had to go a different route, but the thrill of starting that new adventure was unparalleled. As I drove west, I had no job lined up, no permanent housing arranged and no clue about what to expect -- and I loved it. Only new experiences can bring this kind of feeling, so if things are getting stale in your position, seek a new adventure. You don't have to quit your job and move to California; sometimes it's as easy as finding new tasks in your current role that will motivate you.
4. Reflect. A few years ago, I spoke to a group of speakers who were just starting their career. I was a little surprised they wanted me because I was a relative newbie to the speaking circuit, but as I stood on the platform rattling off the ways the business had grown, I surprised myself. Up to that point, I hadn't taken the time to really look back at how far I had come and if I hadn't been invited to give this commencement speech of sorts, I wouldn't have recognized my growth. I've noticed that I'm not alone. It seems to be an epidemic among us that we don't reflect on how we've grown professionally, so take the time to look back on your journey. I think you'll be pleasantly surprised by your accomplishments.
And four-and-a-half: Graduation gives us an excuse to read Dr. Seuss. The classic book Oh, The Places You'll Go! is quoted ad nauseam this time of year, and why not? The good doctor knew how to make us feel better no matter what our age because, as he said, "Adults are just outdated children."
Jack Stahlmann is a professional speaker and Huffington Post contributor. Find his other business & life musings at www.dontflinchguy.com/blog/
Calling all HuffPost superfans!
Sign up for membership to become a founding member and help shape HuffPost's next chapter