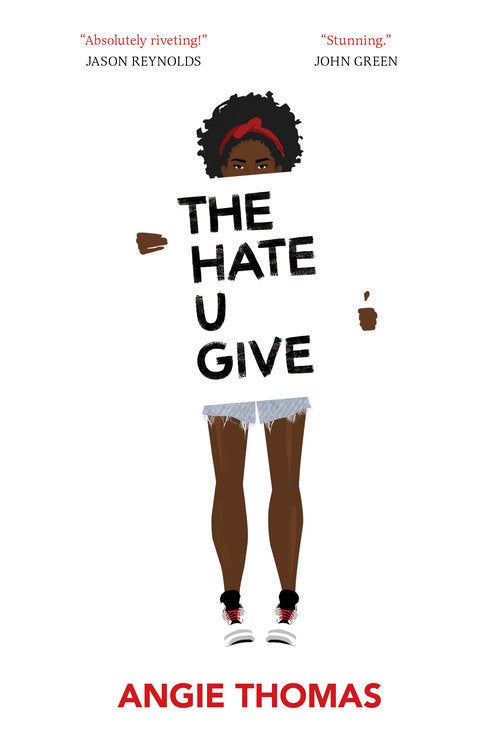 The Hate U Give is Angie Thomas's highly anticipated debut novel based on the Black Lives Matter movement. It's now a #1 New York Times Bestseller, with Amandla Stenberg slated to play the lead in its movie adaptation. The book's big reputation is bound to get even bigger from here.
Rare as it is for a black author to get so much attention in the YA realm, I knew I had to pick this up the day it released. In the corners of the front cover are quotes from two YA bigwigs—Jason Reynolds and John Green—who call the book "absolutely riveting" and "stunning", respectively.
Having finished the book, I can say those salient words don't quite do it justice. The Hate U Give is a masterpiece.
You need only pore over a handful of book reviews to find one calling this book important. I'm ambivalent to a descriptor like "important", not because THUG isn't important, but a word like that feels tame, clinical and underwhelming for a story as human as this one.
The Hate U Give follows sixteen-year-old Starr Carter, who's torn between the world of her poor neighborhood, Garden Heights, and that of her suburban prep school, Williamson. Inhabiting these worlds becomes especially tricky when Starr witnesses the murder of her unarmed childhood best friend at the hands of a police officer.
Starr's grown accustomed to code-switching, using respectability politics to be considered an "acceptable black girl" and carrying shame back and forth between her "white world" and her "black one". At home, for example, Starr is clowned for attending a bougie school and at school, she's too embarrassed of her neighborhood to talk to her non-black friends about it.
Starr's fun, straightforward and often funny voice make the book a joy to read, but it's packed so heavy with narrative it feels almost epic in scale. Dipping in and out of the media circus and the worlds of her neighbors and schoolmates ultimately helps Starr come to grips with her quiet insecurities and find her voice. Starr's close-knit, tricky family life and her bumpy school friendships murmur and then roar with dramatic authenticity.
Here's why THUG's careful characterization is important: Black Lives Matter is a plea for all of America (not just its judicial system) to see black people as valuable, non-threatening human beings. What we need is for those who shy away from publicly championing this cause to pick up books from black perspectives, feel the pains and joys of black people, find where we connect and where we differ and ultimately join our fight.
If this book won't do it, nothing will, because The Hate U Give teaches without preaching. It tells a story that never sacrifices nuanced discourse for broad generalizations. Black culture pulses through the sights, language, music and style of Garden Heights, and as lovable as many of the black characters are, not every one is noble and not every "bad guy" is fully bad. This, along with its multifaceted exploration of black police officers, is why The Hate U Give is a major win for representation.
Good representation is not only about reversing harmful stereotypes, and it's definitely not about portraying marginalized groups as wholly good. It's about telling the truth about a cultural experience through the eyes of one character written by an author who shares a background with that character. It's about diversifying the narratives we are allowed to inhabit, validating and celebrating culture, sharing our stories, and inviting the world to partake in them, to bring them to the forefront, to join our fight.
Here is a story about finding hope and love amidst unthinkable tragedy, punctuated in equal parts by suspense, tragedy, hilarity and love. So, yes, read Starr's story because it's important, because we need to uplift diversity, and because it's politically relevant. But read it also to feel, to heal, to empathize and enjoy. Read it because it's a damn good book.
Support HuffPost
The Stakes Have Never Been Higher
Related
Popular in the Community