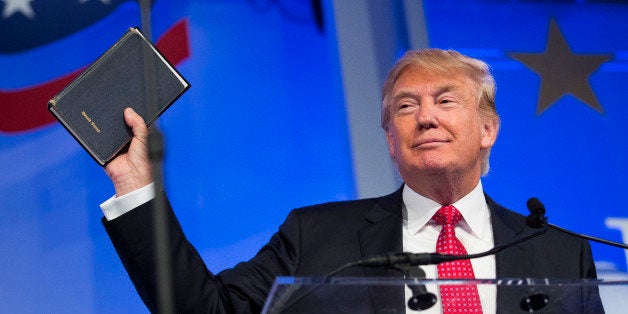 Sexuality has become a central issue in this election. As a pastor and faith leader, I believe that people of faith must work toward sexual health and justice in faith communities and in society. Silence in the face of injustice is simply not an option -- especially during an election. Our faith calls us to respond to the suffering caused by the oppression of people because of their gender, sexuality, or reproductive decisions.
Sadly, there are many public theologians who have put forward a very different message this election season. Representing a shrinking if vocal minority of religious people, these faith leaders manipulate religion and sacred texts to exclude or attack anyone they deem sinful -- stigmatizing the ways they love, how they identify, or the reproductive decisions they've made.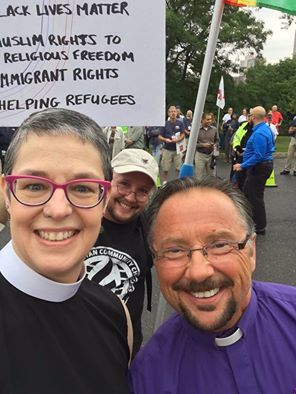 In a national tour called "Decision America," Franklin Graham has traveled across the country rallying conservative evangelical Christians around this election. Only a few days after my ordination this summer, I made my way to the Connecticut stop on Graham's tour. I went to join other LGBTQ Christians in a peaceful demonstration at the state capitol, and as I neared the crowds of Graham's supporters, I began to feel anxious. Usually, religious spaces feel like home to me, but I felt that my tattoos and nose ring marked me as obviously queer and an outsider at this gathering.
As Graham began to speak, urging the crowd to vote with their "Christian values," calling on the United States to confess "the sins" of abortion and same-sex marriage, I felt transported to the conservative Christian tradition of my upbringing and the all-too-familiar rhetoric of sin, blame, and judgement. It was painful to hear him call my marriage a sin and to be in the company of so many who agreed.
I felt this way despite knowing that same-sex marriage is legal, despite the fact that many faith traditions celebrate same-sex couples, and despite my belief that same-sex marriage (including my own) is not a sin but a blessing. As I stood in that a crowd of his supporters, Graham's rhetoric and manipulation of religion stirred discomfort and fear within me. But my Christian faith teaches that God created the diversity of creation and called it good. I know and believe that sexual and gender diversity are not sins but gifts from God. I share this belief with many religious traditions, faith leaders, and people of faith. We honor the diversity of creation, including sexual and gender diversity, and affirm the moral agency of individuals to make their own decisions about their lives and their bodies.
We are a long-standing and growing movement of faith leaders, and we believe that using religion to justify discrimination and hatred violates central tenets of faith -- including love of neighbor and care for the poor. We know the harm caused by faith leaders who call LGBTQ people sinful or exclude them from their communities. We encounter people who have been harmed by sexism, misogyny, and sexual assault in our daily life and work as religious professionals, and we weep with them as we promote healing and wholeness. Franklin Graham and others seek to hide hateful politics behind religion by advocating for conservative Christian supremacy in public life and for anti-sex, anti-LGBTQ, and anti-abortion policies. As a movement of religious leaders, our faith calls us to the creative and life-giving work of sexual, gender, and reproductive justice.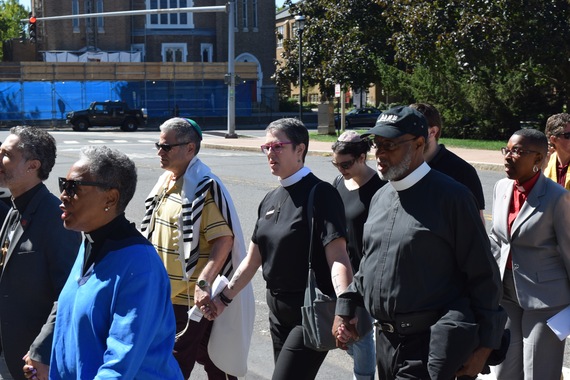 This summer, thousands of faith leaders came together to put forward our vision for justice and reclaim the moral higher ground. Gathering together for a Moral Day of Action, we delivered the Higher Ground Moral Declaration to state legislatures across the country. In the declaration, we call for "the economic liberation of all people; ensuring every child receives access to quality education; healthcare access for all; criminal justice reform; and ensuring historically marginalized communities have equal protection under the law."
We put forth religious values that uphold the common good and inform our commitment to sexual, gender, and reproductive justice. Our belief in "economic liberation" and "healthcare access" requires that everyone makes a living wage and has access to reproductive healthcare including abortion regardless of their income, employer, or geographic location. Addressing "criminal justice reform" means that no parent has to raise a child in fear that they will be hurt or killed. Ensuring that "historically marginalized communities have equal protection under the law" means that LGBTQ people are no longer targeted by laws that legalize discrimination. Rooted in love, it is from our faith that we took action for justice. It is because we love our neighbors and are committed to caring for the poor that we issued this moral declaration and spoke out on these pressing social issues. Our hope is that our society will embody these values on every level--from the local to the national level.
As this election cycle has carried on, however, the opposition to the values of sexual, gender, and reproductive justice and to the systemic changes articulated in the Moral Higher Ground Declaration continues. In the wake of the release of a video that shows a presidential candidate discussing grabbing women's genitals and kissing women without consent, it has become clear that some in the United States are not aware that these actions constitute sexual assault. Even some religious leaders have diminished the harm of sexual assault by asserting that "it's only words," ignoring the voices of women who have spoken out to contradict that claim. For many who have experienced sexual assault, this video and these tepid responses to it further the damage caused by their assault and serve as all too familiar reminders of our culture's acceptance of sexual assault. In response, many people have begun to speak out against the pervasiveness of rape culture--sharing their own experiences of sexual assault, denouncing attempts normalize the video as "locker-room talk," and declaring that sexual assault and rape culture are #notokay.
Sexual assault is never acceptable. It is always an affront to human dignity and to religious traditions' highest commitment to ethical sexual expression. Just as we are called to care for all people, we must strive to be a country that heals the pain and brokenness caused by sexual assault, that listens and trusts the stories of survivors, and breaks down the systemic injustices that perpetuate rape culture. Our faith requires it.
As we face this historic election, it is crucial for faith leaders and communities to counter messages of exclusion, fear, and sexual oppression. People of faith must rally together to heal our country and lead the call for a more just society. This election season has called into question our deepest religious values of love for neighbor and freedom for all -- inciting racism, sexism, misogyny, xenophobia, Islamophobia, and anti-immigrant sentiments at both the local and national level. These extreme responses emphasize the seriousness of the decision the American people will make on election day. The next president, legislators, state representatives, and local officials will be tasked with dealing with government stagnation and long term social, economic, and environmental challenges. Because of the vacancy on the Supreme Court, this election will impact recent and future judicial decisions on abortion access, LGBTQ rights, education, and voting rights.
Faith leaders have the opportunity and the responsibility to speak up for our religious values and to challenge hateful rhetoric. We have a moral obligation to help create social change that benefits all people (not just the strong, powerful, or wealthy) and to lend a moral voice to our future. We must not allow voices of hatred and division to speak for people of faith. We can change the conversation this election season.