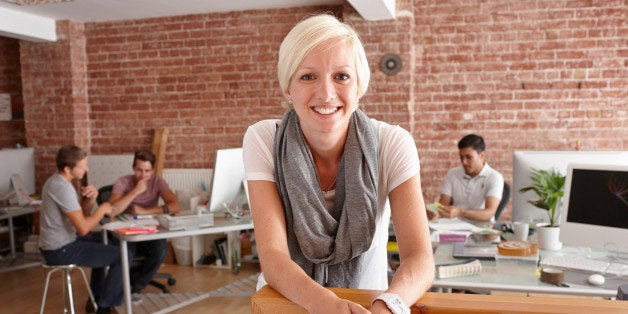 Let's face it: The startup field is still a boys' club. From founders and CEOs to investors and acquirers, we often see men in leadership positions. Women start fewer companies and raise far less in venture capital, but some of that is starting to change. There is more support for female founders than ever before, and they and their ideas are finding more paths to success. Here's why this year will be the best yet for entrepreneurs who happen to be women.
You can afford it now.
Quitting your job to launch your big idea requires fewer tough choices in 2014. You're probably hoping to test your ideas without spending your life savings. Fortunately, business accelerators and incubators exist in every major city and many smaller ones, too, offering sizable investments in new companies. In Los Angeles alone, there are more than 15 accelerators. From 2006 to 2011, the TechStars network expanded from one U.S. city to a network of 25 accelerators around the globe. And some of these backers are dedicated to growing female-led companies. Non-traditional sources of startup capital are also available through strategic activities of large companies such as Target, which offers lucrative prizes for breakthrough ideas that support its businesses.
You can also better keep your day-to-day expenses in check. More affordable co-working sites means more cheap and flexible workspaces for companies on the rise. Just 20 percent of U.S. computer science students are female, meaning that the chances of a female entrepreneur being able to do her own initial programming are lower. Free services like Wix help you program a basic site to give your idea higher visibility. In addition, thanks to the Affordable Care Act, the days of relying on your employer to provide health insurance are over. This year's plans include free services for women such as Pap smears and well-woman visits, and no one can be denied insurance based on pre-existing conditions. Assuming you'll take a pay cut to start your own company, there's a good chance that going forth on your own will actually lead to lower health insurance premiums, since with a lower income you may qualify for government subsidies. Goodbye, expensive COBRA!
Barriers to funding are coming down.
According to research by Google, women-led companies have a 35 percent higher return on investment and are 12 percent more profitable than male-led companies. This may be why smart investors are backing increasing numbers of female entrepreneurs. There are also more female investors in 2014 and more female-led venture capital firms, including newly formed Aspect Ventures and Cowboy Ventures, each with veteran female VCs at the helm. Given the tight network of mostly male funders in Silicon Valley and beyond, new networks forming around these female investors may offer more opportunities for women to successfully pitch their companies.
Dread the idea of pitching to angel investors? Good news: Even though women still have a small piece of the angel investment pie -- 13 percent -- their share has more than tripled in the past decade, up from 4 percent in 2004. The number of female millionaires is growing twice as fast as that of their male counterparts, and angel networks like Astia's Angels are cropping up to invest exclusively in women-led companies.
The country is getting behind you.
From the appointment of Federal Reserve Chair Janet Yellen to the multiple initiatives to advance women's economic interests, the current administration is arguably the most female-friendly yet. President Obama is focused on supporting women in the workplace, and what's followed is an atmosphere of female inclusion like never before -- which means better opportunities and a level playing field for female-driven startups.
Academia is also stepping up to provide more study of female leadership. Harvard Business School, a leader in global business leadership education and resources, has committed to doubling the number of cases it publishes with female leaders as protagonists.
All that's missing is the next big idea.
So what's stopping you? If it's funding, the horizons are broadening. If it's support, don't fool yourself into believing that you're alone in a sea of men. Check out Springboard Enterprises, Beehive Holdings or Golden Seeds -- all organizations focused on funding, training and cultivating women-led businesses.
Do you have the next big idea and the guts to follow it through? If so, 2014 may just be the year you make it happen.
Calling all HuffPost superfans!
Sign up for membership to become a founding member and help shape HuffPost's next chapter