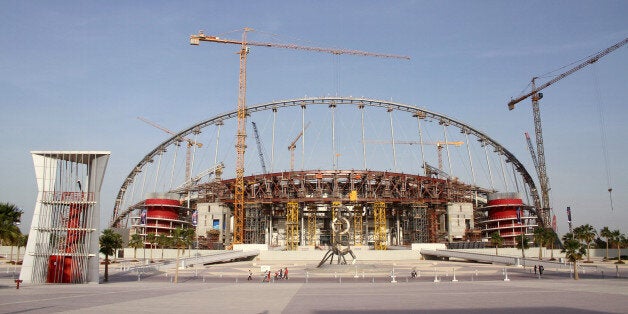 "God knows there are days when I cannot continue, everything becomes too much. The only thing that keeps me alive is the thought of my children."
Those are the words of 28-year-old Bangladeshi Sakib, who worked as a gardener in one of the world's most renowned sports facilities, the Aspire Zone in Qatar.
Sakib took out a loan to pay a recruiter $4,000 to secure his job, which pays $160 a month. He now spends most of this tiny income servicing his debt. The rest he sends back to his two young children at home, who are totally dependent on him.
For many migrant workers in Qatar, this kind of story is the norm.
It certainly is for more than 200 workers Amnesty International spoke to who are building the Khalifa International stadium that will host 2022 FIFA World Cup games, or working in the surrounding Aspire Zone sports park.
Qatari authorities and FIFA, world football's governing body, were quick to dismiss our findings when we published them last month. But when FIFA's new President Gianni Infantino visits Qatar this week, he must confront the issue head on. Otherwise, FIFA runs the risk of seeing its showcase global tournament, the 2022 World Cup, taking place in stadiums built on the abuse of migrant workers.
Often from Bangladesh, Nepal and India, migrant workers travel to Qatar, the richest country in the world in terms of income per capita, in search of work and an income to send back to their families.
Instead of finding gainful work as they hoped, the men Amnesty International spoke to have suffered a plethora of human rights abuses in direct contravention of Qatar's own labour law.
All of the workers we spoke with told us they had to pay enormous fees to recruiters in their home country to get their job. Once they arrived in Qatar all but a handful found that the salaries they would earn were less than promised, sometimes by half or more.
They live in squalid and cramped accommodation and many experienced delays in payments of salaries or their pay was permanently several months in arrears.
The majority have had their passports confiscated by their employers, in contravention of Qatari law; making them less able to leave the country and more vulnerable to forced labour.
Worst of all, they are almost all afraid of complaining about their situation.
More than one and a half million migrant workers in Qatar are at risk of this kind of treatment because of a sponsorship system which prevents workers from leaving abusive employers and weaknesses in the country's labour laws.
This is not a new issue: Amnesty International has documented it repeatedly since 2013, when I visited a labour camp in Qatar. I spoke to workers living in terrible accommodation, who had not been paid for months, getting by on one meal a day and struggling to send money home to their families. With their passports taken away from them, they felt trapped.
I had so much admiration for the courage and bravery of the migrant workers I met. It is shocking that they still have to struggle through these abuses despite all our warnings.
We have seen some will for change in the shape of Qatar's Supreme Committee for Delivery and Legacy, the organization ultimately responsible for stadium construction, which published a new set of "workers' welfare standards" in 2014.
Frustratingly, however, the abuses Amnesty International discovered on the Khalifa Stadium project demonstrate fundamental problems with the Supreme Committee's approach to monitoring and enforcing their standards. These weakness are compounded by gaps in Qatari laws, a deeply apathetic government and FIFA's callous indifference.
Qatar's kafala sponsorship system, under which migrant workers cannot change jobs or leave the country without their employer's permission, is at the heart of the most egregious labour exploitation.
A much-touted reform of this sponsorship system was announced in late 2015; but it is far too weak and will do little to protect the human rights of migrant workers, who will remain dependent on the goodwill of their employers for their rights.
Infantino will meet the Supreme Committee and government officials in Qatar this week. He must publically call on the government to fundamentally reform the sponsorship system so migrant workers are free to change jobs or leave the country.
FIFA itself should also carry out, and publish, its own regular independent inspections of labour conditions in Qatar. If Amnesty International can uncover abuse on one of the main venues for the tournament, so can FIFA.
FIFA's new president Gianni Infantino still has time to prevent a World Cup built on abuse, but only if he acts quickly and decisively. That would be a clear sign of a new era for FIFA.
Tell FIFA and sponsors to stop World Cup exploitation. Sign the petition.