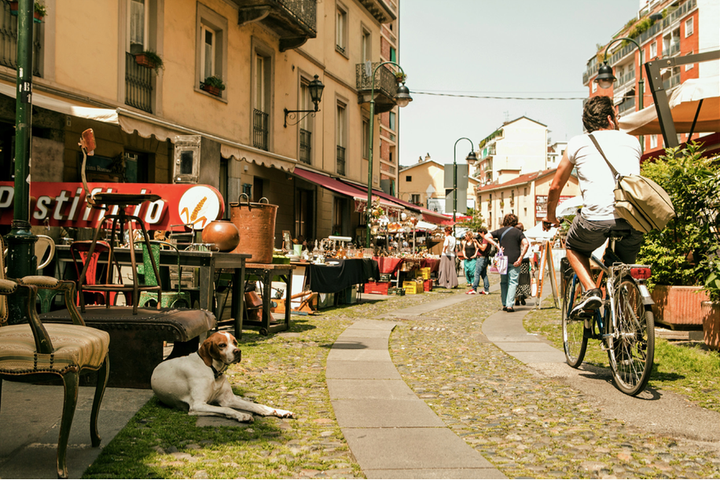 Paris isn't the only place with a marché aux puces: Italy also has its small flea markets, which are nearly always found in the historic town centers—usually also strategically located next to gourmet routes made up of traditional trattorias and places with regional specialties. Here are the six most famous ones, not to be missed.
TURIN
The "Gran Balon" , older brother to "Balon," the famous Porta Palazzo flea market in Turin: the first with great options those who love furniture and antiques. It takes place on the second Sunday of every month. The second market takes place every Saturday from 7 a.m. to 7 p.m. There are about 250 booths with modern pieces, vinyl records, vintage clothing and accessories, and other curios. These are a fantastic way to get familiar with this Turin neighborhood: less touristy, but vibrant and chock full of excellent local trattorias.
MILAN
Held on the last Sunday of every month in the Navigli neighborhood with a stretch of booths extending for several miles, starting at the Conchetta lock and passing through the new Darsena to the small street of the Alzaia del Naviglio Grande. Collectors' items, bric-a-brac, contemporary and artisanal items, games, not to mention the countless bars and restaurants. And then there's the "Oh bej! Oh bej!" show, the most Milanese of the flea markets (starting on December 7, the day honoring the city's patron saint).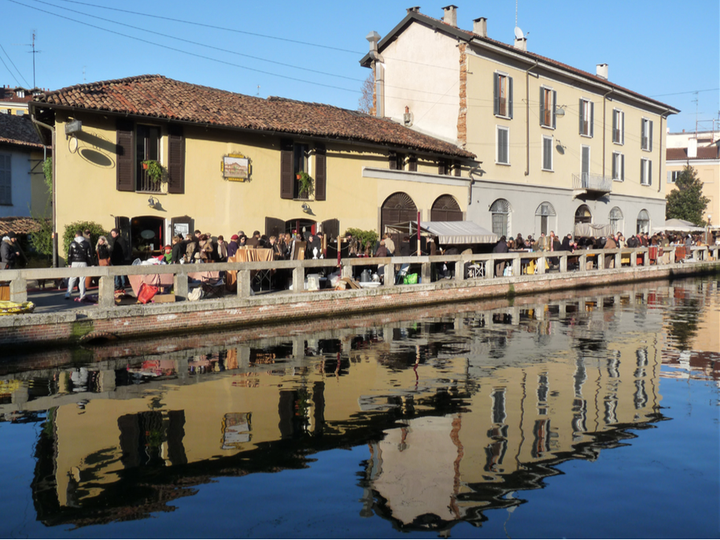 BOLOGNA
They call it the "Montagnola" (knoll, hill). Located in the Piazzola area, it is considered "the" quintessential Bolognese flea market. From Seventies' vintage to army/navy, from ethnic styles to sales, from designer bags to used pots and pans. Every Friday and Saturday, from 6 a.m. to 8 p.m., in the large parking lot at the beginning of Via Irnerio.
FLORENCE
The Santo Spirito market takes place every second Sunday of the month in the square in front of the basilica and it's an institution for collectors. There you can find a little of everything, from old books to antique bicycles. In the same piazza, but on the third Sunday of every month is the "Fierucolina", with
deli counters and regional or "zero-mile" food and wine selections.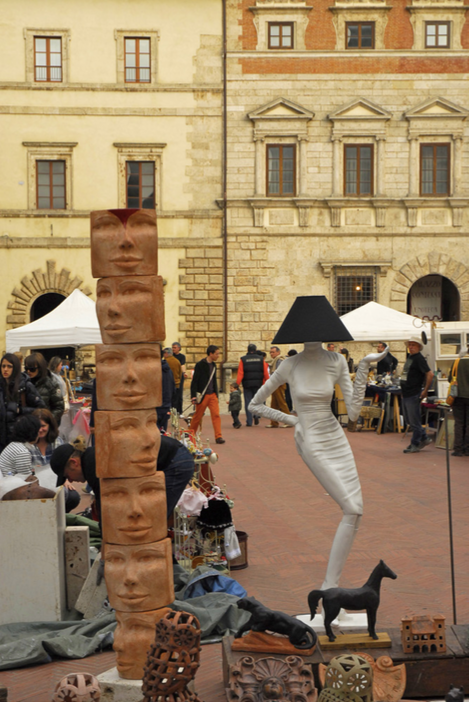 ROME
Porta Portese, one of the capital's institutions, the subject of songs and shows, "where you can find everything, from pills to jumbo jets." Here, ongoing since the end of World War II, Romans can sell, buy and negotiate for even the oddest objects. Today they're joined by Moroccan, Indian and Chinese vendors, making Porta Portese one of the most famous markets for its wares that come from all over the world. Every Sunday, from 6 a.m. to 2 p.m. (beware of pickpockets).
NAPLES
Fewer fleas, and more antiques, are sold at this market held every third and fourth weekend of the month—for the whole day—at Villa Comunale, near the Riviera di Chiaia. The Poggioreale market is better known and is called the "Caramanico."