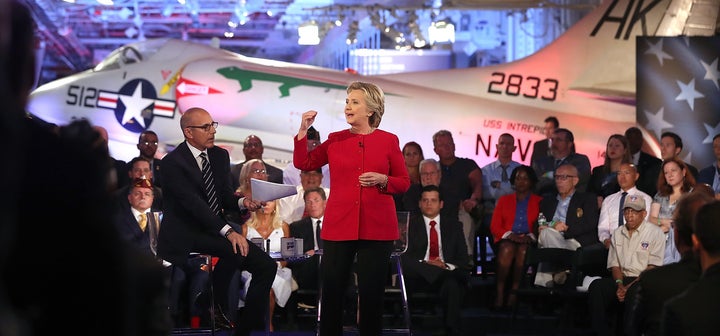 Whether you go to school in a small college town, are serving your country overseas, or are starting your career in one of America's big cities, the lives of millennials today are anything but insular. A quick glance beyond a 10-second-snapchat and you'll see just how global, multicultural, and interconnected the millennial generation has become—and that's why there's a lot at stake for us in this election.
The millennial generation is the most racially and ethnically diverse subset of the American population. In fact, 43 percent of us identify as "nonwhite." But it goes beyond the statistics: our generation by and large feels connected with the rest of the world. For me, it's because I grew up in a Hispanic-American household, learned Spanish at a young age, have an uncanny love for empanadas, and find the Spanish memes regularly exchanged on my Argentine family's Whatsapp chat extremely entertaining. And like me, the vast majority of millennials say we appreciate the influence of other cultures in their own lives.
Every one of us knows someone who studied abroad or speaks one or two other languages. Whether it's serving in the military or international service opportunities, young people are seeking out ways to engage with the rest of the world—and we're less inclined to let national borders get in the way.
We live in a world where the "global" is increasingly becoming the "local." That's why young people, especially, stand the most to benefit from policies that embrace America's role in the world. On the flip side, it also means we've got a lot to lose from a Trump presidency. And when it comes to foreign policy, Donald Trump is particularly at odds and out of touch with what's best for our generation:
1. Trump's "Tough Talk" on Terrorism Could Make Us Less Safe
Millennials tend to agree that using force abroad to fight terrorism only creates more hatred and violence—and many of us believe that the U.S. should be working to fight poverty instead as a way to reduce terrorism. But Donald Trump has made it abundantly clear that he has no real strategy for tackling terrorism and securing America. He claims to have a "fool-proof" way of defeating ISIS, but he won't tell us what it is. We do know it could involve "quietly" risking the lives of thousands of Americans in combat in Iraq and Syria, something ISIS has wanted for a very long time. The burden of going to war would disproportionately fall on the backs of our generation—nearly 85 percent of active duty soldiers are under the age of 35. And as if that's not scary enough, Trump has even bragged about his ability to force the U.S. military to follow illegal orders like killing the families of terrorists or waterboarding.
Millennials are also turned off by Trump's hateful anti-Muslim rhetoric and his inflammatory talk about terrorism. This plays squarely into the hands of ISIS (they've even said it) and helps terror groups recruit and radicalize new followers. Trump has even been featured in a terrorist recruiting video.
2. Trump Wants To Shut Out the Immigrants and Refugees Who Make Our Communities Strong
An overwhelming majority of millennials agree that immigrants make our country stronger and we generally hold more favorable views towards refugee resettlement, immigration reform, and a pathway to citizenship for those already living here. It's no surprise — so many of us are the sons and daughters of immigrants and many of us are immigrants ourselves. But Donald Trump — who time and time again has slandered Muslims and Latinos — wants to build walls and keep people out. His major proposals like "extreme vetting" or the "Muslim ban" could potentially severely limit global travel and cost up to $15-30 billion in lost income and jobs because foreigners aren't able to visit the United States.
3. Trump Won't Work With Allies to Tackle Global Challenges Like Climate Change
Most millennial voters believe that the U.S. should work closely with allies, even if that means making compromises (Trump has said himself, he's "not a huge compromiser"). But when it comes to climate change, a top priority for millennials, working collectively is a must. We want more action like the Paris Agreement. Despite finally seeing real hope for our planet, Trump calls climate change a "hoax" and has vowed to "cancel" President Obama's key actions. He's even suggested that he'd put a top climate denier in charge of the EPA. This dangerous rhetoric could compromise not only U.S. leadership in the global community, but the future health and safety of millennials.
When it comes to the modern-day challenges posed by climate change, terrorism and immigration, as young people we realize that we can't do it alone. We've learned to solve problems by looking outward, not inward. We realize one election isn't going to change everything, but we also know that bad choices, or doing nothing, can make things worse. That's why we need to show the world that we've got its back.
REAL LIFE. REAL NEWS. REAL VOICES.
Help us tell more of the stories that matter from voices that too often remain unheard.
BEFORE YOU GO
PHOTO GALLERY
Best 2016 Election Photos