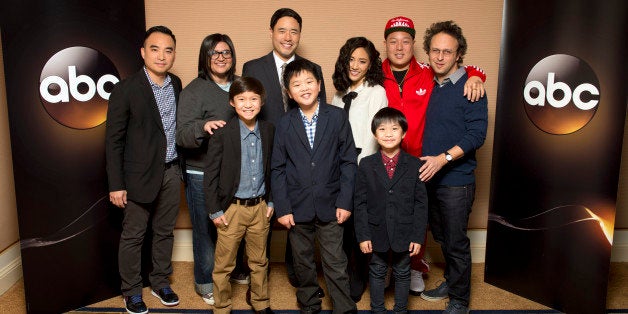 When I first found out that ABC would be airing Fresh Off The Boat, I was ecstatic. It was the equivalent of being chosen first for the popular kid's dodgeball team. Finally, a show that would validate not only my experience, but millions of Asian Americans' experience of growing up in this country and our families' stories of assimilation. And even though Asian Americans may share the unified experience of being isolated and misrepresented in mainstream media, our experiences are not the same.
Since Fresh's premiere, I've been fascinated to read the spectrum of reactions from Asian American friends and critics, and non-Asians alike. It's been interesting to read everything from Jeff Yang's glowing and touching Los Angeles Times review to TIME's prediction that Fresh has what it takes to become an American original, to the ignorant questions about whether or not Fresh will be about chopsticks or more Americanized. Even in the reviews alone, there are so many perspectives, a reflection of how complex and varied Asian American identity is and is perceived in this country.
And while I am thrilled to see that mainstream media, for the most part, has accepted Fresh with embracing arms, I'm seeing quite the opposite reaction on Facebook. Many of my peers take problems with various aspects of the show, whether it's be Park and Wu's accents or how certain themes feel forced (e.g. Asian families not saying "I love you" to each other, being competitive with in-laws, "smelly" Asian food, etc.), there seems to be a general dissatisfaction rooted in misrepresentation.
As someone who is just as interested in people's reactions as she is the show itself, I've come to the conclusion that we need to accept Fresh for what it is. Fresh is the first show with a full Asian American cast in 20 years. This, without question, is something to be celebrated. However, we cannot praise Fresh to be the messiah for Asian Americans on television. Doing so will only cause disappointment and frustration of misrepresentation.
When I initially started watching the show, I winced at Jessica's accent, and I rolled my eyes at the awkward "I love you" exchanges between the Huang family. That being said, I also laughed when Jessica ate a piece of apple straight off the knife while tutoring her younger sons (not unlike my mom when I was Eddie's age) with CLC's curriculum and when Louis insisted that his brother in law's car was used. Fresh is not perfect, and we cannot expect it to be the show that depicts Asian Americans. To do so would only further put Asian American identity in a two-dimensional box. Our experience as Americans, like everyone else's, is varied, and to say that a single show can exemplify all our experiences, would be a disfavor. I see Fresh as a sound board for future shows with Asian American casts, helping make television a more diverse and inclusive cultural platform.
I am encouraged to see healthy dialogue in both mainstream media and amongst viewers. It means that there are real conversations being had about Asian American identity in addition to acknowledging the lack of inclusivity Asian Americans have had in the nation's cultural and entertainment dialogue. Once we see Fresh for what it is, an American sitcom about an Asian American family, and not the be all end all of Asian American television, we will have a real success story on our hands.
Calling all HuffPost superfans!
Sign up for membership to become a founding member and help shape HuffPost's next chapter