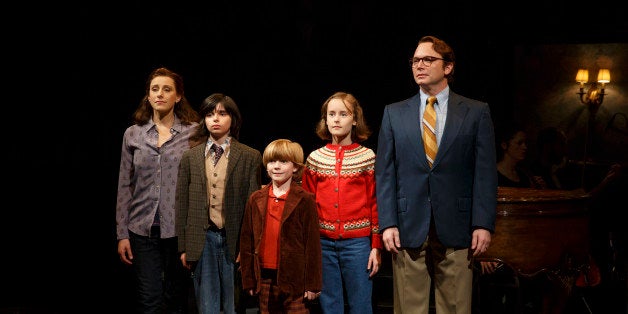 On Sunday evening, my daughter, Jennifer Grey, and I will have the pleasure of introducing a live musical performance from Best Musical nominee Fun Home at the 2015 Tony Awards. Stepping onto the stage of Radio City Music Hall for an internationally broadcast television event is always exciting, and I imagine Sunday will be especially so for Jen and myself, as it's the first time we'll have the chance to do this sort of thing together as father and daughter.

Based on Alison Bechdel's remarkable graphic memoir of the same name, Fun Home is about Alison struggling to make sense of her father's homosexuality -- which he kept hidden from his family -- while coming to terms with her own.

Fun Home, in the first place, is a groundbreaking theatrical work. Full of life, it represents the first time a musical with a lesbian protagonist has been presented on a Broadway stage. It deconstructs -- and then reconstructs -- the musical form in revealing Alison's life story, bit-by-bit, from her point-of-view at three distinct times of her life. It's strikingly personal, but also surprisingly universal. (Who among us hasn't had the experience of examining our own lives in relationship to our moms and dads?)

Fun Home's story, as universal as it is, strikes a uniquely personal chord for me, as a dad who is also a gay man. Just a few months ago, I spoke publicly for the first time about that. And like Alison's father, I grew up in a time when being openly gay was totally unacceptable and truly dangerous. Both of us got married and raised children. But unlike the father in the play, I made a decision, after the end of my 24-year marriage, to reveal my true self to my friends and family, finding only love and acceptance. And, eventually, I was inspired to speak publicly and live a life without secrets. Today, I am living to see the world, and its attitudes, miraculously changing every day.

Alison's father made different choices than I did, and his family relationships suffered in ways mine never did. As a result, the kind of love, joy and peace that fills my life, sadly always eluded his. Without giving away the plot, I'll simply say that the shame of his secrets consumed him.

Though not separated by all that many years, Alison comes of age in a very different time than her dad did. She comes out to her family while still in college (a college that, by the way, has its own gay student union). She finds her calling as a cartoonist, and makes a name for herself by exploring gay themes. She lives openly and thrives -- her personal triumphs spurred on, in part, by very subject matter that caused her father's demise.

All great art is about unleashing a truth. Fun Home speaks directly to the power of unleashing one's own truth. Win, lose or draw at Sunday's Tony Awards, Fun Home is so much more than simply a landmark American musical; it is living tribute to the unstoppable force of human progress. It represents a clear generational shift, a before-and-after portrait of a moment when secrecy and shame turned to truth and pride.
Calling all HuffPost superfans!
Sign up for membership to become a founding member and help shape HuffPost's next chapter