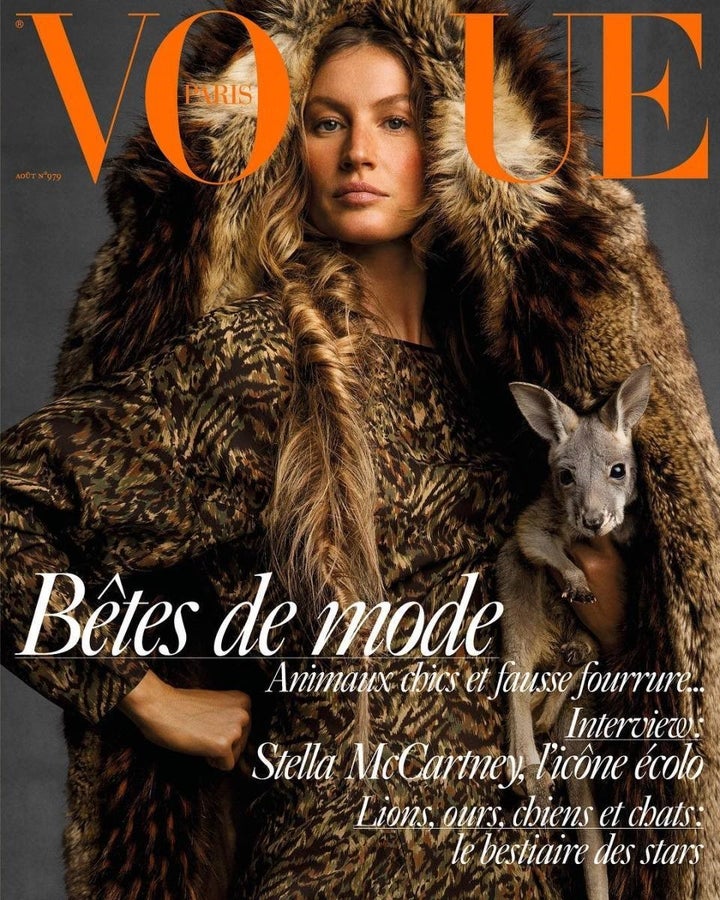 The August issue of Vogue Paris features Gisele Bündchen proudly covered in fur – faux fur. The popular fashion magazine is taking a turn toward compassion by showing that animals are much more than pelts.
"So happy that @vogueparis dedicated this issue to animal protection, sending a strong message that wearing real fur is never an option!! All great designers now do beautiful #fakefur," wrote the world's most popular fashion model in an Instagram post.
The tides are clearly turning. In June, the $2 billion online retailer YOOX Net-a-Porter (YNAP) joined Giorgio Armani and HUGO BOSS as the latest luxury fashion company to announce a fur-free policy. In its article about these leading influencers leaping forward on the fur issue, the "New York Times" rightfully asked, "What's going on?"
At The Humane Society of the United States, we're working closely with these companies to help them convert to a more humane model, and we've learned that when companies care – and do their homework – the decision to embrace animal welfare and go fur-free is easy.
"Our fur-free commitment … was inspired by a thorough and rigorous educational process with The HSUS and [Lega Anti Vivisezione] regarding the protection of animal rights," said Matteo James Moroni, YNAP's head of sustainability. "Our goal is to act as an industry-wide catalyst for change."
Companies that want to do better dedicate themselves to the educational process and allocate the necessary resources to learning how their products and supply chains affect the world around them. When they become aware of an industry that raises and kills more than 75 million wild animals every year in extremely cruel ways – including raccoon dogs being skinned alive, foxes anally electrocuted and cats and dogs caught with archaic leg-hold traps – the tendency is to avoid the product entirely.
In the case of Net-a-Porter, the company looked into every animal welfare certification standard and marketing program the fur trade had to offer – leading the company to realize that the industry is too self-regulated and nontransparent, and that there is no decent way to keep wild animals in cages for their entire lives.
Net-a-Porter faced two options: sell a product it knows there is no humane way to procure and accept those risks, or become a leader in the luxury market by capitalizing on consumers seeking ethical goods.
The company started ramping up its faux fur inventory and surveyed more than 25,000 clients and found that a majority said they wanted YNAP to end its fur sales.
YNAP publicly distancing itself from fur appears to be a rather 'riskless' move, one that stands to build significant goodwill in the eyes of anti-fur and other ethically-minded consumers, which may land it a whole new slew of consumers.
For Armani and HUGO BOSS, the process was similar, as the companies determined there was no way to produce fur humanely and that faux fur can provide the right look and feel without the risk of being associated with animal cruelty.
"Technological progress made over the years allows us to have valid alternatives at our disposal that render the use of cruel practices unnecessary as regards animals," said Giorgio Armani when announcing his company's fur-free policy in 2016.
Pursuing the positive process undertaken long ago, my company is now taking a major step ahead, reflecting our attention to the critical issues of protecting and caring for the environment and animals.
HUGO BOSS had similar sentiments: "We have decided to adopt a different route and we are therefore giving our sustainable corporate strategy – in this case, animal protection – precedence over the 'fast' and 'simple' route to success," HUGO BOSS announced in its 2014 sustainability report. "Contemporary customers are part of a generation which is re-evaluating their ethical and environmental values."
Others in the industry are going through the same process right now and will eventually face the same questions YOOX Net-a-Porter, Armani, HUGO BOSS and many others have faced – undoubtedly leading the industry to move even more toward animal-friendly policies.
Popular in the Community