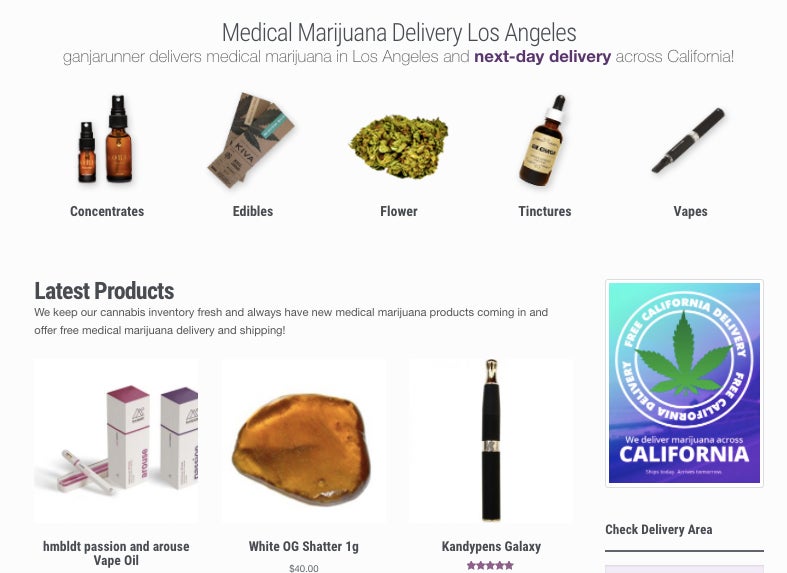 In California there are hundreds, possibly thousands, of cannabis delivery services, making it difficult for one to stand out. Delivery services are also notoriously sketchy, with creepy drivers who insist you get in the car and take a spin around the block while you pay them in cash.
One woman is trying to change this system, making the delivery experience both a personal and professional one. That woman is Carla Baumgartner of LA-based Ganjarunner.
Baumgartner's relationship with cannabis started in her teens, around the same time she was diagnosed with anxiety. Refusing to take pills to deal with her nerves, she took on a move natural approach that included surfing and smoking weed. "My Italian-Catholic mother was horrified," Baumgartner joked, but clearly her system worked. Now, at age 49, she's staying ahead of her anxiety in a similar way, with smoking, surfing, meditation and eating right, she's able to live a successful and productive life.
With cannabis such a strong and helpful force in Baumgartner's life, she wanted to give back and help others. That's why she started Ganjarunner, a cannabis delivery service that now operates throughout the entire state of California. Ganja Runner is different than your average delivery service in a number of ways. First of all, their website looks like Amazon; you can search for and browse all sorts of products, add things to your cart and voila, your order will be delivered the next day. You can even pay with a credit card when your order arrives.
Unlike similar services, Ganjarunner charges tax and their prices can be a bit higher than the average dispensary. But that's because they pay their taxes and work a little harder to give its clients the professional and discreet treatment they expect. It's not a high price to pay in a state where it's hard to tell if all the delivery services on Weedmaps.com are even legal.
However, Ganjarunner is much more than an online platform. Baumgartner personally accepts calls for people looking for a custom cannabis regime to ease their suffering. Often, these calls are from cancer and MS patients, but she even receives calls from parents of children with AD(H)D. She works with a doctor to tailor the regimens accordingly. "It's not about treating the disease, but treating the symptoms it causes," Baumgartner said.
Her personal involvement doesn't stop there. She often hand delivers the medicine and even works with a hospice center providing relief. "I worked with a woman, my age, who was dying of cancer. Her brother would call me and I would come over with a big bag of prerolled joints. We would smoke together, holding hands, me on the floor, and her laying on the couch."
Situations like these make Baumgartner stand out in a state packed with anonymous delivery services. Whatever condition or ailment you suffer from, Carla Baumgartner and her team of doctors and professionals will find a product to give you relief, thus improving the quality of your life. So many dispensaries in California only focus on the percent of THC in their products, rather than the quality and characteristics of the high certain strains and products give. At Ganja Runner, they carry strains developed to help people in need, like 2:1 CBD:THC flower. Recently, Hmbldt metered dose pens have become very popular due to their simplicity. "I love them [Hmbldt pens] because it's easy to pick the right medicine. If you're anxious, use the Calm pen… If you're in pain, use Relief. The simplicity is what Ganja Runner is all about."
This piece was co-created by Michelle Janikian and Catherine Goldberg for BrainBuzz.
REAL LIFE. REAL NEWS. REAL VOICES.
Help us tell more of the stories that matter from voices that too often remain unheard.
This post was published on the now-closed HuffPost Contributor platform. Contributors control their own work and posted freely to our site. If you need to flag this entry as abusive,
send us an email
.