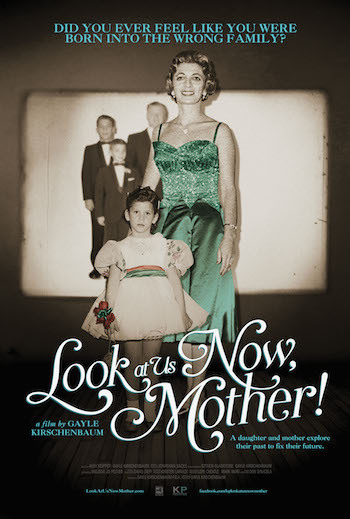 Lets face it, we all have mother issues.
Even if we grew up with the best mom in the world, or the epitome of perfect motherhood herself, the dynamics of our individual mother-daughter, mother-son relationship shaped us into who we are today. We can blame something as mundane as that funny face we make in the mirror when we apply our mascara to mom, or more serious neurosis and complexes to the way we were brought up, but it's undeniable that our mothers played a role in us being exactly who we have turned out to be. Like it or not.
In fact, just this week Christina Huffington launched a special section right here on the Huffington Post titled #TalkToMe, completely devoted to videos describing mother-daughter and mother-son relationships. Among the first videos featured, one where Miss Huffington interviews her own famous mom, HuffPost founder Arianna Huffington.
So when I heard of Gayle Kirschenbaum's film Look at Us Now, Mother! I knew I wanted to watch it. And Kirschenbaum's funny, provocative, deeply personal, touching and sensitively filmed documentary, about her own imperfect but beautifully human relationship with mom Mildred, turned out to be exactly what I needed. Within it I found a new conversation with my own mother, as well as a perfect example of why maternal relationships are so complicated, so important to the formation of who we are. In the good, and in the not-so-good.
I caught up with filmmaker Kirschenbaum via email, and while I love the medium as a way to get my questions streamlined and organized, I don't like doing written interviews because the voice, the tone, the irony of some answers is lost in translation, so to speak. I know I would have enjoyed Kirschenbaum much more in person and she would have sounded warmer, as her film is. But for the here and now, this will have to do.
Look at Us Now, Mother! opens in cinemas in NYC and Los Angeles on April 8th.
When did you know this was a film you just had to make? Was there a particular moment?
Kirschenbaum: Yes, I made a funny short film called My Nose about my mother's relentless campaign to get me to have a nose job. That little film had a big life. I was shocked by the response to this small homemade film. I apparently hit a nerve and people related to it and stood in line to tell me their story. It was then that I realized so many people were hurting and still suffering from childhood trauma/abuse. It didn't matter how successful professionally they became or famous, or how many lovers, spouses, children they had, if they were hurt by someone close to them -- usually a parent -- when they were young and they had not forgiven that person, it was affecting their relationships and their health. I knew that My Nose had barely touched the surface and felt it was my job to help people. And I would do it by making a feature doc about my journey to forgiveness with my mother.
What I needed was my mother's consent because I knew I had everything else: a huge archive, my willingness and commitment and my gift as a storyteller. When mom and I ended up on the cover of the Washington Post Style section and the journalist wrote "If you have a mother like Gayle Kirschenbaum, you better get yourself into psychoanalysis" and mom read it, her comment was "Great! Bad press is better than no press. I am on the cover of the Washington Post." I knew then I would get her approval.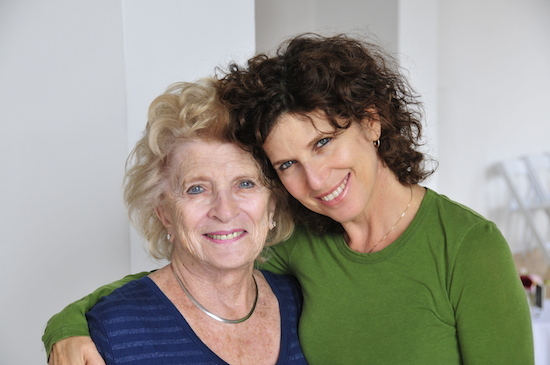 Is there a scene, a moment, a story that you were not able to include in the film and still think about?
Kirschenbaum: No. I am very happy with how the film came out. It took me a long time to get to a cut I was happy with but I managed to do so after I took over the editing and made it less depressing and serious and added humor. I believe in the power of laughter. And mom can be a laugh a minute. I did not want my audience to slit their wrists. I wanted them to go on an emotional journey, where they laugh and cry.
Do you think your mother always knew your greatness and was just pushing you to be the best?
Kirschenbaum: No, I think my mother always admired my talents as a visual artist and later as a filmmaker. I think also as we spent more time alone together after my father died in 2006 and we took our first trip together, which was to France with one of my films, she started to appreciate me in a different way.
What is your advice to other daughters, and other mothers?
Kirschenbaum: Always communicate -- don't stop talking to each other. To daughters who have had mothers who are critical and abusive, I say, please reframe how you look at your mother. Dig into her past if you can and find out about the hardships she suffered and look at her as a wounded child who did the best she knows how to. Take her off the pedestal of mother who should love and nurture you. Once you see her as a wounded child and she sends you a zinger don't react, don't coward or yell back. Let it go and actually give her love. Because when people are abusive that is coming from anger and feeling fearful and a lack of love. You will be amazed how by sending love to her that will render her abuse powerless over you.
And for mothers, look at your daughter as a unique person, who has special gifts. She is not you, she does not necessarily want the same things you do, empower her by encouraging her to follow her dreams and love her for who she is, not who you think she should be. Compliments and love and support go a long way.
If you could go back and re-do your relationship with your mom, what would you do differently?
Kirschenbaum: Nothing that I can think of.
If you could "prescribe" what your audiences should take away from your film, a single feeling or lesson, what would that be?
Kirschenbaum: The importance of forgiveness.
I made this film to help others and apparently based on the audience reaction, which has been humbling, it appears I have succeeded. I am mobbed after screenings with people eager to hug me and then tell me their stories in hopes that I will help them. I have become an accidental therapist. I have developed what I call "The Seven Healing Tools" which I teach people in seminars, how to forgive and transform difficult relationships. We are launching a movement focused on forgiveness and healing between mothers and daughters and will have exciting initiatives. So I encourage everyone to visit our movie's website and sign up for our newsletter, follow us on FB and Twitter.
And finally, what are three words you would choose to describe yourself to someone who doesn't know you?
Kirschenbaum: Sensitive, driven, passionate.
All images © Kirschenbaum Productions, used with permission.
Calling all HuffPost superfans!
Sign up for membership to become a founding member and help shape HuffPost's next chapter