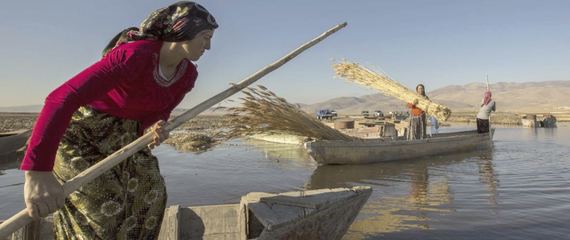 As world leaders convene in Marrakesh for COP22, the United Nation's annual climate change conference, they are focused on the implementation of the groundbreaking Paris Agreement to adapt and mitigate the effects of climate change. A critical component of their deliberations was the adoption of a decision for gender responsive climate policy.
Women are particularly affected by climate change, yet their vulnerabilities and the critical leadership role that they play in responding to the impacts of climate change are rarely addressed in climate policies. Moreover, they systematically lack equal representation in climate decision-making.
The recently adopted gender and climate change decision at COP22 is a step in the right direction to ensure that the implementation of the Paris Agreement is gender responsive.
The effects of climate change affect women in myriad ways. Whether it is violent weather conditions or the slower process of erosion that changes landscapes over time, women are more vulnerable to the impact of climate change than men. Droughts disenfranchise women farmers, who are the majority of the agricultural workforce in Africa and elsewhere. Water scarcity undermines hygiene and sanitation, affecting maternal health. Flooding leaves women without homes and vulnerable to sexual violence. As landscapes around them change, women spend more and more time gathering resources for their families, resulting in a significant amount of potentially productive time lost. Women are disproportionately threatened by climate change and their economic and political status is further marginalized.
Consider cooking which remains a traditional activity for women globally. Nearly 3 billion people, mostly women, use dirty, smoke producing cook stoves powered by solid fuels. The time that women and girls spend collecting wood and other materials to burn affects their schooling and ultimately affects their education. And the process of cooking harms their health and the health of their families (some 4 million deaths each year), as the black carbon that is released dangerously impacts the environment.
But women are much more than victims of climate change. Today there is a growing evidenced based case and awareness that they are also problem solvers and local decision-makers in the adaptation to and mitigation of climate change given their on-the-ground experience and knowledge as well as leadership in their communities.
Around the world, women are creating innovative and localized responses to building resilient communities. In Senegal, women banded together to address the consequences of sea level rise, including the salinization of rice fields. Women worked with national and local institutions to construct a 3,300-meter anti-salt dyke to reclaim lands and revitalize rice-growing activities. In Kenya, women responded to the need for more easily accessible water and firewood by growing seedlings and planting trees to bind the soil, store rainwater, and provide food for firewood. In Bangladesh, through Grameen Shakti, women are installing millions of solar panels and contributing to renewable energy. In India and China, women entrepreneurs have created viable enterprises in clean cooks stoves.
Projects like these demonstrate that women, who are the most adversely affected by climate change, can also be catalysts for combating and adapting to new climate realities.
Yet in spite of their unique experiences and valuable perspectives, gender is often missing from climate change policies, and women are often absent from the decision-making process.
Past UN climate change conferences have acknowledged the link between gender and climate change. At COP18 in Doha, delegations committed to strive towards gender balance in their delegations, in recognition of the unique role of women for climate action. Two years later the Lima Work Program on Gender was launched at COP20. It aimed to advance the implementation of gender-responsive climate policies and mandate gender balance across all areas of the negotiations.
But little has been done to implement these commitments. Women delegates at UN climate meetings are still a minority and no binding language had been adopted regarding gender in climate change mitigation and adaptation plans.
COP22 delegations just agreed to do more.
The world leaders gathered in Morocco addressed a range of gender-related climate issues, from women's increased representation at the decision tables at all levels--national, regional and local--to the perspectives and initiatives of civil society that must be acknowledged and included in policy and strategy development.
We must continue working to ensure that the implementation of the Paris Agreement is indeed gender responsive in all aspects, including funding, the development of indicators, and time frames for measuring progress on adaptation and mitigation.
This is not an option but a necessity. After all, women are critical to increasing the effectiveness of climate change actions around the globe. The stakes could not be higher.
This post is part of a series produced by The Huffington Post, in conjunction with the U.N.'s 22nd Conference of the Parties(COP22) in Morocco (Nov. 7-18), aka the climate-change conference. The series will put a spotlight on climate-change issues and the conference itself. To view the entire series, visit here.
Calling all HuffPost superfans!
Sign up for membership to become a founding member and help shape HuffPost's next chapter