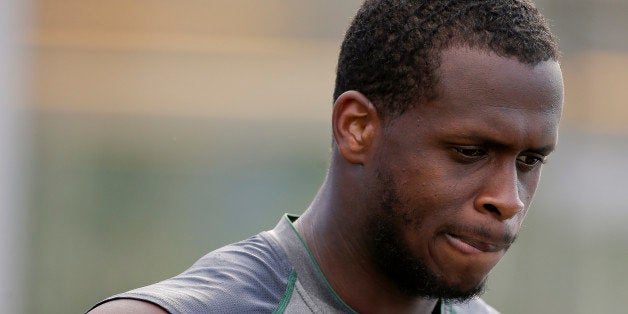 Reduced to a punchline, out for 6-10 weeks due to a broken jaw, liked by few and admired by none, Geno Smith and his era for the New York Jets must finally come to an end.
Let me be very clear. There is no dispute that Geno was the victim of physical violence. This is regrettable, unjustifiable and could require legal remedy. But at the same time, an entire franchise and fan base have been the victims of his emotional immaturity. I would personally be ecstatic if my assessment of Geno ultimately proves wrong. But we can simply not forget his theatrics when he was passed over (for good reasons as it turned out), in the first round of the NFL draft; or how he lost his cool and yelled an obscenity to a heckler after a home defeat to the Detroit Lions; or how he missed a team meeting in the west coast with a lame, dimwitted excuse, prior to a 31-0 shutout to the San Diego Chargers.
We now learn that he got sucker punched by IK Enemkpali over a $600 dollar debt. Certain conclusions are thus inescapable: Geno cannot handle the bright lights of the Big Apple or the pressure that comes with the job of a starting QB. He is thin skinned, temperamental and exhibits poor judgment time after time. Because of him, the New York Jets dominate headlines for all the wrong reasons and become late night comedy fodder. And let us not forget who drafted him: John Idzik, a perennial candidate for worst GM in the history of the NFL.
Geno Smith is not a leader. Period. It would have been simply inconceivable for a Peyton Manning or a Joe Namath or [enter here the name of any great QB] to be shown such disrespect and punched for an off the field reason by a teammate. The best NFL players are like generals who inspire their troops to battle, valor and sacrifice. What we witnessed in the Jets locker room was akin to mutiny. Tellingly, Jets players simply did not bother to come to Geno's defense. Some apportioned blame to both sides, others to Geno himself. Ultimately, it does not matter. We now have proof of what we have long suspected: Geno cannot and should not be in charge of the Jets.
Admittedly, character flaws and bad behavior are sometimes overlooked due to phenomenal performance. Defensive tackle Ndamukong Suh is widely considered to be a very dirty player, but that did not stop the Miami Dolphins from awarding him a $114 million contract. The problem with Geno is that he is a nightmare of a player, a turnover machine (his career TD-INT ratio is 25-34) who routinely panics if his first read fails. Word was that he had improved in practice but that is almost meaningless absent real conditions. We do not award Super Bowl rings for training camp or preseason.
Where do the New York Jets go from here? Ryan Fitzpatrick is now the starting QB. He is a cerebral veteran, but it remains to be seen how much gas he has left in his tank for his 11th season in the NFL. Bryce Petty is a work in progress who if developed properly might be the future face of the franchise. Possibly another veteran such as Matt Flynn will be brought in to provide depth in the QB position and some insurance if Fitzpatrick is injured early in the season. Within a vastly improved AFC East, the prospects for the New York Jets season look bleak. But the Jets will fly again. There is every reason to trust HC Todd Bowles and GM Mike Maccagnan. But not Geno Smith. His days as a starting QB should be finally over.
Related
Popular in the Community